News
The Gloomiest Gloom Ever?
Experts Agree, This Summer Without Sun is Not Normal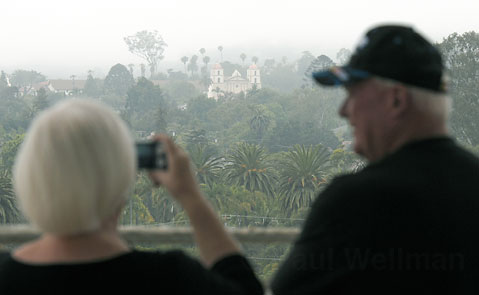 It started early, and it still hasn't left. When the sunshine-squashing marine layer rolled into Santa Barbara in late May and took up its foggy residence in our typically sun-soaked coastal community, it was nothing out of the ordinary. After all, we have an almost-rhyming term of endearment for that gray time of year just before summer explodes: June Gloom. But the low-lying clouds have endured well past their namesake month and, save for a smattering of sunup-to-sundown stunner days of pure beach weather, the fog has remained through much of July and early August, eating into our solar index ratings and shrinking the number of "sunny" hours to such a degree that many in our seaside hamlet are claiming the summer of 2010 to be perhaps the gloomiest of their lives. And, according to experts, they may be right.
Enter Park Williams, a twenty-something with a PhD in geography from UCSB and an accidental Santa Barbara fog expert. Williams, who currently works as a researcher in the same department he earned his PhD from, has a particular interest in the intersection between climate and biogeography. That is to say, what grows where and why and how climate impacts this relationship. To this end, Williams has used old weather logs from the Santa Barbara Airport to help him better understand the annual fog patterns of Santa Barbara, breaking down cloud levels by the month, day, and hour. The analysis allows Williams unique insight into the history of fog behavior in S.B. dating back more than 50 years and, as a result, the ability to comment on just how out of the ordinary this year's incarnation of June Gloom may or may not be. "It turns out there certainly is something to the complaints in town about the gloominess this year," summed up Williams earlier this week.
Specifically, when stacked against Junes dating back to 1958, this past June had the third highest number of hours of "fog" hanging over S.B. Airport, while last month weighed in as only the 18th foggiest July. However, as Williams pointed out, people generally only consider fog or "the gloom" to occur during daylight hours when the sun is supposed to be shining. When taking this into account, and removing data from non-daylight hours, June 1 through August 8 has seen the most number of hours with fog — specifically a cloud level with a maximum height of 1,200 feet above sea level — from 6 a.m. to 12 p.m. since the airport started recording such things 52 years ago. In fact, based on Williams's data, that 10-week window usually sees roughly 30 percent of the hours between
"Yes, the weather has been a little different so far this summer," concluded the National Weather Service's Bonnie Bartling recently.
6 a.m. and high noon clouded with fog, while this year around 50 percent of those hours have been plagued with gloom. And, though not quite as drastic a sample set, the hours between 1 p.m. and 7 p.m. during that same time period currently rank as the seventh foggiest on record.
"Yes, the weather has been a little different so far this summer," concluded the National Weather Service's Bonnie Bartling recently. "It just hasn't been warming up as much and we have been caught in this pattern of troughs and ridges." Though she couldn't comment on the historical significance of this summer's weather patterns, Bartling did explain that — with the El Niño of last winter (which is typically characterized by warmer ocean surface temperatures) slowly transitioning to a La Niña pattern (which usually spells colder ocean temps) — the propensity for fog along the coast increases as colder water condenses faster when it evaporates, thus heightening the likelihood for a marine layer.
When pressed for a more detailed explanation of why there has been so much fog this summer, Bartling offered simply, "The marine layer is the marine layer, and, you know, it is summer in California. We get fog at the beach. I mean, July and August are historically the foggiest months during any year." Then, with a laugh, she concluded, "Unfortunately, there is no rhyme or reason to any of this. You never really know what is going to come next. It could be sunny and triple-digits hot for the rest of the month."