News
Great White Attacks Paddler Off Gaviota Beach
Kayaker Escapes Unharmed But Boat Nearly Sinks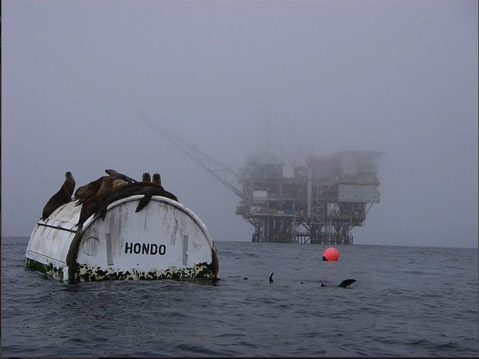 Earlier this month, accomplished sea kayaker Duane Strosaker had the scare of a lifetime just a few miles offshore of Gaviota State Beach. Strosaker had made it his summer-long mission to paddle out to all 23 offshore oil rigs in Southern California in the name of raising awareness about the perils of such ocean-borne oil activity. On his way back to shore from an early-morning excursion on August 2 to the three oil platforms at the western end of the Santa Barbara Channel — the final leg of his paddling pilgrimage — Strosaker had a rather Jaws-like experience with what experts, based on bite marks left behind, believe was a 15- to 17-foot great white shark.
Paddling along in the fog roughly five miles from land, Strosaker saw a "giant shark head" emerge from the water just off his starboard side. The shark, mouth opened wide, grabbed hold of Strosaker's kayak, with Strosaker's left leg inside the portion of the hull inside the shark's mouth. "I was screaming like a little girl and hyperventilating," recalled Strosaker, "but, amazingly, it wasn't thrashing or anything — it just kind of mouthed me for like 10 or 15 seconds."
According to Strosaker, the shark eventually let go and, after splashing its tail a short distance from his boat, disappeared into the dark depths below. Though it inflicted not nearly as much damage as it could have, the five puncture marks and partially crushed hull left behind by the short-lived encounter forced Strosaker to pump out his boat numerous times on the way back to shore to keep from sinking. Once safely ashore, Strosaker alerted state park authorities about his run-in.