Arts & Entertainment
Primus at the Santa Barbara Bowl
Funk Fusion Trio Gives Fans All the Favorites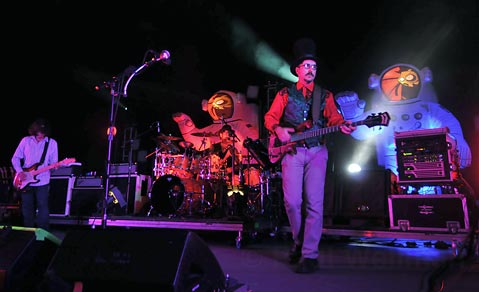 With two enormous inflatable astronauts behind them and blinky red, white, and blue lights illuminating the stage, irreverent rock trio Primus opened their Sunday night set at the Bowl with the funky "Pudding Time." For this tour, frontman and bass hero Les Claypool has reunited with the band's other founding member, drummer Jay Lane, who quit Primus back in 1988, forging a career with the Charlie Hunter Trio, RatDog, and, until this year, the Phil Lesh-Bob Weir group Furthur.
The band plowed through three more songs—"Those Damned Blue Collar Tweekers," "Duchess and the Proverbial Mind Spread," and "American Life"—before greeting the audience. "Hello there," Claypool said to his keen fans. "We're just finishing up a tour," he continued, adding what a great place the Bowl is to play. Then the fellows launched into "Golden Boy," a song they admitted to not having performed on previous tours.
Playing off the campy-eccentric aesthetic he's long been known for, Claypool donned a Planet of the Apes-esque monkey mask for the instrumental "The Toys Go Winding Down," during which Lane's badass drumming got to shine. Meanwhile, things got moshy in the pit, as fans jumped along and occasionally attempted to crowd-surf their way to the stage. Good vibes abounded and when a concert-goer yelled out, "I love you," Claypool replied in kind with, "I love you, too, fella."
The trio was exceptionally tight musically, which was impressive considering the length of time that has passed since Claypool and Lane have performed together. With no new record to promote, Claypool, Lane, and guitarist Larry "Ler" LaLonde pulled out favorites from most of their albums, proving to be as quirky and transfixing as they were in their heyday.
Also worth a mention were opener and Australian export Wolfmother. Touring to promote their latest effort, Cosmic Egg, the four-piece banged out some fantastic classic rock with obvious influences of Led Zeppelin, Jimi Hendrix, and a touch of Black Sabbath. Particularly memorable was their 2005 hit "Joker and the Thief" from their eponymous debut album and their cover of The Who's "Teenage Wasteland."
Set List
Pudding Time
Those Damned Blue Collar Tweekers
Duchess and the Proverbial Mind Spread
American Life
Golden Boy
Big in Japan (Tom Waits cover)
Over the Falls
The Toys Go Winding Down
Drum and Whamola Jam
Groundhog's Day
Mrs. Blaileen
Jerry Was a Race Car Driver
In the Flesh (Pink Floyd cover)
Harold of the Rocks
Encore
Southbound Pachyderm
Too Many Puppies