Theater
Fall Arts Preview: Theater
From Shakespeare to Shepard, This Season Has It All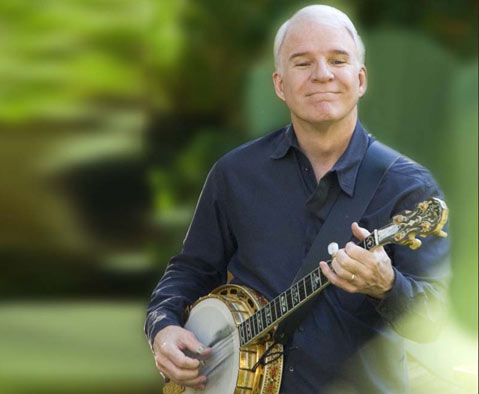 There are still a few more chances left to see Stephanie Zimbalist's marvelous show about Katherine Hepburn, Tea at Five, which ends its run at the Rubicon Theater in Ventura on Sunday, September 19. Ensemble Theatre Company kicks off its season with Alan Brody's The Housewives of Mannheim on Thursday, October 7 at the Alhecama Theatre. This bittersweet drama set in Brooklyn during WWII draws inspiration from the Dutch painter Johannes Vermeer and runs through Sunday, October 31.
UCSB Arts & Lectures brings comedian, Hollywood star, author, and original wild and crazy guy Steve Martin to the Granada on Friday, October 8 for an evening of bluegrass and banjo with the Steep Canyon Rangers. The Rubicon Theater will offer a staged reading of Shakespeare's The Tempest, directed by James O'Neil, beginning on Wednesday, October 13 and running until Sunday, October 24.
Santa Barbara City College will present the 1928 American expressionist classic Machinal by Sophie Treadwell in a student showcase at the Interim Theater from Wednesday, October 20 through Saturday, November 6. Wednesday, October 20 is also opening night for Out of the Box Theatre's production of Hair: The American Tribal Love-Rock Musical. These young performers have great voices and ought to make a good match with this wonderful flower-power classic. Hair will run at the Center Stage Theater through Sunday, October 31.
On Friday, October 22, Arts & Lectures begins its presentation of the National Theater Live in HD season, a series of cinema broadcasts of current plays that will bring the best of London theater to Hahn and Campbell halls. Although the season includes productions like King Lear, it will begin on Friday, October 22 at Hahn Hall with an original contemporary work called A Disappearing Number by director Simon McBurney and Complicite, the English stage's most ambitious and long-running experimental theater group. A Disappearing Number considers the mathematical and spiritual nature of infinity through the friendship of two mathematicians, and like all of Complicite's work, is sure to be unforgettable. The program will be reprised in Campbell Hall at UCSB on Tuesday, November 9. Both screenings begin at 7:30 p.m. Arts & Lectures' season returns to the Granada the following week for an evening with actor John Lithgow on Monday, October 25. His performance, Stories by Heart, weaves the text of a P.G. Wodehouse story into a portrayal of Lithgow's connection to his dying father.
On Friday, October 29 at the Granada, The Acting Company in association with the Guthrie Theater presents Romeo and Juliet. This high-octane national touring company is bound to bring some heat to the balcony scene, and wit and intelligence to all of Shakespeare's classic love story. UCSB's Theater department's fall show is the Pulitzer Prize-winning How I Learned to Drive by Paula Vogel, directed by Tom Whitaker and taking place at the UCSB Performing Arts Theater from Friday, November 5 through Saturday, November 13. Sam Shepard's 1978 dark comedy/family drama Curse of the Starving Class will receive the Genesis West treatment at Center Stage Theater from Friday, November 5 through Saturday, November 20.
Looking forward even further, Acting Up will present It Had to Be You at Center Stage from Thursday, December 2 through Sunday, December 12. Ensemble Theatre Company presents The Mystery of Irma Vep, which will hurtle along from December 2 through December 26. And the season will get an emphatic ringing out when the National Theater Live presentation of Hamlet beams down to Hahn Hall on Monday, December 13, and to Campbell Hall on Tuesday, December 14.