News
Double Trouble
Outmaneuvered and Out of Time, City Accedes to West Beach Festival Promoters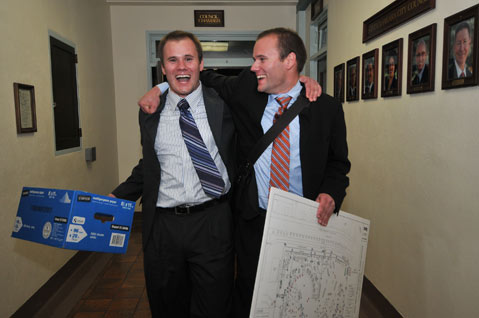 Despite trying its damnedest, the City of Santa Barbara just couldn't stop this weekend's West Beach Music and Arts Festival. Over the past six months, the event's organizers, twin brothers Joshua and Jeremy Pemberton, have fended off every bureaucratic trick in the book intended to scuttle the four-year-old event. But while the show will apparently go on, the 26-year-old twins' scorched-earth approach to navigating the city's landscape of red-taped permits has left a mess of burned bridges and bad blood in its wake. So whether you believe city officials, who claim that the twins are in over their heads and bumbled the permitting process, or the Pembertons, who see themselves as victims of age discrimination and political favoritism, all eyes will be on this weekend's festivities to see whether there's a future for the fest after 2010.
Seen from the steps of City Hall, the twins' legacy of false promises and missed deadlines do not bode well for an encore. "This year it became glaringly clear that, for an event of this size and scale, they were unprepared," said Parks & Recreation Director Nancy Rapp early in the process. "They didn't know what they didn't know." Rapp's rampage against the festival was due to the 2009 edition, which generated 257 calls for service to police and so many noise complaints from miles around that dispatch stopped keeping track. Add to that charges of underage drinking, forged parking permits, obscenity-laced performances, unruly crowds, bad checks to the city, and vandalism at the waterfront, it was a no-brainer for Rapp to deny the twins' 2010 permit back in February.
Promising to rectify last year's problems, the brothers surprised everyone by not laying down. "We didn't say okay and walk away when they said no," said Joshua, who admitted to screwing up last year but remains dumbfounded about how three days of booming bass and puke-covered sidewalks could completely erode the reputation they'd established over the last three years. The twins successfully beat Rapp's denial in May during a three-hour hearing before the Parks & Rec Commission, but then had to battle again before the Santa Barbara City Council when hotel owner Tony Romasanta and West Beach resident Hilary Kleger appealed. That showdown was in June, when the council dramatically scaled back the event, moving it from West Beach to Chase Palm Park, capping attendance at 8,500 per day (last year had as many as 13,000 at any time), and cutting it from three days to two.
Although somewhat disappointed that their West Beach Fest isn't proceeding as it was originally planned, the Pembertons say they're still stoked with its new incarnation, arguing it will bring in tourists and generate $140,000 for the city. They don't expect to turn any profit despite sinking more than $1 million into the event ($4.2 million over the course of its four years), but claim it's only a matter of time before they're back in the black. They believe that the addition of Jose Cuervo-sponsored CuervoGames — an event that became yet another point of contention after Twiin Productions publicly announced the attraction despite being told they couldn't have it — will help convince other Fortune 500 companies to join in the fray. (The city relented when the brothers threatened legal action.)
But as they prepare for this weekend's party, the twins are contending that they've been picked on by out-of-touch bureaucrats because of their age and ambition — one councilmember reportedly said they were too entrepreneurial for their own good — and believe that they've ruffled feathers because their enthusiastic, if naïve, approach to wading through Santa Barbara politics was not the norm. "I know our age has been one of our biggest setbacks," said Jeremy, who brought older staff members to city meetings just to get an ounce of respect. "We have been victimized beyond anything that's reasonable. We are looked at as kids that threw a Floatopia party."
They have accused the city of taking an unfairly large financial bite out of their company, Twiin Productions Inc., with unprecedented facility fees and insurance policies, today totaling about $200,000 ($93,000 of which they expect to get back). They allege that fee deadlines were moved up in an attempt to shut them down and claim that the city tweaked permit language to jack up the required insurance policy from $1 million to $5 million. That sort of treatment scared away their largest investor, said the twins, who have hired former deputy district attorney Josh Lynn to sift through documents they obtained through a public records request. They believe an influential, powerful minority has tarnished their reputation and spread word about their supposed lack of professionalism. "It's the conservative view with the dollars that has helped with political contributions," said Joshua, himself a registered Republican. "Personal opinion is unfortunately involved on the decision-making level." At one point, he said Councilmember Frank Hotchkiss mentioned if the concert featured jazz music as opposed to the slated rock-reggae lineup, he'd support it.
Altogether, it's not exactly what the twins expected to be dealing with when they founded the event in 2007, a few months after selling beer at a beach volleyball tournament and realizing that music might keep the crowds there all night. That notion inspired the brothers — who were raised in a conservative, Christian household in San Jose — to attract some investors and put on the inaugural event, which sold 500 tickets and brought 1,500 people to West Beach under the rain. The event grew to tens of thousands of attendees almost overnight before running into the 2010 roadblocks. Nonetheless, they say next year's festival will be better than ever, and are shopping around different South Coast cities for additional venues.
But they won't be forgetting City Hall anytime soon, as the twins plan to manage political campaigns during next year's election. "There's change that needs to happen," they pledged, arguing that Das Williams is the only councilmember "with a backbone" who sticks to his convictions. Among other critical civic issues, the twins believe a lot of time and money has been wasted on fighting both bulb-outs and medical marijuana. "I smoke weed every day," said Joshua. "I think its healthy." Jeremy, who's registered as an independent, concurred. "I've gone from drinking and getting fucked up to being mellow and enjoying the finer things in life," he said. "We're not losing kids on the freeway because of pot-smoking. I can't believe it's this hard to figure out."
Come Saturday, it's the mellowness of the West Beach Festival that'll determine whether these twins will be hearing the music or not in 2011.