Columns
Let the Parties Begin
Toning Things Down and Locking Up Could Save A Lot of Headache
At the beginning of each new school year, Isla Vista becomes a party zone with loud music, random yelling, and drunkenness. This lasts for several weeks. That is until students start to realize that partying hard isn't compatible with passing your classes, or getting your security deposit money back when you move out.
During this time of the year all sorts of crazy things might happen in I.V. Take, for example, a group of guys who set out to have a big party at their house a couple of weeks ago. They invited tons of their friends and drank, yelled, and partied for many hours. Sometime around 2 a.m., something went wrong and a party-goer got out of hand. A guy who they described as "from out of town" started causing a disturbance. The behavior was so threatening that they called the police. The party was over and they were left wondering what had happened. The next day the guys were still reeling. They vowed not to let a party get out of hand again.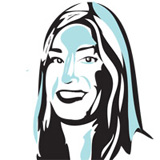 While it may not be a common occurrence, students sometimes find themselves facing an uninvited guest who is both scary and threatening. At another party in I.V., a party crasher was asked to leave when he started to take things from the rooms of people who lived in the house. He caused a big fuss when he left, and a whole row of cars on a nearby street had slashed tires the next day.
In another incident, a romantic entanglement turned ugly. When a student at a party showed interest in one of the guys who lived at the house where the party was held, and her ex-boyfriend noticed, there was a violent argument between the girl, her boyfriend, and the guy involved. There was screaming, someone got hit, and the tires of an X-Terra parked out front were slashed. It was fortunate that the knife wasn't used in any other way.
Lieutenant Ray Vuillemainroy, from the Santa Barbara Sheriff's Department, said, "It is a party atmosphere out there. We do have problems like that." But Vuillemainroy added that violent party crashers weren't the most prevalent problem the Isla Vista Foot Patrol faces. He said there are "a lot of other issues that are more prevalent."
He said that alcohol-related offenses rank high in a list of police issues. Police officers might have to break up a fight among people partying, or deal with someone who has drank too much. He said that in a recent case an ambulance had to be called when someone drank so much that they needed to go to the hospital.
There are also other issues that are exacerbated by I.V.'s party reputation. Various Web sites have given I.V. the dubious honor of being number one for burglaries and thefts. Whether or not the statistics have been compiled accurately, students, the police, and local residents know that I.V. is a target for criminals looking to lift a bike, computer, or other electronic equipment. You can find person after person who has had something stolen from inside their house or car. Vuillemainroy said that burglaries and thefts are a big issue, and are sometimes caused by I.V.'s open door habits. "[Students] have people in the house they don't know. The next second a laptop is gone," Vuillemainroy said. While the problem may seem tricky, the solution is simple. "If [students] locked their doors and windows, there wouldn't be half of the crimes," he explained.
So, all students have to do is lock up. This must seem obvious, but when I talked to students about why they had become the victim of theft, they always pointed to a roommate or other person who left without locking the door. With people packed into residences, with as many as 12 people in a house, it's not surprising that there is often someone who isn't into locking doors. The second habit that leaves students open to thefts and burglaries is the open party atmosphere in I.V. People from all over the area drive in to experience I.V. parties. With this type of reputation, it's not surprising that students don't always know all the people at their parties.
While the problem may seem daunting, it's not something that can't be handled. When students decide to harass their roommates into locking up, and think twice before having a big party, and settle for a smaller one with people they know, things will get better. Maybe little by little I.V. can reshape itself, and stop being a magnet for party goers. It may seem like all fun and games, but eventually someone gets hurt, or something gets stolen. And that isn't so much fun.