Sports
Soccer Madness
UCSB Men's Soccer Takes on Rivals Duke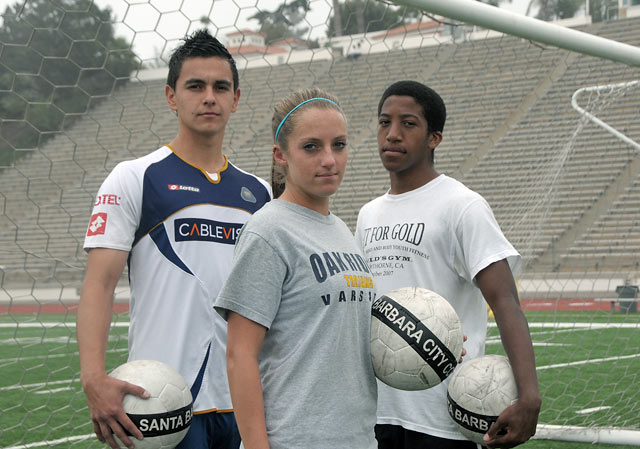 UCSB's soccer madness reaches a midseason peak Friday (Oct. 15) at 8 p.m., when the Gauchos host Duke at Harder Stadium. It is the national game of the week on the Fox Soccer Channel, pitting Duke's grandiosity against UCSB's audacity. The Gauchos announced their arrival as an elite program in 2004, when they blasted Duke by a stunning 5-0 score in the NCAA semifinals. Since then, UCSB has won a national championship and set new standards in college soccer attendance, the latest sensation being a turn-away crowd of 15,896 that saw the Gauchos beat UCLA two weeks ago.
Duke deserves credit for making the cross-country trip to play in front of the Gaucho Locos (college soccer's answer to the Cameron Crazies of Duke basketball fame). The Blue Devils would like to return in December for the 2010 College Cup, and Friday's showdown is an opportunity for both teams to show their mettle. It will be preceded by a women's match between UCSB and UC Davis at 5 p.m.
Meanwhile, Santa Barbara City College has quietly put together one of the best two-year soccer programs in the state. Entering this week, the Vaquero men and women had a combined record of 17-2-1. Consistency and organization are their hallmarks, qualities that reflect on John Sisterson, the head coach of both teams. The English-born Sisterson and his staff give both sides their full attention.
"It's a good atmosphere," said Ali Raack, a first-year Vaquero from San Marcos High. "We [the women] get along really well with the men's team."
Tending to the games can be challenging for the coaches. They had a game last Friday night in Glendale (where the men defeated Glendale College 2-1) and Saturday afternoon in overheated Fresno (where the women took their first loss, 3-0, at Fresno City). "That was a rough patch," Raack said. "I have faith we're going to keep winning."
Fresno managed to stifle an SBCC offense that is usually quite explosive, averaging 3.6 goals a game. Jessica Domenichelli, a first-year forward from El Dorado Hills, has scored 13 goals. "My teammates get me perfect balls," said Domenichelli, who moved south in the footsteps of her older sister, Danielle, a record-setting distance runner at UCSB.
The story of the Vaquero men has been defense. Glendale was the first team to score on them in eight games. Freshman goalkeeper Yonha Adrabi gets credit for the shutouts, but it's the entire back line — anchored by Santa Barbara High graduate Roberto Santana — that repels opposing attacks.
"We have been solid since Roberto came in as center back," Sisterson said. Other SBCC defenders include Branden Tangel from Dos Pueblos, Arturo Alvarez from Carpinteria, and Saul Angel from Santa Ynez. Up front, the Vaqueros have an international influence. Chijioke Aranotu, a freshman from Mira Costa High, is the son of a Nigerian semipro player. Leading scorer Pierre Mattsson hails from Sweden.
Aranotu, known as "Chi-Ji," scored twice in SBCC's 3-0 victory over Citrus College. "He's a strong, physical player," Sisterson said. "He's learning all the time." Chi-Ji noted that the whole country is learning more about soccer. "More people tuned in to the World Cup," he said. "They knew all about the referee controversy. It's exciting."
The Vaqueros have sent many players to four-year colleges, including James Kiffe, a junior at UCSB. Kiffe, who was a prolific scorer at San Marcos High, has excelled as an attacking defender, contributing four assists and a goal since he became a full-time player for the Gauchos.
Upcoming SBCC games at La Playa Stadium include the women versus Cuesta on Friday (7pm) and the men versus Allan Hancock on Tuesday (7:30pm).
FOLLOWING UP: The Gonzalez brothers (featured in last week's Independent) were at it again last weekend. Brandon ran for 137 yards and two touchdowns and also forced a turnover in Bishop Diego's 50-18 victory over St. Genevieve, while Art caught five passes for 150 yards and three TDs in SBCC's 35-28 win at Santa Monica. … Dos Pueblos High cross country standout Sergey Sushchikh missed a meet because of a tender hamstring, but he came back to win last week's Clovis Invitational on the same course where the state championships will be run next month.
GAMES OF THE WEEK: The 51st Big Game between the football teams of Santa Barbara High and San Marcos will take place at 6 p.m. Friday at S.B.'s Peabody Stadium. The Dons and Royals have played some games they'd just as soon forget, but this game will be seared into their memories. … SBCC's air show is ready to launch against L.A. Pierce at 6 p.m. Saturday at La Playa Stadium. … UCSB, ranked ahead of Stanford in men's water polo for the first time in years, will host the Cardinal at noon Sunday.