News
Wild Kitties
National Feral Cat Day
Untamed cats that are not owned are known as feral cats. Feral cats are typically born in the wild and live with relatively no human contact. They can rarely become house cats unless they are socialized and fostered at a very young age. They usually live in groups, known as colonies, and often have a human caregiver who provides daily food, water, and even shelter. Compassionate and responsible caregivers participate in "Trap-Neuter-Return" programs, or TNR. The TNR program involves live trapping the feral cats one-by-one, having them spayed or neutered, monitoring the cats for a day or two, and then releasing them back into their colony. The veterinarian will also vaccinate and "ear tip" the cat during this process. Ear tipping involves snipping a small part of the ear when the cat is unconscious. This procedure is performed so that when the caregiver continues to trap feral cats, the person will know immediately if the cat has already been spayed or neutered.
Research shows that TNR programs really work. With this program, fewer kittens are born, resulting in a decrease in the number of animals; and bothersome behaviors associated with breeding (fighting, roaming, spraying, crying, etc.) are minimized.
An alternative to the TNR program with feral cats is the "catch-and-kill" method, which is exactly what it sounds like. This practice is used widely in animal shelters across the United States, typically because the shelters do not have enough resources. According to experts, this method is seldom successful. Feral cats will normally choose an area to live based on the food and shelter source. Once some of the cats are removed from the location, the ones remaining will breed to capacity, or other cats move in to take their place. Essentially, the population never goes down. This phenomenon is called the "vacuum effect."
Aside from the continual, cruel cycle of trapping and euthanizing cats, it is my belief that there are many so-called "feral" cats that get caught in traps that are actually owned cats who are just out of their element. I worked at a Humane Society for many years where unfortunately, we practiced the catch-and-kill method, euthanizing thousands of cats every year. It saddens me to think how many owned cats we may have euthanized thinking they were feral. When I interviewed well-known pet detective Kat Albrecht, she echoed my sentiments and even suggested that shelter employees receive extensive training on how to distinguish between a feral cat caught in a trap and an extremely frightened house cat caught in a trap. I couldn't agree more. For more on my interview with Kat Albrecht, visit What To Do When Your Pet Goes Missing.
The impact of feral cats on the environment is an ongoing debate. Some argue that free-roaming cats are subject to injury and/or death by predators, vehicles, diseases, poisons, etc. Others are concerned about the impact the cats have on local wildlife. Groups that support feral cats and TNR programs argue that feral cats help control rodent populations. They also maintain that if caregivers provide enough food for their feral cat colonies, then cats won't have to roam in search of food and won't have as big an effect on wildlife.
With all the feral cats in Santa Barbara County, County Animal Services are always looking for citizens who can provide safe ranch or barn homes for these feral cats. All the cats are spayed or neutered, up to date with their vaccines, and given an overall health check before going to their new homes. Animal Services will conduct a yard check and will also provide instructions for acclimating the cats to their new home. They are looking for homes with a barn or shelter, so the cats can be protected from predators as well as the elements. The caretakers need to be willing to feed the cats every day and provide them with basic needs. If you are interested in the feral cat adoption program, please contact Beth or Kaitlyn at Animal Shelter Assistance Program 683-3368.
The organization Alley Cat Allies has a wonderful website for those looking to care for feral cats. They have advice on how to participate in TNR programs, while keeping your neighbors happy. Alley Cat Allies recommend providing litter box areas to prevent the cats from using neighborhood gardens and they also have a list of humane deterrents to keep cats away from places they aren't wanted. For more information, visit alleycat.org
Announcements
Animal Shelter Assistance Program (ASAP) offers cat discounts. ASAP will be offering $10 off the adoption fee for the month of October along with two for one kittens! Included in the adoption fee at ASAP is:
• Spay or neuter surgery
• Flea treatment
• Vaccinations
• Microchipping
• Health evaluation, including testing for Feline Leukemia (FeLV) and Feline Immunodeficiency Virus (FIV). Cats thought to be 10 years or older receive a full blood panel evaluation, thus assuring that the cat is indeed healthy and adoptable.
• Medical and drug coverage through ASAP's vet for two weeks beyond adoption, if necessary
• Temperament evaluation
• Cat Carrier (you can save the County money by bringing your own)
ASAP is located at the Santa Barbara County Animal Shelter, 5473 Overpass Rd. Adoption hours are Monday to Friday, 9 a.m. to 4:45 p.m.; Saturday, 10 a.m. to 4 p.m. For more information, visit asapcats.org.
Adoptable Pet of the Week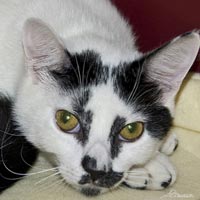 Archie is a short-haired white and black cat, is outgoing and playful. This one-year-old boy is inquisitive with high energy but he also likes to be held and is very affectionate. Archie gets along well with other cats, would probably get along with a cat-friendly dog, and would prefer a quiet, adult home.
To meet available cats needing loving homes, visit ASAP at the Santa Barbara County Animal Shelter, 5473 Overpass Road. Hours: Weekdays, 9 a.m. to 4:45 p.m.; Saturday, 10 a.m. to 4 p.m. For more information, call the ASAP office at 683-3368 or visit asapcats.org. There is an October special of $10 off the adoption fee of any cat.