Angry Poodle
Canine and Abel
Poodle's Two-Cents Worth on Election Results
IF PIGEON GUTS COULD TALK: Desperate times call for desperate illusions. Being religiously minded, naturally, I turn to sports.
When so much of the country seems caught in the thrall of a vast right-wing temper tantrum, I find it comforting that San Francisco Giants — the team hailing from the Sodom and Gomorrah of the so-called Left Coast — won the World Series. That they defeated a team that happens to be the reincarnation of the former Washington senators can be no mere coincidence. To thoughts such as these I'm forced to retreat in the wake of Tuesday night's election results, which, at the Congressional level, qualify as nothing less than a collective curb sandwich. Election nights are always tough, populated by winners or whiners in full tumescence of grief or glory. But I do get it. Sort of. They — whoever they are — want to "take back" the country. But I'm still not clear whom they want to take it back from. In fact, it seems they just want to give it back to the very people who screwed it up in the first place.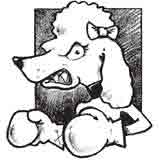 In a nutshell, a few years back, Congress voted overwhelmingly to abolish certain modest safeguards that hitherto prevented the klepto-capitalist class from making insanely reckless investments with other people's money so they could cash-out on the commissions. Maybe three members of Congress voted no. In hindsight, it's become excruciatingly clear how vast quantities of capital were dumped by brilliant financial geniuses into "instruments" not worth their weight in wet toilet paper. When it all came crashing down, the ensuing collapse threatened to take down the housing market, the stock market, the banking system, the Big Three automakers — not to mention my goddamn Christmas bonus. All this happened just as Barack Obama came to power. Obama — whom Spike Lee would call the world's most Magical Negro — found himself forced to interrupt his personal and political plans and go save the white man from himself. To this end, Obama set aside $700 billion to bail out any company deemed too big to fail. He set aside another $800 billion to shock the economy back to life by repaving old roads and painting them repeatedly with endless coats of slurry seal. The good news? As many as three million jobs were saved. The bad news? Unemployment still hovers at 10 percent nationally. Most amazing, the Big Three automakers were saved from decades of self-inflicted stupidity and repaid their loans early. And the economy — while still precarious — is no longer in free fall. Better yet, the bailout will wind up costing only $30 billion. Too many houses remain upside-down, too many people out of work. But the economy is no longer in free fall. The real problem? Obama does not bite his lip the way Bill Clinton used to do. He's too remote. He does not emote. Most galling, he hired a couple of the kleptocrats who should have been tarred and feathered and made them economic advisers. Everyone knows it takes a thief to catch a thief.
That people find all this obscene in the extreme should come as no surprise. But if you've bitten your tongue bloody because corporate fat cats have been allowed to rape, pillage, and plunder the American economy without consequence, I totally understand. But what I still don't get is how an ounce of revenge — or any karmic retribution — is exacted by giving tax breaks worth $7 trillion over 10 years to individuals already making $200,000. In sheer magnitude, this dwarfs Obama's bailout plan and his stimulus package combined. Besides, you'd get better bang for your buck — as the economists say
— passing out $7 billion in food stamps. But strangely, weirdly, and inexplicably, this is exactly the Kool-Aid the Tea Party and their band of fair-weather friends would have us all drink. When the next Republican-controlled Congress convenes, that's what's on the table.
With this suicidal scenario unfolding, I take grim satisfaction that California voters finally displayed uncharacteristic common sense at the polls. For governor, we elected Jerry Brown, a cranky, quirky curmudgeon who brings some actual knowledge and experience that might actually help when confronting an insoluble problem. And we turned a deaf ear to Meg Whitman, the über-auctioneer who spent $140 million of her own money to buy a position for which she was always too busy, at least during her previous life, to bother casting a ballot.
Enough Californians voted to legalize mari­juana — Proposition 19 — to send a serious message, but they were smart enough, ultimately, to reject what was a flawed legislative solution. With results like that, legalization will be back. Here in Santa Barbara County, Prop. 19 managed to win with a slim majority of voters — 51 percent. And in the City of Santa Barbara, 60 percent of the voters rejected Measure T, which would have banned all medical marijuana dispensaries. The only other local measure to go down so hard was that of poor Sheriff Bill Brown, his half-cent jail tax. Ouch! That was almost as bad as the good old-fashioned ass-whupping administered to the aggressively retrograde Prop. 23, which would have repealed the state's landmark anti-global-warming bill. I know it's become politically fashionable in some circles to adopt a wise tone of voice, scratch one's chin, and voice sage reservations about the scientific evidence supporting climate change. But when voters were asked, "Whom are you going to believe — your own two eyes or the sleazy oil companies bankrolling Prop. 23?" — the eyes clearly had it.
Statewide, voters made it clear they were in no mood to let government touch their money. But they also recognized, finally, that some of the fiscal restrictions they imposed on state government have caused the toxic dysfunction — and chronically bad theater — for which the legislature enjoys single-digit approval ratings. Gone now is the two-thirds supermajority requirement needed for the legislature to pass a stupid budget. No wonder the budget's been late every year for the past 20 years. Voters overwhelmingly approved a new rule — Prop. 25 — allowing the legislature to adopt a budget with a simple majority. Admittedly, it's no magic wand. But at least now they'll have to find another excuse.
In the meantime, how 'bout those Giants?