News
Twiins Tailspin into Bankruptcy
Owe Vendors Thousands of Dollars; Blame City for Troubles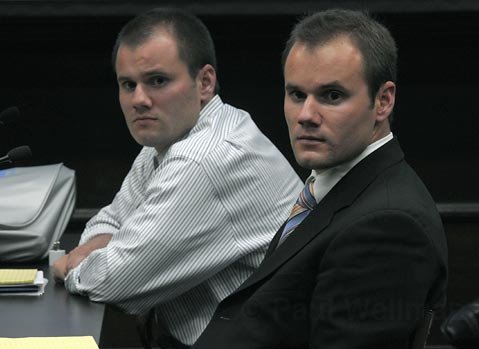 While all seemed quiet on the eastern front after this year's West Beach Music Festival wrapped up its two-day bash at Chase Palm Park, it turns out brothers Joshua and Jeremy Pemberton — and their promotion company Twiin Productions, Inc. — took such a financial hit from the unprofitable concert that they were forced to file for bankruptcy today. But the bad news isn't exclusive to the two young entrepreneurs: A number of vendors who haven't been paid for services rendered are wondering if they'll ever see the money they thought was coming to them.
The twins' lawyer, former deputy district attorney Joshua Lynn, sent an email to local media late in the afternoon explaining Twiin Productions had filed for Chapter 7 bankruptcy and would be closing its doors. The message blamed the City of Santa Barbara for throwing up so many "unprecedented and inconsistent governmental and bureaucratic obstacles" as the Pembertons planned for this year's festival that it made it impossible for them to turn the profit necessary to keep their company afloat.
City staff worry such harsh language foreshadows a possible lawsuit, but Lynn said during a phone conversation that it'll be up to the twins to take that next step. So far, he said, they haven't evidenced a desire to do so. The decision to issue a press release, Lynn said, was to let people know exactly what's going on considering the attention and ink the Pembertons have received over the past year. And Chapter 7 bankruptcy, he explained, is not about reorganization, but about liquidation and trying to get assets available in order pay off creditors.
Throughout the months leading up to the 2010 concert, the twins consistently called out the city for unfairly raising facility fees, shortening payment deadlines, and making ludicrous demands. City staff countered that all the requirements they put forth were necessary to help keep this year's event from becoming the overcrowded and noisy disaster it turned into last year.
By all accounts, September's concert was void of the complaints and calls for police service that had plagued 2009's show. However, it also lacked the lucrative crowds that had turned the 2009 West Beach Music Festival into the biggest such event Santa Barbara had ever seen: This year, at its height, attendance reached only around 3,000 on Saturday. On Friday, it barely peaked at 1,500. That's in stark contrast to 2009's three days of music during which upward of 10,000 party-goers swarmed West Beach each day.
The underwhelming turnout, coupled with the twins' biggest financial backer ducking out right before show time, left them not only unable to make rent at their Chapala Street office but — more importantly — also unable to pay many of the vendors they used to get the festival off the ground. They reportedly tried to scrape together any last remaining cash they could, in an attempt to stave off some of their more demanding contractors, after spending more than $1 million putting on the concert. They also sold some of their office wares on Craigslist, but finally had to admit to people's faces that they weren't going to be paid.
A number of individuals had stopped by The Independent's offices in recent weeks with tales of frustration and woe, angry at the Pembertons for issuing false promises and bad checks. The city can't help them, they said, as it's not up to staff to help private citizens or companies recoup lost earnings. They've been advised to speak to attorneys to see what their options are. A number of the performing bands, luckier than the rest, had to hound the twins for their payments post-show, but were eventually made whole.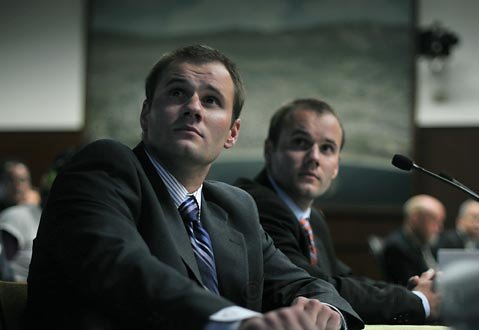 The city, explained staff, had the foresight to demand cash upfront from the Pembertons. The city was paid in full and gave the brothers back their remaining security and facility deposits soon after things wrapped up. Neither of the twins could be reached for comment.
No one perhaps is more upset with the twins' alleged transgressions than MarBorg's Anthony Borgatello. The Pembertons, he said, owe his company almost $50,000, and they wronged the family in a personal and inexcusable way. According to Bortagello, he and his father, Mario, took the twins under their wing early on when Twiin Productions was first battling the city for the rights to an event permit.
Noticing that they were going about things all wrong — aggressively jostling city staff when they should have been gently massaging — Anthony and Mario tutored the twins in the ways of diplomacy. "It was obvious they were struggling," said Borgatello, who explained he and his father had multiple sit-downs with the Pembertons to discuss these finer points.
Business-savvy as always, the Borgatellos knew that if the brothers could get along with the city and keep putting on large-scale events, MarBorg could keep signing lucrative contracts with Twiin Productions and provide their much-needed services, like carting in and installing portable restrooms, fencing, and light towers, as well as organizing trash and recycling pickups.
Not long after the twins and the Borgatellos started talking turkey, though, Anthony got a bad feeling about how smoothly things were actually going to go. "It was a frustrating process because it was an ever-swinging pendulum," lamented Borgatello about fluctuating payment offers set forth by the twins. "We soon realized they weren't as organized as they said they were." MarBorg has worked events all over the South Coast and has never had such a hair-pulling experience, he said.
With the Pembertons' postdated checks in hand, MarBorg did what it could to make things happen. Staff dealt with the health inspector when there was a problem. More fences and lighting were brought in when, at the last minute, the brothers realized it was needed. Borgatello even went to the site himself to help with pump installation. "We went above and beyond the call of duty," he said. While the precision of logistics left something to be desired, said Borgatello, he wasn't too concerned about eventually getting paid, as events like the West Beach Festival — which make their money after ticket sales and beer garden tabs are totaled — don't turn a profit until all is said and done.
But once he proceeded to process the twins' checks, they bounced, said Borgatello. The brothers tried to schedule a meeting with him and his father, but they refused. "There was no need to meet," said Borgatello. "We performed our services, now its time for you to perform yours," he remembered thinking to himself. "We weren't going to get suckered into a bunch more rhetoric."
The Pembertons, Borgatello said, told him they'd send an email with an explanation. He never got one. They then offered property as payment: plywood leftover from paths that were never laid. Borgatello declined.
"There is no other way to describe this other than a huge slap in the face," he said. "They promised so much to the city, bragged so much about their capabilities, and talked such a big game. The fact that they didn't deliver on any of that says a lot about them and who they are," Borgatello said. What burns him the most, he went on, is that so many people worked so hard to deliver on the twins' promises and make them look good in the eyes of the city and the community at large, only to have their efforts go unrequited and uncompensated.
"The only best interest they had in mind were themselves," Borgatello summed up, "and that's sad." There are reportedly a number of big-name vendors out there that similarly haven't been paid but, as of press time, The Independent has not been able to verify those claims.
Lynn, though, continues to see the brothers as victims of a city hall that singled them out and unfairly made things so difficult that they were forced into these financial straights. "The central issue," Lynn said Friday evening, "appears to be that Twiin Productions has been treated differently than other promoters."
There is absolutely no reason for this disparate treatment, he went on, and the brothers should be commended — not punished — for bending over backward while complying with staff demands. "If this was a jazz festival, I don't think we would be where we are," he said. Lynn also stated that the West Beach Festival is a great revenue generator for the city and should be recognized as such. "Twiin Productions and the twins are dedicated to Santa Barbara and the community and simply want to put on great events," he said.
Lynn explained he has not asked for payment for his legal services, saying, "I believe in Twiin Productions and the festival. I look forward to trying to work with the city and the twins to get things back on track."