Arts & Entertainment
Massive Attack and Thievery Corporation at the Santa Barbara Bowl
2010 Concert Season Closes Out with One Grand-Scale Double Bill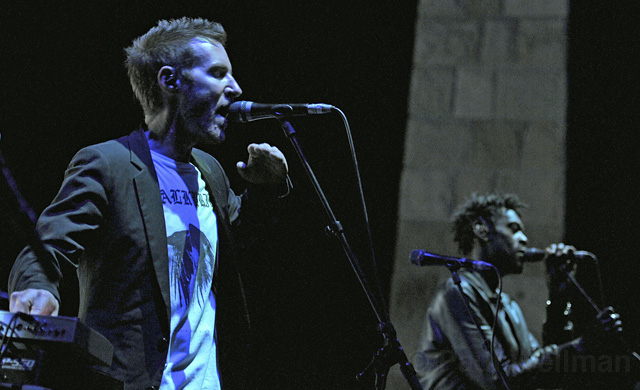 Whether or not you championed this year's lineup at the Santa Barbara Bowl, Friday night's season-closing doubleheader left little room for complaint. In fact, the combination of warm temps, sold-out crowds, and two extra-lengthy sets made the night feel less like a concert and more like a fest, boasting two of dance music's most prolific names.
With an early start time of 6:30 p.m., D.C.'s Thievery Corporation (collectively deejays Rob Garza and Eric Hilton, and a small arsenal of special guests) had the toughest spot of the night. Long lines and massive crowds found the band playing to a lengthy trickle of concert attendees, rather than the full house they deserved. Even still, by midway through, the energy levels were plenty high. With 11 members onstage, "Vampires" hit hard with a score of rumba-influenced beats and infectiously aggressive lyric spitting. "The Heart's a Lonely Hunter" followed in quick succession, mixing a big brass section with the band's signature trip-hop progressions for a fast-paced, mid-set party starter. From there, Thievery Corp. (TC) abandoned the downtempo numbers altogether, climaxing a nearly hour-and-a-half-long set with more drum, bass, and reggae-infused beats than the Bowl has seen in a good while.
Following intermission, though, it was a different story altogether. Where TC had fans jumping and fist-pumping along, Massive Attack (MA) kept the crowd quietly awestruck with their spacey mix of electronica, industrial, and soul. Things started out booming and ominous with "United Snakes," ultimately setting the mood for what would be a jam-filled set of reworked newbies and classics. While MA's core duo (Grant Marshall and Robert Del Naja) ultimately ran the show, longtime collaborators Horace Andy and Martina Topley-Bird showed up, as promised, to lend vocals and history to the mix. Early on, Andy appeared onstage for "Girl I Love You," which was transformed from its recorded atmospheric oddness to a jammy percussive number. Not long after, Topley-Bird took the stage and commanded some serious attention with "Teardrop," which rang out beautifully in its simplicity.
Throughout it all, Del Naja's now-famous light show flashed words and statistics on everything from per capita water usage to Lindsay Lohan's most recent jail sentencing, making a weighty statement to match the bass-heavy doom that has long helped Massive Attack stand out from the pack