Visual Arts
Mesa Studio Artists Tour
12 Painters Open their Doors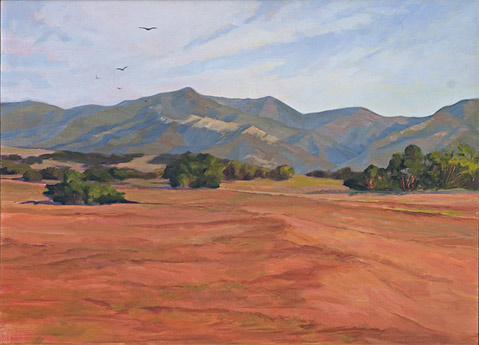 Visitors to Santa Barbara could be forgiven for thinking that the city's arts community is based downtown. After all, that's where most of the galleries and museums are. What Santa Barbarans know is that many artists live and work not in urban lofts and downtown studios, but in houses and apartments scattered from Montecito to Goleta.
This weekend, 12 artists from one particular region of town will open their working studios to the public, allowing collectors, connoisseurs, and the just plain curious to peek behind their unassuming front doors. They're hosting the 7th Annual Mesa Artists Studio Tour, which takes place within a two-mile radius in one of the city's most idyllic neighborhoods.
The Mesa is known for its relaxed lifestyle—surfing at Mesa Lane, cliff-top walks at the Douglas Family Preserve, and leisurely meals at the Mesa Café. But the neighborhood has also got a long history of artistic activity, dating back to the early 20th century when the well-known painter of Indians and southwest landscapes Carl Oscar Borg built his studio on Loma Alta Drive and cowboy artist Edward Borein built his home on Barranca Avenue. Today's artists aren't so focused on cowboys and Indians, but the landscape, colors, flora, and fauna of the Central Coast remain a uniting theme.
Among the artists included in this year's tour is Ellen Yeomans, who has lived on the Mesa for more than 25 years. She's a plein air painter, and her subjects are almost exclusively unpopulated landscapes. Often, Yeomans picks a spot within a mile or two of her home, preferring long sightlines and views of distant mountains. These are not bright, splashy visions of Santa Barbara's whitewashed walls, red Saltillo tiles, and magenta bougainvillea; Yeomans uses a much more subdued palette of browns, grays, whites, and greens. She'll be showing mostly recent works, including a series of "fire paintings"—studies of the Santa Ynez mountain range in its newly exposed form. In many of these, ash mixes with her standard combination of oil and alkyd paints, a blend Yeomans uses for its intermediate drying time. "I'm interested in how the mountains have been scorched to the bone," she explained, showing me one painting where sketchy diagonal lines of gray cut across the peachy orange of exposed rock. In another series, Yeomans has done without color entirely, creating sculptural studies of landforms all in gray and white.
Yeomans works exclusively on panel, preferring its smooth surface to the rougher texture of canvas. Her works range from large-scale landscapes to those no larger than a paperback book. In addition to painting, she's working on the design for a special cart that would allow plein air artists to more easily transport their easel, paints, and other materials along narrow dirt paths and across bumpy fields.
Such concerns are less of an issue for Karin Aggeler, another Mesa artist who has worked in Santa Barbara as a potter and painter since the '60s. Aggeler creates from memory and imagination, working indoors to paint abstract pictures with complex layers and loose geometric grids. Her color palette covers the full range, from pale yellow to vivid orange-red to deep indigo—sometimes in a single painting. On the day I visited, she greeted me at the door with turquoise fingers and led me to her studio, where she was just getting started on a canvas of whites and blues. Stacked around her were paintings she'll be hanging for the tour. "I'm interested in shapes and colors, and the expression of my feelings," she explained in a gentle voice, accented by her native German. "I use impressions from trips, landscapes I've seen. I want to make it so that people who look at my paintings see their own things in them."
There's a lot of variety in Aggeler's oeuvre, but her paintings are consistently energetic. And though they're not strictly landscapes, most of them include at least a vague horizon line—a reference point where forms and colors seem to congregate. Some recall aerial views of agricultural fields; others, the hazy line between sea and sky that is the Mesa's most famous view.
There are many more studios to visit, from Sally Hamilton's top-floor art space filled with bright pastels and oils to Erin Williams's oceanfront studio, where she'll be displaying her floral watercolors. All of the artists included in the tour lead successful careers and show their work widely. This weekend is an unusual chance to step inside their studios and get a peek at the art that's being created all around us—maybe even next door.
4•1•1
The 7th Annual Mesa Artists Studio Tour takes place this weekend, November 13 and 14, from 11 a.m.-4 p.m. each day. Brochures with maps will be available at each location. To learn more, visit santabarbaramesaartists.com or call 962-5619.