News
Better for Weather
Medical Care and Supplies Offered to Homeless Ahead of Winter Months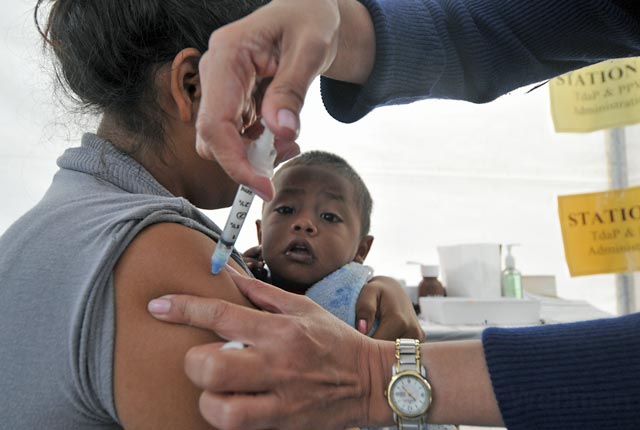 Ken Williams, social worker to the homeless, walked around Casa Esperanza Monday morning, clearly the big man on campus. He couldn't walk five feet without someone saying hello or shaking his hand.
In fact, he couldn't walk five feet without bumping into someone whether he knew them or not, as the homeless shelter was packed to the gills as day one of Project Healthy Neighbors got underway. Project Healthy Neighbors, a one-stop-shop health clinic Williams and friends started six years ago, has grown to a three-day event prepping members of the homeless population for the cooling weather and rainy season that sits on the horizon.
People who needed haircuts got haircuts. Those who needed shoes got new shoes, and those who needed advice — be it legal aid or domestic violence issues — got that, too.
And everyone got some face time with doctors and nurses. Participants went through a health screening, which included everything from HIV or TB tests (if they return to get the results in the coming weeks, they get a food card donated by McDonald's) to tetanus shots and flu vaccines. There were stations focused just on women's health as well as stops for mental health services. Those with more serious injuries could receive treatment, as well.
And all participants filled out a Vulnerability Index survey, so officials in the Public Health Department and others who work with the homeless population will be better able to understand the homeless population that they serve. The survey includes info such as name, age, most common address or location, shelter stays, veteran status, and medical history, to name a few. "We'll get a much better picture of how homelessness has changed," said Casa Esperanza Executive Director Mike Foley.
The mobile medical clinic was a community collaboration of several community groups, including a freshman class from Midland School, which helped pass out shoes. The 700 pairs of shoes came from Los Angeles-based footwear manufacturer Chinese Laundry, national nonprofit Soles4Souls, and Spenser Wyatt, who instead of gifts asked for shoe donations as part of his bar mitzvah. Other volunteers came from Westmont College and FUND, a group of Montecito families which packed the backpacks full of soap, ponchos, socks, gloves, and a handwritten card from a child to brighten up a person's day. "It's a community day for them," said Merryl Brown who, as an event planner, helped organize the program. "It's a wonderful opportunity for people to feel the embrace of the larger community."
Another group of people — volunteers and the homeless alike — drew a tree of names remembering the 27 people who have died on the streets this year. "It's great we're providing services," said Imelda Loza from Casa, "but more than ever we need to prevent deaths on the street."
Organizers were expecting record crowds, with more men, women, and children homeless for the first time thanks to the economy. The three-day event, expected to draw about 700 homeless people and more than 100 workers and volunteers, couldn't have happened without some major organizing, much of it by Williams. "He is really the mastermind," Brown said. "He's really an angel walking on earth." With a high death toll this year, the hope is that the clinic will deliver medical and social services to those most vulnerable. A similar event was being put on in Santa Maria, as well.
The hope is to one day have a mobile clinic that can go and meet the homeless where they are on the street, though funding is always an issue.