by Rhys Alvarado, Aly Comingore, Charles Donelan, Michelle Drown, Tyler Hayden, Matt Kettmann, Jen Malkin, Chris Meagher, Martha Sadler, Ethan Stewart, and Nick Welsh
A hero is an ordinary individual who finds the strength to persevere and endure in spite of overwhelming obstacles," said actor/activist Christopher Reeve. Reeve — a hero onscreen and in life — could have been speaking about any one of the 18 folks who were selected as this year's Local Heroes.
They are your neighbors and your friends, and they include a teenager who's raised $65,000 so far for cancer sufferers and their families, all through the sales of her homemade cupcakes; a man who's spent 25 years with Santa Barbara County Sheriff's Search and Rescue Team braving whatever Mother Nature throws at him, all in the name of saving lives; an Eastside elementary school principal who has created a mecca of advocacy and education; a veterinarian who has dedicated his life to animals, treating critters with the latest hi-tech instruments, creating a physical rehab program for four-leggeds, and offering free shot clinics to homeless people's animals; and two people who created a nonprofit devoted to putting all things music into the hands of Santa Barbara's youth.
Read on to learn about all of the outstanding individuals chosen as The Indy's 2010 Local Heroes.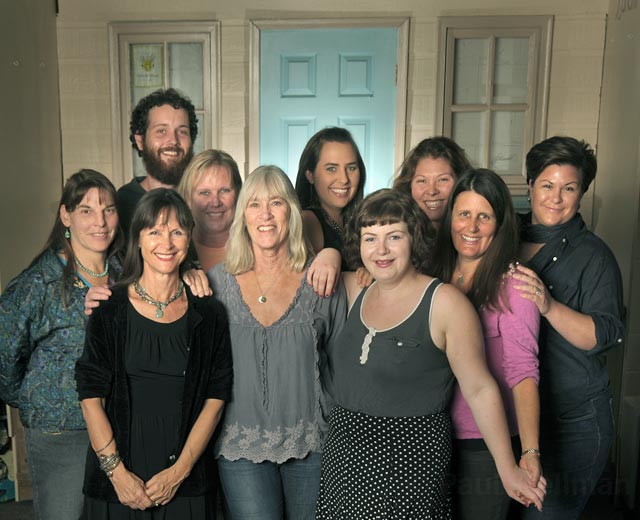 Art From Scrap: Creative Environmentalists
Art From Scrap is a perfect storm of art, environmentalism, and education that, during the 20 years of its existence, has become an ever more defining feature of Santa Barbara's cultural landscape.
It was born when Starr King Parent-Child Workshop parents, concerned about cuts to arts education in public schools, started gathering art supplies for classroom teachers. Nowadays, half of Art From Scrap's 10-person staff is dedicated to instructing Santa Barbara County's schoolchildren in the three Rs: reduce, reuse, and recycle. They do so in a fun way that leaves a favorable impression on the kids. The staff's hope is that these principles are as internalized by today's students as the idea of not tossing litter onto the street became to previous generations.
Art From Scrap also runs the Watershed Resource Center at Arroyo Burro Beach, where children learn about what flows into the ocean. On field trips to pick up trash at Santa Cruz Island, fishing deflated helium balloons and other flotsam out of the channel, kids see for themselves what a small and precious world it is.
Young people continue to be involved during high school, especially as volunteers in the Art From Scrap store, where artists and others can find fabulous deals on intriguing materials donated by area businesses: ceramic tiles, swatches of sheepskin in a rainbow of colors, peelings left over from manufacture of neoprene skateboard wheels, you name it. And last, but by no means least, just above the store, guest artists lead workshops each Saturday at the Art From Scrap complex on East Cota Street. Art From Scrap has helped bring joy to environmental activism.
Blakely Colvin: Cupcake Princess
As far back as she can remember, Blakely Colvin's been obsessed with cupcakes. So much so that she even named her toy poodle after her dessert. "Everything in my life is cupcakes," Colvin joked.
The little frosted cakes became more than just a sweet treat to Colvin when, three years ago, at age 13, she sold her cupcakes for $1 apiece after hearing that a fellow classmate was battling leukemia. As a child, Colvin survived a rare form of cancer, although doctors told her mother, Stephanie, "she wasn't supposed to make it." "This is the way I can give back," Colvin said.
Colvin, who thought that selling the frosting-smothered cupcakes "was going to be a one-day thing," wound up raising $200 in her first attempt for her ailing friend, Kevin. Within six weeks, her bake sale profits reached $5,000. And she didn't stop there; with the help of her family, Blakely applied for nonprofit status and started up Cupcakes for Cancer. She continues to bake and has donated more than $65,000 to charities such as the Make-a-Wish Foundation of the Tri-Counties and the Teddy Bear Cancer Foundation of Santa Barbara. She also started a national outreach campaign called Frosting Hope Across America.
Every week, Colvin continues to sell her cupcakes at area football games, parades, and park events. When she's not whipping up a sea of chocolate, vanilla, or her favorite, lemon-drop cupcakes, Blakely is on the run as a member of Santa Ynez Valley Union High School's cross-country and track team.
John Dixon: Grocer with a Conscience
It's funny how things in life flow into each other. More than 25 years ago, John Dixon, a Dos Pueblos High School and Santa Barbara City College alum, took a fateful drive down Milpas Street with his father to a humble grocery store by the sea. Less than a year later, Dixon and his dad were proud owners of Tri-County Produce — a quality-first, local bastion of homegrown goodness long before food groovies started making "Support Local Farmers" a trendy, terrific, and often spendy call to arms.
Nestled at the ocean end of Milpas among hotels, train tracks, freeway ramps, and public ball fields, Tri-County is also very much on the front lines of Santa Barbara's ever undulating wrestling match with the homeless. With his store plagued early and often with shoplifters, vandalism, and assorted other shenanigans related to the darker side of S.B.'s homeless population, Dixon soon found himself stretching beyond his typical 80- to 90-hour work weeks at the grocery into the world of politics, nonprofits, and community stewardship. "My belief is you either get involved in your community and try and make it a better place or you sit back and watch," said Dixon. "But if you do that, then you have no right to complain."
In 1998, Dixon was an instrumental part of starting the East Beach Coalition, a group that helped realize the city's eventual ban on drinking in public parks and beaches. He graduated from the Citizens Police Academy, took a seat on the Police Activities League Board, joined the board for the Casa Esperanza homeless shelter, started a bag program at Tri-County that has drastically reduced the number of people using paper or plastic while simultaneously kicking cash to several local charities, and, most recently, is a major player in the Milpas Action Task Force. All of his efforts, though not without their certain contradictions, are purposely pointed at making his neighborhood a better place for all.
Lansing Duncan: Santa Ynez Savior
For 21 years, Lansing Duncan has been a tireless advocate for all that is great about the Santa Ynez Valley — especially its open space, agriculture, and history, which together give the valley its unique rural character. Just about every major environmental success story in the valley bears his fingerprints, including the recent designation of Mattei's Tavern, a former stagecoach and railway stop dating back to 1886, as a historic landmark.
However, that is only one of many projects on which Lansing has worked. He is a most valuable player, but Lansing by no means takes sure bets only: He has also put his shoulder to the wheel for visions that may yet come to fruition.
As a cofounder of the grassroots Sedgwick Preservation Committee, Lansing helped prevent the subdivision of the beautiful Sedgwick Ranch and ensured establishment of the Sedgwick Reserve. He helped hammer out and fight for adoption of the Santa Ynez Valley Community Plan, both as a county planning commissioner for three years and as a citizen activist. Lansing has served actively on nonprofit boards concerned with art, architecture, and social justice, and he helped found the Santa Ynez Valley Natural History Society.
While dedicating untold hours to these community efforts, Lansing has taught horticulture at Santa Barbara City College and run his own landscape consulting business, not to mention raised a family.
Lansing's commitment extends literally to the very soil of California: Every place he has lived is graced with the many native trees he's planted and encouraged to flourish. He is an authority on California pottery, especially graceful and useful styles from the Arts and Crafts vintage, but modern and contemporary ceramics, too. "Where he lays his hand," as an enthusiastic admirer said in reference to both Duncan and God, "beauty abides."
Carol Kenyon: Art Advocate
You'd be hard-pressed to look around town and find a piece of public art that Carol Kenyon didn't have a hand in making happen. Kenyon, now retired and living "in the boonies" of Paso Robles, has dedicated decades of her life to Santa Barbara's arts community, deftly navigating the surprisingly contentious waters that surround the installation of communal artwork by working at the ground level on a number of advisory boards and committees.
Layered within these visible efforts — spearheading projects for State of the Art Gallery, working to restore paintings and sculptures within 18 of California's 21 missions, and helping along the Dolphin Fountain and Chromatic Gate projects — Kenyon was until recently the owner of the South Coast Fine Art Conservation Center. In that capacity, she personally restored pieces within regional historic buildings, like the mural within El Paseo's Ranchero Room, and helped private collectors keep their works looking pretty and clean.
"It's really rewarding to see the before and after," said Kenyon, "and a pleasure to take a piece of artwork that's important to someone and help them repair and restore it." She explained that her art major in college coupled with years of watching her father, who was gifted in the ways of mechanics, helped facilitate the aesthetic and technical considerations of her conservation-minded career.
A docent of the Santa Barbara Museum of Art for seven years, Kenyon has also been a big supporter of area artists, regularly buying their work and making donations through the Conservation Center. While she's enjoying retirement — "I highly recommend it," she said — Kenyon is quite proud of the legacy she's left behind. "I love Santa Barbara," she explained, "and really enjoyed contributing back to the talents of the community, because they so well reflect the unique character of this area."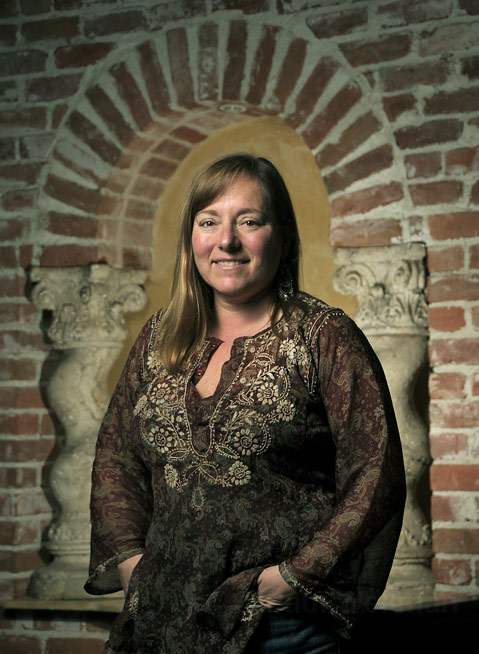 Laura Knight: Generous Citizen
Restaurant owner Laura Knight has put 19 years of hard work into Pascucci, and uncountable delicious meals into her loyal patrons. She has also developed a reputation as one of the city's most generous people. One member of the Solstice board put it this way: "Laura just will not say 'no.' If you ask her for help, she always comes through." The most visible of Knight's contributions to the downtown scene are her annual Dine Out Solstice fundraising events, during which she turns over the entire restaurant (except the kitchen!) to Solstice volunteers who seat people, take orders, pour drinks, and generally play the host to their friends for a night. The proceeds go a substantial way toward covering the costs of our city's beloved Solstice Parade and Festival in June. It's one of the most fun and memorable social events of the year.
As a member of the boards of directors for both the Santa Barbara Downtown Organization and the Greater Santa Barbara Lodging & Restaurant Association, Knight participates in the planning of events and policies designed to benefit other businesses along with her own. In addition to her involvement in all things downtown, Knight also serves on the Santa Barbara Community Development and Human Services Committee. This 11-member group puts in hundreds of hours every year, reading and evaluating grant proposals from area nonprofit organizations that benefit the needy. Knight travels all over the city to visit with these groups and discover the nature of their work. It's a volunteer position, and, like all of what Knight does for Santa Barbara, it's a labor of love. "I love what I do," Knight said, "and I believe in working alongside the people I employ. Treating people with respect really helps!"
Barbara McCurry: Waffle Maker
After bad knees prompted Barbara McCurry to move downtown from her hillside house overlooking Carpinteria, she set about getting to know her new neighbors. McCurry opened up her house for Saturday-morning waffles, inviting folks to come over for a bite.
McCurry made her move six years ago, but she's discovered that as long as she's willing to cook, people will continue to come. Her kitchen is big enough to accommodate seven at a time. Crowds range from a low of five to a high of 27, so McCurry is usually working the grills — one's big enough to make six waffles at a time — from 9 a.m.-noon.
"My home has become a place to eat waffles, but it's also a place for neighbors to just sit and visit," she said. "Some of the neighbors didn't talk to each other. There were little tiffs. Now they sit and eat and forget about problems that happened before."
McCurry grew up outside of Hollywood, the daughter of a former Vaudeville chorus girl. She performed with actor Alan Ladd — the kids called him "Tiny" because he was short, which he did not appreciate — in a high school production of The Mikado. Since then, she raised a family of four and buried two husbands. A lifelong singer in her church choir, in 1981, McCurry started singing and dancing with the Treble Clef Chorus — a troupe of 35 performers who stage Christmas productions at retirement centers throughout the South Coast. Otherwise, she stays busy golfing, gardening, and tending to her dog and her voice.
About to celebrate her 95th birthday, McCurry has unraveled the mystery of eternal youth. "If you keep singing," she said, "your vocal chords don't age as fast."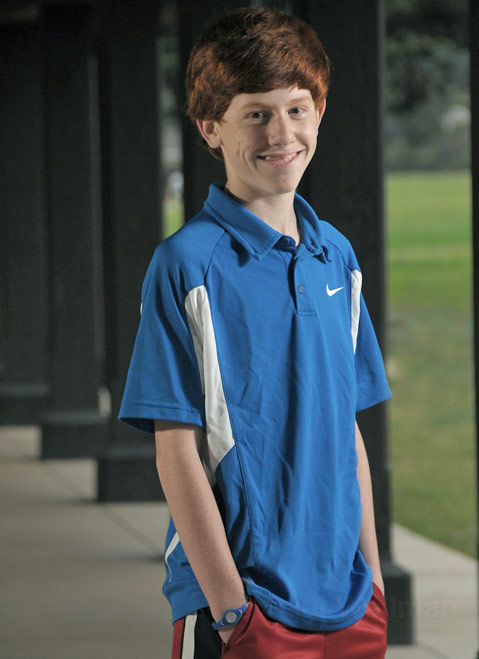 Spenser Wyatt: Homeless Helper
A bar mitzvah, in the Jewish tradition, is the ceremonial occasion to celebrate the transformation of boys into young men. It can also be a time of lavish gift-giving. But Spenser Wyatt, a 13-year-old student at Laguna Blanca School, recently observed his own bar mitzvah by giving far more than he received.
Specifically, Wyatt asked relatives and family friends to donate to Project Healthy Neighbors, and in so doing so raised thousands of dollars for Santa Barbara's homeless. The proceeds of Wyatt's bar mitzvah gifts were used to purchase no less than 200 pairs of shoes, 700 pairs of socks, 400 knit hats, and several hundred HIV testing kits. These were distributed earlier this month to those in need at the Casa Esperanza homeless shelter on Cacique Street.
Wyatt is a hardcore sports fanatic and not one to talk a lot. "I don't like seeing people without a home," he explained. When he decided he wanted to do something about it, he researched area organizations working with the homeless. He was drawn to Project Healthy Neighbors, an intensive three-day event held mid-November where homeless people are screened for a raft of medical maladies and given the bare essentials needed to survive the winter months — socks, shoes, hats, and ponchos. "It seemed smaller, and I wanted the money to get more directly to the people," Wyatt said. He acknowledged that some of his classmates thought he was crazy at first. "Yes, they said that, but since then they've realized it was the right thing to do," he said. "It made me feel good."
Bud Girard: Trail Master
Since the early 1990s, Santa Barbara's love affair with the great outdoors has been tended to by Carpinteria's Bud Girard, a retired civil engineer and hiking aficionado who's maintained old trails and even built a new one in his nearly two decades of work with the Montecito Trails Foundation (MTF). Girard, who recently turned 80, just celebrated the 10-year anniversary of his namesake Girard Trail — which connects two popular trails to form a loop above Montecito — and is now hard at work on reopening the Franklin Trail, a historic route that once connected Carpinteria to the backcountry.
"I believe in making good things available to the community," said Girard, who is spearheading the Franklin's fundraising campaign and also reaching out to the private landowners and public agencies involved, much like he did for the Girard Trail. "I love the out-of-doors."
In addition to serving as MTF's vice president of operations for more than 15 years — during which time he supervised the spring and summer brush-clearing and winter tread work for 150 miles of trail — Girard is active with St. Joseph's Catholic Church and in his 56th year of work for the Boy Scouts, today acting as the facilities chair of Rancho Alegre near Lake Cachuma, where 4,000 kids get outside each year. But hiking under the blue sky is his passion.
"I'm not an athlete, so this is my main activity," said Girard. "For an 80-year-old, I'm in damn good shape. I wouldn't be if I didn't walk and hike."
Peggy Oki: Artist Activist
It began with a desire to study why dolphins ride waves. Now, some three decades later, Peggy Oki's interest has evolved into a full-blown activist-minded and multifaceted international art career in the name of cetaceans everywhere. Originally from the coastal grit of the Santa Monica/Venice neighborhoods, Oki, the lone girl rolling (literally) with the Z-Boys skateboarding pack of Dogtown in their heyday, saw her dolphin curiosity lead her to UCSB to pursue an Environmental Biology degree. But before long, science gave way to art and — without wavering one bit in her dedication to the sea creatures of this planet — art became a way for Oki to give voice to the whales and dolphins that we share this planet with and raise awareness about the continued violence they face despite rules and regulations to the contrary.
From her ongoing Origami Whales Project (which, à la Japan's 1,000 origami cranes tradition, works to memorialize the 34,000-and-counting whales "officially" killed since 1986, when such hunting was banned outright) and the similarly inspired Origami Dolphins Project to her work with area schools and youth programs (using hands-on art projects to help foster a deeper appreciation of all living things), her personal art adventures typically celebrate different elements of the natural world.
Oki's approach to life, which also includes a strict vegan diet, a decided lack of TV, and designated car-free days, is filled with inspirational intention and flow. "If everybody who has the capacity — you know, not living in poverty — just picked one thing that mattered to them and took one hour a week out and dedicated it [to that cause] … imagine the change that could happen on this planet," said Oki.
Rod Hare and Phil Gilley: Saving the Music
There's something delightfully serendipitous about Notes for Notes (NFN), the still-growing nonprofit devoted to putting all things music into the hands of Santa Barbara's youth. The story goes like this: Big Brother volunteer Phil Gilley dreams up a program where kids can hang out and learn to shred, and opens a modest space-cum-studio in S.B.'s Twelve35 Teen Center. Unaware of Gilley's venture, Rod Hare, himself a former Big Bro, is brainstorming just such a place and quickly stumbles upon the Teen Center's newest digs. With the Santa Barbara Bowl Outreach Committee behind him, Hare quickly joins Gilley's cause, and Notes for Notes moves to the Eastside Boys & Girls Club; the rest, as they say, is history.
But hardly. Since starting NFN back in 2004, Gilley and Hare's little afterschool jam sesh has become one of the city's most prized ventures, dead set on giving kids a laidback and welcoming space to create, collaborate, and get their hands on some seriously hi-tech recording equipment, including turntables, a small army of axes, keyboards, drum kits, PAs, mixers, and four desktops worth of recording software — not to mention face time with some of the industry's biggest names. (Jack Johnson, Ziggy Marley, and Robin Thicke have all cruised by to jam.)
Sweet gear aside, it's Hare and Gilley's down-to-earth, anti-"mentor" speak that keeps the kids coming back. "We made a conscious decision to avoid that [adult-versus-kid] kind of vibe," said Hare. "It's really about forming relationships … That's what music is all about; it's all about collaboration, getting together, and seeing something that's greater than the sum of its parts come out of it."
"We're not a school, and we're not built around lessons or a curriculum," added Gilley. "It's about you coming in, wanting to play guitar, and cool, let's jam one-on-one. … Once they get in there, the kids have said, it's kind of like a second home."
Joy Parkinson: Pearl's Girl
Joy Parkinson radiates such infectious delight that it's easy to miss what a formidable force she has been, crusading over the span of three decades to save the environment.
A British war bride, Parkinson moved to the United States in 1946 and to California in 1957. A botanist by avocation, Parkinson struck up what would become a lifelong friendship with bird-watcher Jan Hamber. Together, they and their children would hike through California's national forests, exulting in the great outdoors. By 1962, both were ensconced in Santa Barbara, and in 1963, Parkinson became the president of the Santa Barbara Audubon Society, which she helped transform into a potent political force.
Parkinson got schooled in the political arts under matriarch Pearl Chase — who famously told her, "People who don't know me call me Pearl. My friends call me Miss Chase" — for whom she worked and from whom she learned how things got done.
When Santa Barbara found itself awash with oil in the great oil spill of 1969, Parkinson worked the phones, making sure state, national, and local elected officials did not look the other way. They did not. Even the president of Union Oil — whose well caused the spill — called Parkinson to personally apologize.
When Boise Cascade sought to develop a subdivision and new golf course around Lake Los Carneros, Parkinson helped lead the charge to stop it. She remained active with Audubon and a host of other organizations that have come and gone until 1994, when her husband got sick with cancer. Parkinson's passion for nature did not diminish, and about 10 years ago, she went to Antarctica as part a research expedition. "I've seen a vast number of wild animals. Maybe I haven't seen a polar bear in the wild, but I've seen caribou and grizzly bears and mountain lions." she said. "I love it. I love it."
Casie Killgore: Passionate Principal
Born and raised in Santa Barbara, Casie Killgore left home to attend college on a basketball scholarship. Luckily for our community, she returned to Santa Barbara to immerse herself in the educational system. Currently the principal of Franklin Elementary School, Killgore embodies the school's mission statement of "empowering students to reach their full potential in academic excellence, cultivate character, set goals, accept challenges, and inspire dreams."
Killgore is humble about her accomplishments, of which there are many. For example, she was awarded the silver and gold medals for the California Governor's Council; began a fully compostable kitchen, providing the students with organic food on a daily basis; and began afterschool art and music enrichment that consists of a rock band and mariachi, jazz, and Mexican bands.
Killgore has also helped the school improve 57 points on the California Standards Test in two years. She is motivated to make a change locally and strives to give families a vehicle to get their children into the higher education system. She wants to make kids' hopes a reality and change the way that families view education.
Killgore is dedicated to making Franklin Elementary a mecca of advocacy and education, where students and families can enjoy activities together. Killgore's exuberance and infectious enthusiasm have opened doors and created different partnerships with various people and organizations in town by striking the passions of the community.
Although funding is an ever-present issue, Killgore is not deterred. "When you make five- through 11-year-old children the focus, it's hard to see anything else," Killgore said. "I love that I can make a difference in these children's lives."
Dr. David Medina: Doctor for Generations
When a young, football-loving doctor from Galveston, Texas, came to intern at Cottage Hospital in 1960, he never guessed that he'd be treating generations of Santa Barbara families for nearly half a century as one of the region's most popular pediatricians. That's the short story on Dr. David Medina, who retired this past October after 45 years at the Children's Medical Clinic of Santa Barbara, where he once treated kids from 7 a.m.-7 p.m., not including the house calls he'd have to make on the way home.
"I enjoyed seeing kids develop from babies to teenagers to parents, and then having children of their own," said Medina, who'd treat those kids and sometimes grandkids, too. "It's just a marvelous experience."
In his spare time, Medina became involved with Operation Kids (which raised money to send kids to camps in the 1960s), the Scholarship Foundation (he's still on the board after 30-plus years), the Rehabilitation Institute, and the Cornelia Moore Dental Foundation. He also pushed for medical facilities on the Eastside — "I always wanted to help the kids who couldn't afford it," said Medina, whose Spanish aided in that cause; he ran a clinic for some time at La Casa de la Raza before the county followed his lead in building the Franklin Clinic.
As for his pigskin kick, Dr. Medina helped create Santa Barbara's Youth Football League and served as the team physician for Bishop Diego High School — where his five children went — for almost 20 years. "It was something I really loved to do — treat others as I wished to be treated," said Medina. "I feel extremely blessed."
Eli Himovitz: Teen Rescuer
Good luck telling Eli Himovitz he's a hero. As far as the 16-year-old Santa Barbara High student is concerned, when potential tragedy struck on Foothill Road last month for him and three of his friends, he acted no differently than his buddies would have, had their roles been reversed. "It's not like I lifted the car up off him or even dragged him out of it. I just made sure he [his friend Josh] was okay and somewhat helped him up the hill," said a modest Himovitz of his actions in the wake of the fiery car wreck.
The morning of October 16, Himovitz was in the front passenger seat of a sports car zooming along Foothill Road with three friends. Going faster than they should have been — a fact that all four boys take shared responsibility for — the road rolled to the left, but the car, out of control, launched right, smashing off a tree and coming to rest — spewing gasoline — on a large rock. The car was on fire and about to explode as the friends scampered out of the vehicle. Two of them made it up the hill to safety. Himovitz, in shock and, in his words, "strangely calm," circled around the burning car and saw Josh, in pain and disoriented, lying in a bush next to the site.
Himovitz helped his friend up and led the charge away from the inferno. At some point, while helping Josh, Himovitz was severely burned. He spent the next 11 days in a special burn unit in Los Angeles being treated and undergoing surgery for second- and third-degree burns on his face, ear, and hands.
"I don't remember going back into the flames or even where or when I got burned," said Himovitz. "I was just there and did what we all were doing — making sure each other were okay."
Rick Stein: Rescue Ready
Rick Stein drops whatever he's doing when the call for help comes. A key member of the all-volunteer Santa Barbara County Sheriff's Search and Rescue Team, Stein has, for more than 25 years, fearlessly rappelled down cliffs, hiked through thick chaparral, and braved whatever Mother Nature throws at him, all in the name of saving lives. But he hasn't done it alone, and he's quick to point that out.
In addition to the 30 or so other folks on the team, Stein has worked most closely with Kody, his trusted, highly trained Australian shepherd rescue dog. After 12 years and hundreds of successful missions, the faithful hound recently retired and is now enjoying his twilight years. "He's the smartest one in the house," joked Stein.
Stein, though, is still going strong, currently training rangers in Peru's Machu Picchu sanctuary. The former owner of a car repair shop in town, Stein also recently escorted a paraplegic man over the Sierra Mountains in a custom ski-seat, marking the first such journey across the range.
"It's the burning need to help someone," said Stein of why he remains on call 24 hours a day year-round. "It's about making a positive impact on someone's life." The accomplished traveler and selfless adventurer said this year, more than others, the search-and-rescue team has been an indispensable asset to city and county responders. The squad usually gets 100-120 calls for the whole year, Stein explained, but it's already received more than 130 this year with more than a month left.
Once he's back in town after his trip to Peru — but not before spending nine days hiking around Patagonia — Stein said he'll jump right back into the search-and-rescue saddle. "I'm not ready to stop," he said. And we're glad he isn't.
Dr. Lynne Jahnke: Doctor Helps Homeless
Last winter, the fierce cold and driving rains took the lives of several homeless people. Something had to be done. So Dr. Lynne Jahnke — along with several other advocates — took the necessary steps to provide shelter during inclement weather.
A retired oncologist, Jahnke was determined not to let a lack of protocol get in the way of giving the homeless a place to stay dry and warm on our county's worst weather days this year. And so she took lead, and now, thanks in part to her leadership, the county is prepared to give shelter to the homeless before the rainy season begins. Agreements have been established, and shelters and supplies have been lined up for winter.
Blankets and sheets, ponchos, coffee and tea, and — most importantly — shelter will be available to people without homes when the forecast meets certain criteria of cold and rain. Although the county has ponied up more than $50,000, money still needs to be raised; part of the new program requires paid staff for the shelters, open 6 p.m.- 6 a.m. Still, "There shouldn't be anyone left out in the cold or rain this year," Jahnke said.
It should come as no surprise to those who know her that Jahnke would be a voice for the homeless. For the past three years, she has been going out every Tuesday and Friday evening with social worker Ken Williams to visit the homeless. If they need medical care, she takes a look at the problem. If someone is sick, she gives them advice. A handful of people on the street trust her enough to call her when they see someone who is sick, and she is always there to respond.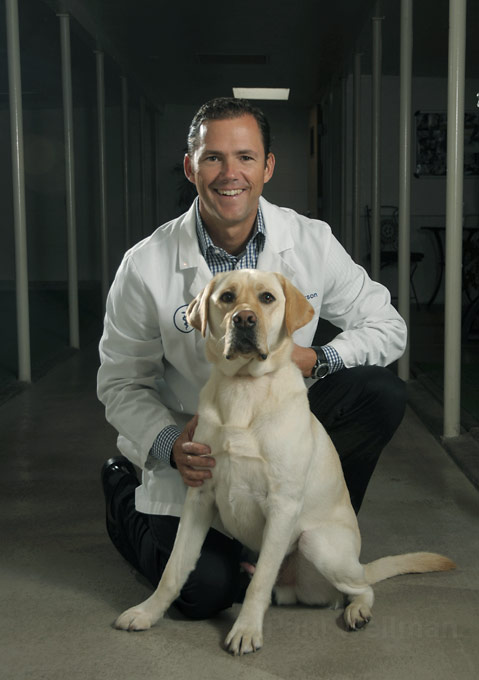 Dr. Dave Dawson: Vet Extraordinaire
I'm always trying to refine and perfect what we have currently," said Dr. Dave Dawson of his San Roque Pet Hospital, "rather than rest on our laurels." It's this kind of dedication and vision that helped Dawson build his clinic into one of the leading animal hospitals in Santa Barbara.
Although an avid animal lover — growing up, his family had dogs, but he "always wanted a monkey" — Dawson initially chose to pursue a career in finance. But after graduating from Santa Clara with a business degree and six months of unsatisfying work in Silicon Valley, Dawson had an epiphany after a visit with his lab to the vet. "The vet was happy and loving his job, and I paid him for it," Dawson said laughing. So he moved back home and enrolled in the College of Marin, where he spent three years taking the courses necessary to apply for vet school at UC Davis, which he graduated from in 2000.
Dawson and his wife moved to Santa Barbara that same year, and, after a two-year stint at White's Pet Hospital, he purchased San Roque. Since then, Dawson has been methodically building his practice to be cutting-edge and community oriented. For example, San Roque is outfitted with an extensive computerized medical records system that allows the doctors to quickly access files and send them to other vets across the country to get second opinions. The clinic also has top-of-the-line diagnostic equipment and recently opened HydroPaws, a physical therapy unit for animals.
As for the community, Dawson and his staff offer clinics for pets of the homeless, providing exams, vaccines, medications, and flea control all for free. Recently, he helped underwrite the cost of BioBags for Arroyo Burro beach. And, significantly, when pet emergency facility CARE Hospital closed its doors in 2009, San Roque stepped in to fill the gap, providing 24-hour service.