Travel
California Getaway
Off to Ojai
Getaway: To some Santa Barbarans, there are times when the town is just too busy, too Saturday-night-boisterous, too crowded with traffic. Just too-too.
That's when they head 45 minutes down the road to little Ojai, cupped in Ventura County's hills.
The walkable downtown, with rows of shops under a white stucco arcade, is fun, but many find that Ojai also exudes a kind of spiritual, Shangri-La ambiance, partly stemming from the 1937 Frank Capra film, Lost Horizon.
Poets and dreamers flock here, some to ponder the meaning of life during full-moon nights on Meditation Mount, to music. Others gain inspiration over mojitos around the pool at the posh Ojai Valley Inn & Spa or study the wisdom of Ojai's revered philosopher Jiddu Krishnamurti at his Pepper Tree Retreat library.
As for me, my first stop over the years has always been Bart's Books, an open-air conglomeration of books, books, books, jammed into shelves and covering much of an entire block. Bart's began as original owner Richard Bartindale's collection hobby four decades ago and grew into what the current management calls "World's Greatest Outdoor Bookstore." There are about 100,000 volumes, from 50-centers to rare first editions kept locked behind glass.
People ask, "What happens when it rains?" Well, that's when the tarps come out. Most of the books are under some form of shelter, anyway. Bart's is open seven days a week, 9:30 a.m. until sunset, but if you arrive before or after hours you can pick a book from the outside shelves and toss fifty cents over the fence. The honor system has worked since Bartindale's days. Just off the main drag, at 302 W. Matilija St., 805-646-3755.
Book-browsing can make a person hungry for more than lore. Luckily, a small arcade-eatery nearby offers top-quality dining: Feast Bistro, 254 E. Ojai Ave.
Sue and I like to make Sunday spins for lunch and occasional overnighters at the Ojai Valley Inn, but on our last visit we checked into the quiet Su Nido ("Your Nest"), a Mission revival inn a block or so off the arcades. Each room is named for a different bird. Ours was the Peacock.
The first night we headed for Ojai's (actually just out of town) most famous restaurant, The Ranch House. The late founder, Alan Hooker, was a Southern California pioneer cooking with fresh, organic ingredients. It's a bit hard to find, at 500 S. Lomita, but well worth it. Ask for an outside table overlooking the garden. The next night we ate at Suzanne's Cuisine, an excellent fine dining restaurant a few blocks from downtown. Owner Suzanne Roll doesn't settle for trucked-in produce. She drives to regional farmers' markets to pick the best. Her signature salad is heaped with heirloom tomatoes from her garden.
Ojai also boasts a celebrity chef, Jamie West, at the Ojai Valley Inn's Maravilla fine dining room. Top entrees are the Moroccan spiced lamb loin with couscous, and braised short ribs.
One day we lunched at Azu, on Ojai Avenue near Su Nido, a wood-trimmed place, once a 100-year-old bakery, now specializing in Mediterranean dishes and small bites. Just off downtown, casual Osteria Monte Grappa, on North Signal Street, has open air dining and a huge menu of Italian food.
The Pepper Tree Retreat, outside town at 1130 McAndrew Rd., home of the late Krishnamurti calls itself a "quiet, healthful retreat." It offers rooms from $109 a night and access to his library. The rooms do not have phones or TV. A catered vegetarian breakfast is available. 805-646-4773.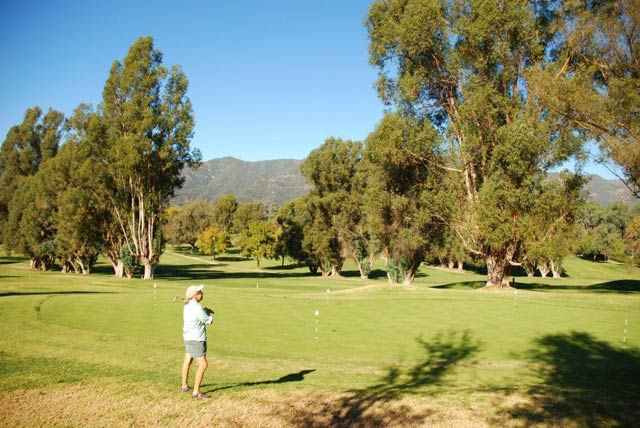 Ojai's charming downtown has managed quite well without franchise chains. There's a definite locals air to it. Check out the Treasures of Ojai Antique Store, 120 N. Signal St., a half block off the main street. It's huge and jammed with treasures.
And for a town of about four square miles, Ojai puts on an astounding number of festivals. There's the Ojai Film Festival, Ojai Music Festival, Ojai Poetry Festival, Ojai Wine Festival, Ojai Big Chili Cookoff, and the occasional Ojai Classic Rock Festival. The town also hosts what it claims to be the oldest competitive tennis tournament in the nation, held since 1893, in April.