Bottles & Barrels
Grapes on the Page
A Look at Three Books About Wine and Winemaking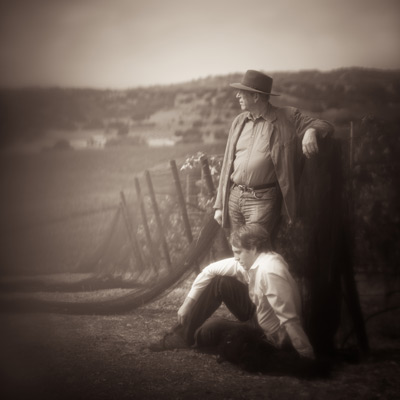 The world of wine can sometimes be intimidating or seem a bit elusive, like a secret world with layers of facades, hiding behind fancy labels, beneath vast vineyards, and within large barrels. It may also carry pomp and protocol foreign to those who haven't studied the beverage. But looking past the stuff in your glass will show an intricate industry with an unprecedented amount of devotion, in which the owners have regular, physical contact with the raw materials they use to create their products.
Unfortunately, unless you get a laborious job working in the vineyards and wineries, the industry's authentic core will remain elusive. Luckily for the rest of us, though, a few great books about the wine region in Santa Barbara's backyard strip the winemaking process of its veneers, unabashedly capturing its romance and rougher realities.
In One Vintage, viticulturist Chris Jones writes about her days as a vineyard farmer with her husband. The book is short (you can read it in an hour), and — with its large font, short paragraphs, and almost as many photos as there is text — feels a bit like reading a children's book. Jones's words are smooth as a lullaby from the start of the book when she shares sentiments after one year's harvest, to a year later.
Even for those not interested in wine — and perhaps specifically for them — the story is captivating, connecting nature as a whole and relatable life challenges into the vineyard's cycles. The poetic pages will surely keep you wondering, much like Jones and other vineyard-dwellers do, what winter, spring, summer, and, finally, harvest time will bring.
One Vintage is simply a great book to have around. The cork covers make it an aesthetically pleasing coffee table piece, while its ample pictures and approachable layout are easy to pick up and put down at any place. See SageHillPublishing.com for more information.
For some lengthier reading, pick up Steven Pepe's book Clos Pepe: A Vigneron's Quest for Great Dirt. With homemade wine practically running through his veins (his Italian grandparents didn't even let Prohibition stop this family tradition), Pepe tells the story of Clos Pepe Vineyards in the Sta. Rita Hills humbly and candidly, starting from the first vines he and his wife planted in their Long Beach backyard.
If you've ever wanted to ask someone who has obviously succeeded in whole-heartedly pursuing an almost-absurd fantasy, Pepe's story serves as an indulgent response to such a prompt. The Los Angeles lawyer-cum-Sta. Rita Hills award-winning vintner has a personable voice and weaves a refreshing sense of humor throughout his tale. Pepe manages to supply a plethora of detailed viticultural information and wine knowledge without sounding like a textbook, so that readers will likely gain wine wisdom without noticing it. See clospepe.com.
Some people, though, believe photographs speak a thousand words (more or less), and Los Angeles-based Mark Robert Halper must agree. His book Sunlight and Water captures the faces of Santa Barbara County's wine industry, with little words besides names and wineries. All black-and-white with blurry vignettes, the photographs are mostly dark and brooding, catching the typically boisterous winemakers, winery owners, and other winery folk in a more solemn moment. It's easy-to-flip-through nature and ultra-close-up photographs make it another great coffee table book, especially in conjunction with one of the two above, more comprehensive books. Such a pairing would provide some nice balance to Halper's photographs by bringing the ethereal images back down-to-earth. See SunlightandWater.com.
Even if your first order is a pint of ale, a dry martini, a glass of good old Santa Barbara syrah, or you bypass the bar altogether, our wine industry is certainly worth reading about. Nary another trade shares the kind of horizontal-integration, personal investment, and unwavering fervor with this exciting world. These are three books that share in those moments.