Angry Poodle
Dog in the Manger
Capps Deploys 'Power of Nice' to Repeal Don't-Ask-Don't-Tell
A LONG TIME COMING: The moral of this week's story is that, given proper preparation and propitiation, sanity — on rare occasion — can be induced to strike. But it doesn't happen overnight. Try 17 years instead. That's how long it took to repeal Don't Ask, Don't Tell, the Pentagon's longstanding policy of cutting off its nose to spite its face with regard to gays and lesbians in the armed services. This Wednesday, President Barack Obama held the ceremonial bill-signing to much fanfare. It was the political equivalent of an end-zone dance, culminating what seemed, only a few weeks ago, like a flailing Hail Mary pass that Republicans would easily knock down. Somehow, they didn't. On Tuesday, Santa Barbara's Congressmember Lois Capps attended a similar ceremony to celebrate the bill's enrollment. There wasn't an empty seat. Capps, who has supported gay rights back before it was politically fashionable in polite society, reported the mood was electric. Given that the new Republican majority is poised to take power in less than 30 days, it was also bittersweet.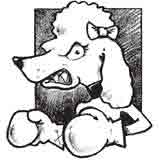 On paper, the case for repeal seemed so compelling the real mystery is why there was ever any debate. Absent a draft, any fool could see the United States could not maintain the troop strength required to wage two separate all-out wars simultaneously. Military recruiters quickly found themselves forced to lower the minimum requirements for those seeking to enlist. In time, violent felons came to be accepted. At the same time recruiters found themselves scrounging for new bodies, the military was discharging no less than 13,500 gay men and women just because somebody asked, and somebody told. Some possessed high-level skills — like a facility with Arabic languages — that were in perilously short supply, given the task at hand. Likewise, it became obvious the military brass did not really believe that openly gay and lesbian troops undermined unit cohesion — the core rationale for the policy. Studies revealed that during times of intense combat, the number of discharges based on sexual orientation dropped precipitously. If there are no atheists in foxholes, it turns out there are precious few homophobes there either.
What makes sense on paper and in real life are two different things. Seventeen years ago, homophobia was not so much an attitude as it was a law of nature, akin to gravity, friction, and inertia. Only crusaders and activists challenged it; mainstream liberal politicians avoided the subject as much as possible. Back in 1996, UCSB Religious Studies Professor Walter Capps — Lois's deceased husband —
was making his second bid for Congress against certified right-wing whack-job Andrea Seastrand, who had been dubbed the dumbest member of the state legislature by her peers during her four-year stint in Sacramento. Intensely religious, Seastrand believed devoutly in the sanctity of the sperm and the egg and even more devoutly in the right to bear semi-automatic weapons. On the campaign trail, she railed against illegal immigrants and gays and accused Walter Capps of being a stooge for both. Capps, good liberal that he was, refused to say anything definitive on gay rights, dancing away from the subject with all the congenial dexterity of Fred Astaire and Gene Kelly combined. But his campaign manager notified me before a scheduled interview that if I broached the question, the interview would be terminated immediately.
That was then, and this is now. By contrast, Capps's widow and successor was never so squeamish. According to Christopher Neff of UCSB's Palm Center — the only think-tank dedicated solely to the issue of gays in the military — Lois Capps was openly supportive even when the issue was "radioactive." It's also true Capps's congressional district used to be much more conservative, a Republican bastion, in fact, for moss-backed conservatives, dating back 50 years. I guess those were the "good old days" to which we can fondly hearken before the district became so egregiously gerrymandered to make it a guaranteed safe seat for any Democrat. (The 23rd is an anorexically skinny ribbon that snakes up the coast from Oxnard to San Simeon, so narrow that it's said to disappear at high tide, so constricted, as Capps's most recent challenger, Tom Watson, opined, you can drive a golf ball across it.)
Clearly, there's been a seismic shift in public acceptance of gay rights. Times do change, but usually not without a lot of pushing and shoving. In this case, Capps played a quiet but key role in that dance. A 72-year-old who attends weekly Congressional prayer gatherings, Capps has thrice been nominated "the nicest member of Congress" by her peers. In pursuit of gay rights, she's harnessed all her irresistible powers of niceness to open doors on behalf of Palm Center researchers, who've emerged as major players in moving the debate along and keeping the issue alive. They cite studies dating back to 1993 demonstrating that Don't Ask, Don't Tell is not just intensely unfair but also counter-productive and self-defeating from a military point of view. If the Israeli military — famous for their hard-ass prowess — can accommodate openly gay people in their armed forces (as have 23 nations) without issue, then maybe it's not the big hairy deal political primitives in this country have made it out to be.
In this vein, Capps recently arranged a meeting between the Palm Center and the Congressional Black Caucus. That had never happened before. Likewise, she got Palm Center researchers a meeting with Ike Skelton, a socially conservative Missouri Democrat who has chaired the extremely influential House Armed Services Committee. They brought along a gay vet from Skelton's district, who provided some hair-raising personal observations. In the end, Skelton — who just lost his seat — ultimately voted against repeal. But the physics of political influence is more complex than a simple yes-no vote. Skelton had at his disposal so many ways to make life miserable for repeal, Neff said. That Skelton chose not to exercise such options, Neff said, proved extremely helpful. Obviously, there were many cooks working on this batch of sausage. But it's important to acknowledge the important role Santa Barbarans played keeping the pot stirred. Without such efforts, the times don't ever change; they just drag on and on. So raise a toast to all the chefs — to beat a mixed metaphor to death — and have a muddy and merry Christmas.