News
Pot Shop Approved
Thumbs Up for Santa Barbara Patients Group; Thumbs Down for Compassion Center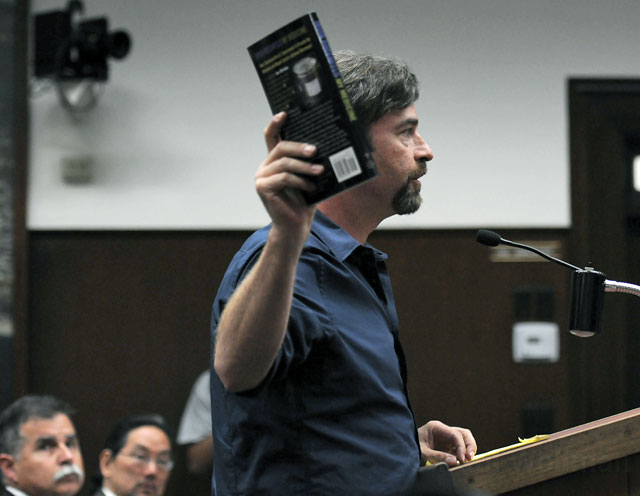 The oldest medical pot dispensary in Santa Barbara got a thumbs-down verdict from City Hall hearing officers last week, while owners of the second-oldest dispensary won a thumbs-up. Owners of both dispensaries — Compassion Center at 2915 De la Vina Street and Santa Barbara Patients Group, moving to 16 South La Cumbre — are seeking city approval of their long-standing operations under the terms of Santa Barbara's new and more stringent dispensary ordinance.
Hearing officer Susan Reardon rejected Patrick Fourmy's application for Compassion Center despite strong testimony from Dr. Steve Hosea and Dr. David Bearman that Fourmy ran a professional operation that catered to the needs of older patients facing serious medical challenges. Fourmy highlighted how his is the only dispensary with a registered nurse on staff trained in cannabinoid medicine. Some other dispensaries, he said, had the feel of "tattoo parlors." Reardon ruled against Fourmy's application on the grounds that 50 pounds of marijuana had been stolen last month from his off-site supply warehouse. She also cited a lawsuit filed by City Attorney Steve Wiley contending that Fourmy had gone out of business for more than 30 days two years ago, meaning that his standing as a legal operator was questionable. Fourmy insisted he never went out of business for 30 days. That matter will be heard by a judge early next year.
As to the robbery — and whether his operations pose a heightened risk to neighbors — Fourmy argued that, during his 11 years in business, he has worked closely with law enforcement officials to ensure they knew what he was doing. Fourmy stated he intends to appeal Reardon's decision to the Planning Commission. Should the matter go to the City Council — as is expected — Fourmy will experience tougher footing with the new council majority. With last week's appointment of Randy Rowse, the council now has a 4-3 majority against medical marijuana dispensaries.
Meanwhile, the application of Heather Poet, owner of Santa Barbara Patients Group, won approval. She likewise won rave reviews from doctors Hosea and Bearman; in addition, her current landlord was on hand to sing her praises. The city's new ordinance only allows three dispensaries within city limits. Poet's is the first to win approval under the new regulatory formula.
Two other operations — one on Olive Street and one on Milpas Street — have been told they have six months to move to a new approvable location or get out of business. They have sued City Hall and a federal judge has issued a preliminary ruling in their favor. It's unknown whether the city will appeal that ruling.