News
Shiver Me Timbers
2010 Claims the Lives of 32 Homeless People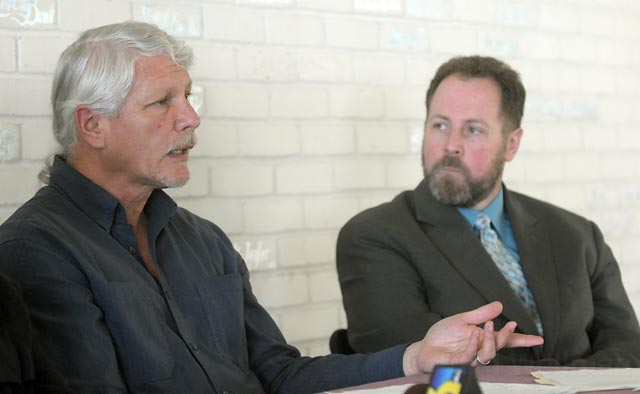 Bruce Leroy Woods didn't live to see 2011, having coughed himself to death on New Year's Eve while watching a cowboy movie in his RV, which he kept parked alongside Helena Avenue. He was 69. Wood's death brought to 32 the number of homeless people who died within Santa Barbara city limits last year, five more than the year before.
While Woods was warm and dry in the confines of his camper, this year's early rains and sharp cold snap forced hundreds of the South Coast's homeless to seek shelter at the Casa Esperanza, the Rescue Mission, Transition House, and one of three emergency warming shelters. Combined, these facilities had capacity to handle about 400 people. County social service worker Ken Williams reported many homeless — mostly mentally ill — refused to seek shelter and one even refused an emergency rain poncho. Williams, who deals exclusively with the homeless, said city police were issuing tickets in uncommonly large numbers. "They're being real nice about it, but usually at this time, they don't give out nearly so many tickets," he said.
City Hall has been under intense pressure by businesses and community groups on Milpas Street — near Casa Esperanza — to step up enforcement of nuisance laws associated with the homeless. The newly formed Milpas Community Association has complained that City Hall's neglect in these matters has been less than benign and has vowed to "take back" the neighborhood from the homeless and gangs. In the meantime, Casa Esperanza director Mike Foley is seeking to round up and train 400 volunteers to count and fill out a detailed questionnaire on as many homeless people in Santa Barbara County — from Guadalupe to Carpinteria — is possible. Two years ago, a less ambitious census determined there were 1,912 homeless living in Santa Barbara.
Foley contends Santa Barbara's data is paltry when compared to what's known about the homeless in other counties. He argued that the questionnaire — also known as the vulnerability index — would help determine which homeless people are most in need of services and which ones are costing local governments the most to arrest, detain, and otherwise treat. Foley is hoping to the questionnaire will illuminate the mental health challenges of Santa Barbara's homeless population. In addition, he expects the questionnaire will help demonstrate that it would be significantly more cost-effective to put the most vulnerable homeless in housing, rather than in the streets, in campers, or in shelters. (Political skeptics argue this will do little to alleviate the demand for services by the homeless, who will only throng in greater number to Santa Barbara, drawn by the prospect of cushy accommodations.)
Nearly 500 homeless already filled out such a questionnaire in November in front of Casa Esperanza in an annual event known as Project Healthy Neighbors. Based on that information alone, Foley said, an informal list of the 50 most vulnerable has already been assembled. Social worker Williams, however, expressed impatience with such studies. "We know that 32 people died this last year and 27 died the year before that. That's your top 50, plus 10," he said. "What else do we need to know? This isn't rocket science."