Visual Arts
Winter Arts Preview: Visual Art
Mature, Edgy Exhibits Mark This Season's Highlights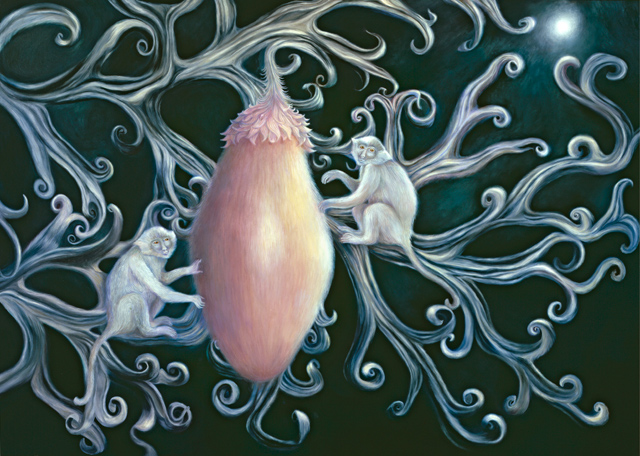 Freshly mature but not losing its edge, this season the Santa Barbara art scene is marked by the efforts of strong curators who are delivering on promises made and dares accepted. There's still time to see the very impressive contemporary plein air paintings in America's Grandeur: Landscapes of Clyde Aspevig at the Santa Barbara Historical Museum, showing through Monday, February 7. At Channing Peake Gallery the exhibit Art Inspired by County Parks continues through Friday, February 18, but if you miss it in Santa Barbara, don't despair, because it opens at the Betteravia Gallery in Santa Maria on Monday, February 21, and hangs there until May 20.
There are several ambitious retrospectives of individual painters happening in Santa Barbara this winter. At Sullivan Goss — An American Gallery, 40 Days & 40 Nights: 80 Paintings of Lockwood de Forest is likely to have a profound influence on the reputation of this canonical early-20th-century California landscape artist. That show is on through Sunday, April 3. Next door in the same gallery, California Modernist painter Hassel Smith is getting an impressive historicization, as well, and coming out of it looking like one of America's most underrated and elevating abstractionists. Hassel Smith: Upending Orthodoxy hangs through Sunday, April 3, at Sullivan Goss.
Across Anapamu Street at the Santa Barbara Museum of Art will be the big daddy of the season's remarkably bold calendar when SBMA curator Julie Joyce's show Charles Garabedian: A Retrospective opens on Saturday, January 22. It's a huge show for an artist who has not had a major museum exhibition since 1983, and it is a gamble on the possibility that he is the great lost link between contemporary California and the elite figure drawing tradition that goes back through Picasso to the masters of the Renaissance. From every point of view, the Garabedian show promises to be a dramatic unveiling.
Interesting venues and artists can be found all over the map this winter. For example, Cynthia James will be at the Chris Dentzel Studio during March in a one-woman show called Crypto-Botany. James paints vibrant botanical fantasies with animal figures and the results are an enchanting garden of unearthly delights. And at MichaelKate (in the space formerly occupied by Neuvié), mixed-media expert Marlene Struss will reveal another side of her art practice from Friday, January 21 - Sunday, March 6.
At Westmont's Reynolds Gallery, there will be a retrospective called Selections from the Permanent Collection: Celebrating 25 Years, which runs from Thursday, February 17 - Saturday, April 2.
Finally, there is what will likely be the most talked about of all this season's exhibits, at least among working artists who live here. Eating Apples in Paradise at the Santa Barbara Contemporary Arts Forum is a group show involving a cross-section of Santa Barbara artists who were invited by CAF director Miki Garcia to participate in an experiment. The group of 12 — Macduff Everton, Elizabeth Folk, Nancy Gifford, Penelope Gottlieb, Saul Gray-Hildenbrand, Kimberly Hahn, Cyndee Howard, Hank Pitcher, Warren Schultheis, Steven Soria, Jonny Troyna, and James Van Arsdale — met in private for several months to debate a selected group of texts about Santa Barbara and the idea of paradise, and then went to work on pieces that reflect that discussion. The exhibit opens on Sunday, March 6, and displays through May 1.