News
Sandman Leaving Town After Citation
Fetched His Water from Dolphin Fountain
A staple of the Santa Barbara waterfront, sand sculptor Scott Dosch, also known as "the sandman," is leaving town after being fined $120 for using the dolphin fountain to assist in the creation of his work. The ticket, originally for $550, was decreased due to Dosch's physical handicap, which reputedly leaves him unable to access ocean water. Dosch was cited under a statute that includes damaging or, in his case, "interfering with" government property.
According to Harbor Patrol Supervisor Steve McCullough, Dosch's use of the fountain leaves sand in the pumps, which not only takes the wharf maintenance staff time to clean out, but also has the potential to damage the fountain pumps. Dosch refutes the claim that his use of the fountain causes any damage, stating that he uses his tip collection bucket, which contains no sand.
Dosch describes his sand statues as "realistic interpretational pieces, with the occasional social piece." He has been building them at the base of Stearns Wharf three to five times a week for the past 15 years, he said.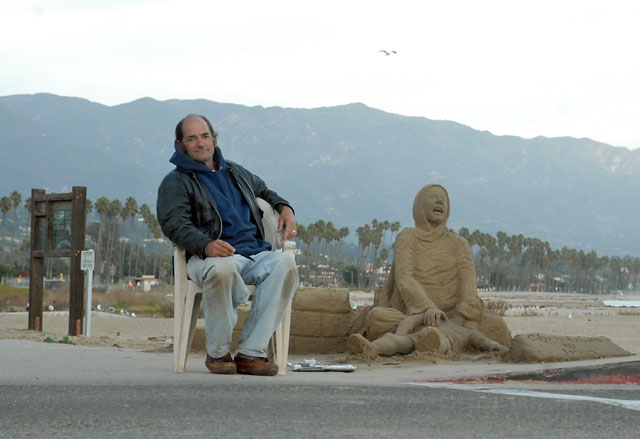 Dosch questioned the timing of the ticket. "If it's against the law, why didn't they say something back in 1992?" he asked. McCullough stated that he does not know whether or not Dosch has been using the fountain for 15 years, but the issue was only recently brought to his attention. Dosch said that he felt the citation was unmerited, saying, "Everyone uses it, but I'm the one that gets targeted."
According to McCullough, wharf maintenance staff spends an average of 45 minutes a day cleaning sand from the fountain pumps. Dosch was asked to stop using the fountain but refused to do so, allegedly challenging the officer to cite him. Following this, Dosch was issued a ticket by the Harbor Patrol. According to Dosch, he was originally issued the citation in early September, and pled not guilty at an arraignment in November.
Dosch went to trial on December 20, 2010, initially confident that he would be found not guilty, he said. He claimed that he was only found guilty due to testimony by a Harbor Patrol officer who stated that there was sand on the bucket that was dipped into the fountain. Dosch said he plans on leaving town in hopes of finding a new community where his art will be well received.
"I don't want to go up against the city," said Dosch, "If they don't want me here, which they have expressed, then I don't want to be here." Currently in his third year attending Santa Barbara City College, where he is studying studio art, Dosch said he intends to bid farewell to Santa Barbara once his class schedule is sorted out. Without access to the fountain's water, he said, he would be unable to create his statues. He added that he would like to sculpt "without hindrance to the right of [his] expression of public art."
Although his next destination remains unknown, Dosch remains optimistic, voicing that he has always gotten positive feedback throughout his years as a nomadic street artist. He simply wants the community to know that the sandman is leaving.