News
Finding the Most Fragile
Hundreds Conduct Definitive Survey of Santa Barbara's Homeless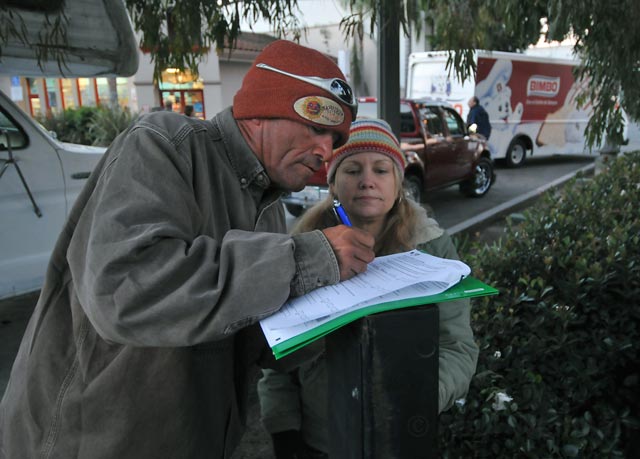 Nearly 500 Good Samaritans turned their backs on perfect Santa Barbara weather last Sunday to learn the dos and don'ts of interviewing homeless people and join a massive campaign to stem the rising tide of deaths by moving the sickest among them directly into housing. It was the initial step in Common Ground Santa Barbara's Registry Week, a monolithic countywide collaboration that's part of a national campaign — called 100K Homes — to house 100,000 of the country's homeless. The movement began in Manhattan and has since been embraced in 71 other American cities.
The mood at Earl Warren Showgrounds, where 350 South County volunteers gathered for their training, was one of palpable excitement. And that was even though many were slated to start their surveying at 4 a.m. the following day. Lilli Doner, a medic at Santa Barbara Middle School, was one of the volunteers slated to begin canvassing her assigned "zone" early the next morning. "Homelessness is something I don't even know what to do with, it's such a big thing," she said. "The opportunity to get to know [homeless people] as individuals and maybe help get them off the street is so exciting I can't hardly stand it."
The lead-up to this week's surveying, and future efforts to find supportive housing for the sickest members of the county's homeless population, began last summer. That's when Dr. Mimi Doohan of Doctors Without Walls — Santa Barbra Street Medicine (DWW-SBSM) met Becky Kanis, director of Common Ground's 100K Homes campaign, at a conference about health care for the homeless. After hearing Kanis describe moving 85 percent of the homeless in Times Square directly into housing, Doohan made it a goal to bring the program to Santa Barbara.
By fall, Rob Pearson, executive director of the city's Housing Authority, was supporting the idea, as was Mike Foley, executive director of Casa Esperanza and cochair of the Ten Year Plan to End Chronic Homelessness. When Mayor Helene Schneider got on board, the deal was pretty much sealed. In early December, board­­members of the Ten Year Plan unanimously endorsed the effort, too.
A factor in mounting the campaign so quickly was the decision to merge Common Ground's Registry Week — where as many homeless individuals as possible are given a survey to determine their medical fragility — with the county's biennial Point-in-Time count of the homeless. That count was going to take place anyway in the last weekend of January (as it does all over the country), requiring its own recruitment of dedicated altruists.
Monday morning at 4 a.m., the crowd of volunteers met at the Louise Lowry Davis Center, among them Mayor Schneider, Councilmembers Grant House and Randy Rowse, and Milpas Community Association director Sharon Byrne. Similar scenes were playing out in Carpinteria, Goleta, Isla Vista, and Lompoc. After some sips of coffee and a brief huddle over maps and supplies (phone cards were given as thank-you gifts), the teams set out to scour their designated zones. While most Santa Barbara teams were assigned to areas in the city's core, a few "guerilla teams" were tasked with finding the people who live in remote camps. These teams were led by veteran outreach workers and formerly homeless people. David Hopper Hopkins, who was homeless for 10 years in Santa Barbara, led one of these groups. He is now a housed drug and alcohol counselor and outreach worker.
Hopper's team began its surveying at Circle K on the corner of Milpas and Cacique streets. At 6 a.m., when a reporter and photographer arrived, he and teammate Lisa Bidlow, also formerly homeless, were surveying two men. One told this reporter he'd been on the streets, on and off, since 1978. Later they walked along a brushy, out-of-the-way corridor, but the campers they expected to find were gone. They came across a homeless Latino man in his early sixties walking near Carpinteria Street. He agreed to be surveyed.
"This is the first time that anything good for the homeless has come to Santa Barbara," said Hopper from a grassy spot he frequented in his homeless days. "This is the first time that all the agencies are trying to get people off the streets."
When the morning was over, Mayor Schnei­der said her team — which included Council­member House and had separated into three groups of two — collected some good data. Schnei­der and her teammate interacted with five homeless people, two of whom agreed to be surveyed. "Everyone was kind. There was no fear factor involved. We felt very comfortable talking to them and them to us," said Schnei­der. "They're just people who don't have shelter."