Living
Rudy's Struggle Met with Heaps of Support
The Story of Rudy Carlos and a Remarkable Community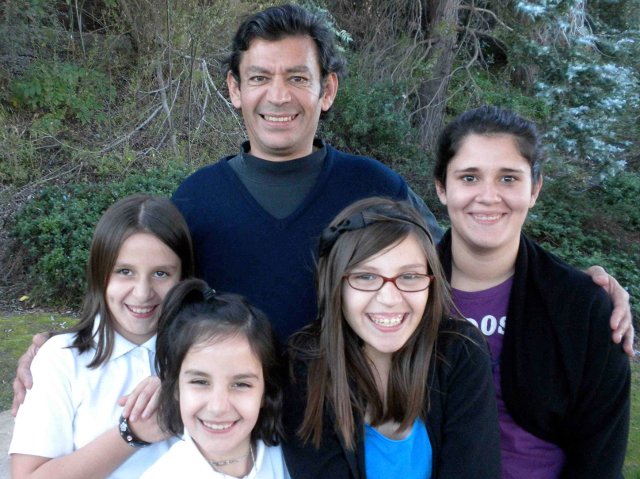 Santa Barbara is a community with the remarkable capacity to unite for a cause. In the case of Rudy Carlos, the community's reaction was no exception. Thanks to the many people who have pulled together to support a family in desperate need, Rudy's heartbreaking story became one of hope.
For Rudy Carlos, life seemed an uncontrollable downward spiral. "Being shunned by family, and now to have the whole city make us feel like family—it's mind-blowing. It's been exactly what my girls needed after having such a rocky past few months," expressed Rudy, grateful and in awe of the community's support.
Last June while living in Las Vegas as an independent contracting accountant, Rudy thought he was coming down with the flu. But after a visit to the doctor, Rudy discovered he was actually suffering from a rare form of leukemia known as chronic myelogenous leukemia (CPL), and that it had already progressed to the third, and final, stage. At the same time, Rudy was busy raising four daughters, ranging in age from eight to 14. From here, things only got worse. Rudy was hospitalized on June 16, and was not able to leave for almost 50 days. His medication cost $425 per dose, and Rudy required one and half doses per day. The steep price of the treatment forced Rudy to discontinue its use, though it was vital to his health.
With the future looking bleak, Rudy and his daughters made their way to Santa Barbara to be with Rudy's mother. Upon arrival last November, Rudy was astonished to discover that his mother, who had seemed perfectly healthy over the phone, was suffering from severe Alzheimer's disease. Unstable, she was unable even to recognize her granddaughters, and she refused to allow the family of five to stay in her home. For Rudy's daughters, being unrecognizable to their grandmother was "a blow to their self-esteem," said Rudy. "The situation here was looking really impossible."
Two weeks before Christmas, the family, comprised of strangers in this town, found itself with nowhere and nobody to turn to. Heading back to Nevada seemed to be the best option; friends and neighbors in their former hometown even offered places to stay. But the high cost of moving restrained the Carlos family from hitting the road. "U-Haul charged me $725 when we moved here. I didn't have the funds to get up and go," said Rudy. "We were forced to stay put and figure out our next move." Rudy also felt for his daughters, who were dealing with the stresses of living in a new city and attending a new school while their father and grandmother were ill.
When things didn't seem like they could get much worse, they did. One day in February brought twice its fair share of bad fortune when Rudy's van was repossessed and his family evicted from the house that they occupied at the time. The family found itself facing a terrifying glimpse of homelessness. With neither transportation nor anywhere to go, Rudy's family turned to Casa Esperanza. From there, the Transition House came to the rescue. With the help of social services, the family was given a voucher for 16 days in a hotel. "It was beyond stressful—having the four girls and trying to keep things normal for them would have been impossible had I not received the help I did," said Rudy.
Having nearly run out of options, Rudy contacted the girls' mother, Heather, a certified medical assistant. The parents discussed their choices and even considered sending the girls to live with Heather in Florida. Ultimately, Heather made the move to Santa Barbara. With their mom back in the picture, Rudy was able to find some relief; Heather could help out with meals, laundry, and transportation. Given Rudy's illness, help with these tasks was crucial, especially on days when he was required to be in the hospital. Moreover, Rudy said, "The energy she provides those girls is essential."
Having both parents present took stress off eldest daughter, Courtney, as well. According to Rudy, Courtney had been taking on responsibilities beyond her years, helping not only her sisters, but also her grandmother, all while maintaining her schoolwork. "It takes a lot of stress off my 14-year-old, who has been unreal. If nothing else, we need to make sure she has more time to be a 14-year-old, instead of worrying," said Rudy, grateful to have Heather around.
In a chance occurrence, the Carlos family's course suddenly took another lucky turn. According to city school zoning, one of Rudy's daughters was meant to enroll in McKinley Elementary School's fifth grade. But the class was beyond capacity. Understanding of the stresses that parents may face when they have to drop their kids off at different schools, the Santa Barbara Community Academy made room for one more in its classrooms. This string of events led Rudy to Leon Scott Baxter Lewandowski. "Honestly, I strongly believe God had a hand in it," said Rudy of the coincidental encounter.
This one man in particular ignited a series of events that would transform lives for the Carlos family. Lewandowski—a teacher at the Santa Barbara Community Academy where two of the Carlos' daughters now attend school—began a campaign to help the family.
Lewandowski was already aware of the Carlos family's tough situation brought on by Rudy's CPL and single parenthood when a specific event struck a chord with him. One day, Lewandowski noticed that the two Carlos daughters seemed extremely upset. He assumed it concerned their father—perhaps he was back in the hospital—so he pulled the girls aside to ensure that they were doing okay. Yet, as it turned out, the issue upsetting the girls that afternoon was very minor.
"They were internalizing [things]. The issue was not something to make them that upset. I knew there was more going on," said Lewandowski. From there, he approached Rudy, asking simply, "What do you need?" According to Lewandowski, when they spoke, Rudy admitted that childcare would be helpful. "A few days later, things fell apart. The van was repossessed. [Rudy] came to me," said Lewandowski.
Lewandowski began brainstorming fundraising ideas for the family. He remembered that the school often has restaurants sponsor events, sending out flyers to families asking them to eat at specific restaurants during specific hours. "I thought, why not have all the restaurants do it? One isn't enough. [I wanted] the community to rally [and for] businesses [to] get recognized," said Lewandowski.
Approximately seven years ago, while working at the Cleveland School, Lewandowski had organized a similar event for a family in need, so he knew what to do. On weekends, he began walking from restaurant to restaurant, asking to speak with managers and owners in hopes of convincing them to participate in his campaign, Eat Your Heart Out. A big issue was that Lewandowski was asking these restaurants to consider all restaurant patrons to be part of the campaign, rather than only those with flyers.
But once the first few restaurants got on board, more and more began to join. Lewandowski strove to include a diverse mix of restaurants, including places with various menus, price ranges, and locations. Among participating restaurants are Cody's Café, Cold Stone Creamery, Elephant Bar, Fresco Café, Jungle George Grill, Pizza Mizza, The Natural Café, and Wahoo's Fish Tacos. Some participating restaurants even provided the Carlos family with gift certificates. During Eat Your Heart Out, participating restaurants will donate 20 percent of proceeds to the Carlos family. The fundraiser will occur March 3 from 5-8 p.m.
Lewandowski asks that people let others do the cooking for them on this day. "I want everyone to keep their kitchens and fridges closed during these hours," said Lewandowski, eagerly encouraging the public simply to eat out on March 3.
The Santa Barbara Academy as a whole came together to host other fundraising initiatives, including a hot dog lunch sale held on February 10 that raised almost $1,000. The also held a pancake breakfast on February 26.
In addition, Lewandowski collaborated with the Santa Barbara Bank & Trust to set up a fund in which individuals could make donations to the family. Donations can be made online via PayPal.
"I realized the family needed help financially and in other ways. I wanted to get the public involved," said Lewandowski, who urged community members to help in any way possible. To his surprise, everyone seemed eager to help, asking what they could do. "I sent out an email to 10 staff members, and they sent it to people. Next thing you know I'm getting emails form people I don't even know—[even] people in L.A. [I even] got one from South Africa," Lewandowski proclaimed. Contributions consisted of a cell phone and laptop donation, as well as help with driving Rudy to doctor appointments and his girls to and from school.
Lewandowski even found someone to help set up bank accounts for the family. As the family moved from home to home, various individuals helped them with hauling. The family is now settled into an apartment. "It feels like home again, [having] a door to close and a bed to sleep in," said Rudy. Lewandowski hopes to get the family a means of transportation in the near future.
Moreover, Rudy was able to access medical coverage and is no longer in the blast stage of CPL. He begin taking Gleevec, a medication used to treat CPL. "It's great news. There are still days when the medicine makes me feel sick [and] other days when I'm fine. Maybe I have a bad week or a bad few days, but my energy is good and I'm feeling pretty good for the most part," said Rudy. Yet, due to his age, Rudy will eventually need a bone marrow transplant. "There will be a time when the pills stop working. No one knows how long they will work. I really don't know. [I] could go into cytogenetic remission [meaning I would be] cured at the cellular level but not the molecular level," explained Rudy.
When everything seemed to be going wrong, Lewandowski was somebody on whom Rudy could lean. "He was literally a shoulder to cry on; a moral support, [spending] all of his time and energy [on] fundraisers," said Rudy. But Rudy's thanks extend beyond Lewandowski. "I don't think this would have happened to us anywhere else in the world. The school, the teachers, the principal—everyone has been awesome. And Leon has orchestrated all of this," said Rudy.
Lewandowski remains humble about the endless support he has shown the family. "It was about getting them on their feet, to where they are now. They were in a tailspin and needed a lot. But just having so many people that don't even know them come and support them has given them so much hope," he stated. "They are not incapable people. They are very capable. [They were] just hit with a lot and had nowhere to turn," Lewandowski concluded.
At the end of the day, Rudy is grateful for all of the community support. In particular, he's grateful for Lewandowski. "He has been like a brother to me. I don't have the words in my heart to thank him for everything," said Rudy. "He didn't know me, he just saw that I needed help and was there."