SEX, DEATH, SONGS AND RAILS: It is an agreeable January Saturday and a concentrated pack of us, about a dozen strong, are crammed onto the rear platform – "whistle stop" style – of the restored vintage train car known as the Tioga Pass. Among the humanity are Tom Russell and that American master of song, Jimmy Webb, stars of January's edition of the unique "Roots on the Rail" music-on-wheels series. As we whiz past the Rincon and the sweet stretch of track between Carpinteria and the Santa Barbara train station, bumping right up against sunset, Webb seems dreamy and inspired. He began to sing the iconic Sun Sessions song "Mystery Train," then added "I don't think that song's just about trains. Maybe death?" A friend added "and sex?" Webb laughed, rearing back his head. He knows mighty well about the layers of meaning one can pack into, or read into, a song.
Memories are made of this. Earlier, we heard Webb talk about his life, art and times for an hour, including the telling fact that he wrote three of his masterpiece songs – "Wichita Lineman," "By the Time I Get to Phoenix" and "McArthur Park" – in his late teens, in tribute to a would-be lover, an all-powerful "one that got away." Thus, Suzy Horton is one of American music's most important muses.
"Roots on the Rails," a fascinating project on the fringes which has been going on since the early 2000s, is an ideal concept and project, for fans of trains, and fans of song – especially of the singer-songwriter and Americana sort which pass through the local "Sings like Hell" and "Tales from the Tavern" series, and the Live Oak Festival. For this particular trip, a three-day venture from L.A.'s Union Station to Oakland, a day trip in San Francisco and back down, the rolling home and stage set-up involved three privately-owned, beautifully restored train cars – also the Overland Trail, serving as the "performance car," the dome-topped Silver Splendor, where folks also chow down.
Trains being subject to problems along the way (in Southern California, including yielding to Southern Pacific's schedules), this northbound trip was waylaid by a three-hour stop at the Camarillo train stop, due to a minor fire issue in an Amtrak car ahead of us. But even that kerfuffle had a poetic touch: in the middle of Webb's interview, led by Russell, the great songwriter spoke about his Baptist pastor father now 86 and living in Camarillo. Coincidence, or divine intervention? While perched there, the fine singer-songwriter-guitarist Thad Beckmann served up a set, with bluesy grace, limber guitaring and lyric-slinging.
Deeper into the evening, we were treated to full, rambling sets by the wonderful Jesse Winchester, supplier of genteel Southern wit and wisdom, and, late in the evening, a necessarily looser and more picaresque Russell. Russell, who has played around these parts many times, is a natural tourguide to his musical world and ramparts of rootsy American song and literature.
Before the musical portion of the day and evening began, naturalist Elsabe Kloppers offered up some intriguing facts and images about the flora, fauna, terrain and history of the California region we would be passing through. Because the series organizers are east coasters, and many of the regular patrons from all over, and back, details of the specific regions the trips traverse becomes a component of the overall music/rail/regional experience. Kloppers told me she appreciates the close encounters with artists: "it's great to hear them interact in this relaxed setting, where they are her for a long time and they get to know people."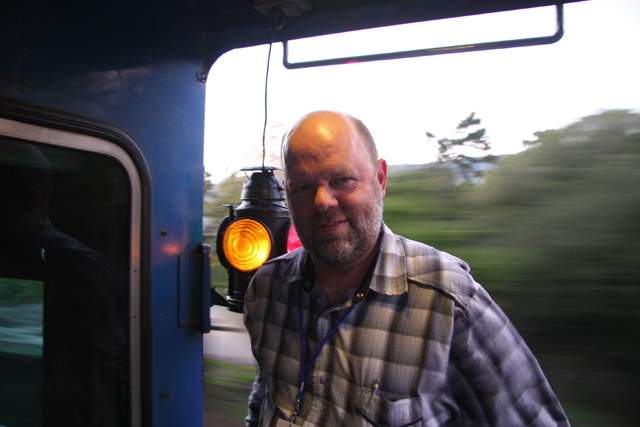 Earlier that morning, as the posse waited for departure at Union Station, the series founder spoke about his project, past and future. He spoke enthusiastically about trips in Canada and Mexico (to Copper Canyon), a not-so-successful boat trip back east, and artists he'd like to add to the growing roster. "I'd love to get someone like Lucinda Williams…" he paused and grinned. "Well, not like Lucinda—Lucinda." Sign me up for that one.
Next up, a five-day trip from Union Station to Portland and back, April 3-8, with a rolling festival roster including Dave Alvin, Chris Smither, Peter Case, Laurie Lewis, and Nina Gerber. (Check out www.flyingunderradar.com).