Arts & Entertainment
Fitz and the Tantrums at Velvet Jones
New Noise Brings L.A. Quintet Back for Sold Out Show on Friday, April 1
There's something extra special about watching a band get "there," to that proverbial place in the music biz world where things really start to happen. For fans and friends locally, Friday night's sold out show at Velvet Jones marked that spot for Fitz and the Tantrums. Since their stop at SOhO last September, the band has been hitting the road hard (they swung back through during the 2010 New Noise Music Conference) and turning up in all manner of ear-catching places (read: VH1, late night T.V., and a handful of nationally aired commercial spots). They've also been pouring their hearts and souls — not to mention a whole lotta sweat — into their live show on a nightly basis. Needless to say, the hard work has definitely paid off.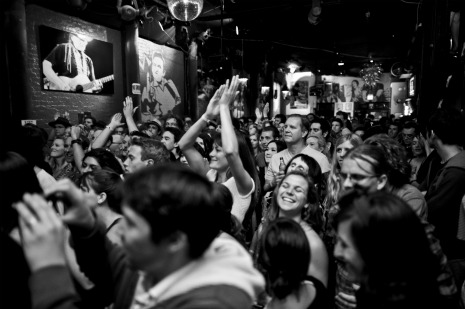 Friday's gig started off with Santa Barbara's own Sprout, who brought a soulful opening set to the Velvet stage early on in the night. Equipped with an upright organ and no shortage of players, the seven-piece drew heavily from '60s- and '70s-era funk rock, making for the ideal setup to the evening's main event.
In the minutes before Fitz's call time, the Velvet dance floor went from full to downright overflowing as fans clamored to get closer to the action. In turn, the opening bars of set starter "Breakin' the Chains of Love" had the place near-bursting with the excitement of it all. Throughout the night, the band dipped into the vaults for oldies ("We Don't Need No Love Songs"), as well as a couple newly penned tracks, and fluctuated seamlessly between the foot stompers ("News 4 You," "Don't Gotta Work It Out") and the slow jams ("Tighter," "Winds of Change"). Of special note: the tin whistle-fueled "Pickin' Up the Pieces," which was equal parts neo soul and new wave funk.
What has — and continues to — set Fitz & Co. apart from their contemporaries is a rare and balanced mix of showmanship, raw energy, and genuine appreciation for the fans. Onstage, singers Michael "Fitz" Fitzpatrick and Noelle Scaggs embody the vibe of Motown harmonizers of yore, but inject it with a lighthearted sexiness that's almost theatrical to watch play out. And combined with a killer backing band, a well-placed cover, and some hilarious crowd interactions, it made for the perfect Friday night dance party, courtesy of music's most deserving new stars.