Living
Biennials
These Tardy Bloomers Are Worth the Wait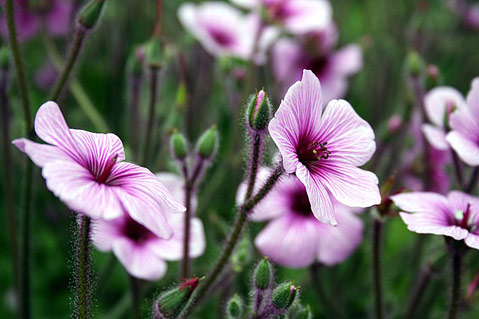 Anticipating the predictable burst of bloom—whether it is the earliest of late-winter narcissus bulbs, the reliable flush of cup-shaped magnolia blossoms, or the cheery annual display of California poppies—is one of life's great pleasures. For gardeners, who spend time and energy in planting and tending these ephemeral displays, a wanton hail storm, an unplanned weekend away from home, or a bout of the flu at just the wrong time can mean a missed moment of bliss. There is another class of plants that provide an additional period of expectation—biennials.
Biennial is just a convenient and descriptive word to indicate that the plant in question spends at least one whole year in growing the root system and leafy above-ground portion before it finally goes sexual and flowers. Just coming into bloom right now is a species of geranium that falls into this unique wait-and-see-me-now category. Geranium maderense is fabulously dramatic. It forms a sizeable mound (three to four feet high) of large, delicately divided leaves from a single succulent stem. In its second spring, it forms a huge central explosion of hot magenta flowers. These hundred or more dainty flowers are held at the ends of reddish, hairy stems so that the overall impression is of botanical fireworks. Once the bloom cycle is completed, the plant dies, but fortunately, it will dispense plenty of seeds for another generation. The seedlings that arise are easy to transplant when they are small (under six inches is ideal), so the trick is to move them around in the garden so that, in alternate years, there are more coming into bloom wherever they can fulfill their destiny.
An old-fashioned darling that comes in a dizzying array of different flower colors and forms that are simple to frilly to doubly convoluted is the hollyhock (Alcea rosea). The leaves of the modest rosette that grows in the first year are roughly lobed and can actually reach a couple of feet in diameter. Unfortunately, the early seedlings somewhat resemble the common cheeseweed, and uninitiated gardeners have been known to weed them out unwittingly. When planting, place a stake or label near them to mark their position. In the flowering year, a truly compelling flower stalk will thrust toward the sky—some as tall as nine feet—and the flaring petals of dozens of flowers in shades of white, yellow, pink, red, and purple to nearly black will open within a period of a couple of months. These biennials may actually persist for another year or at least bloom again in fall if the flower stalks are cut down as soon as the blossoms wilt.
There are a number of other lovely garden subjects that require this same sort of finesse. They include some of the foxgloves (Digitalis species). Some are not as well known as they should be, perhaps. Yellow foxglove (D. grandiflora) inflorescences top out at about three feet, and the typical drooping flowers are nice and showy with brown markings on yellow. Another Mediterranean transplant, Grecian foxglove (D. lanata) has subtly colored flowers but a nice fuzziness on the plant, as well.
That florist favorite known as lisianthus (actually Eustoma grandiflorum) can be grown at home. It is commonly grown from nursery starts that short-cut the process of sowing seed and waiting a whole year until it blooms. Along the coast, it may not perform to expectations, though, as it prefers warm nights (aahhhh).
It may not seem worth the effort to grow Lunaria annua either. It takes a year to come to flower, and then it looks sort of like an escaped mustard plant. But after that nondescript event comes the jackpot. Called money plant, its seedpods ripen and shed their outer shell along with the few seeds leaving behind shimmering, translucent disks. These "coins" make a stunning fall display either in the garden or cut for an indoor arrangement.
Need instant gratification in the garden? These tardy bloomers are not that sort, but perhaps they are worth the wait.