Courts & Crime
Five Alleged Gang Members Charged with Attempted Murder
Two 17-Year-Olds to Be Tried as Adults for March 30 Stabbing
Santa Barbara detectives arrested four people last week in connection with what police are describing as a "brutal stabbing attack" that took place on the Eastside the evening of March 30. The suspects as well as the victim are all known gang members, said police spokesperson Lt. Paul McCaffrey.
A total of five people are charged with attempted murder, conspiracy to commit murder, and committing a crime in furtherance of a criminal street gang. They are: Robert Anthony Aldaz, 18; Richard Soto, 20; Ricardo Pineda, 17; and Juan Antonio Maldonado, 17. A warrant has been issued for Juan Carlos Villa, 19, who faces the same string of charges but remains at large.
Pineda and Maldonado will be tried as adults, said Deputy District Attorney Kimberly Smith. She couldn't comment on the specifics surrounding the decision, but explained that the law allows the DA's office to prosecute suspects younger than 18 years old as adults when taking into consideration the seriousness of the charges against them. The four suspects in custody will be arraigned today in Judge Donna Geck's courtroom.
McCaffrey said the stabbing took place at around 9:30 p.m. near the footbridge in the 1100 block of Cacique Street, a known gang hangout. According to statements given by the 18-year-old victim and witnesses, a dark sedan packed with rival gang members drove up to the victim — who was walking alone — and several suspects "got out of the sedan, knocked [him] down, and repeatedly stabbed him," reported McCaffrey.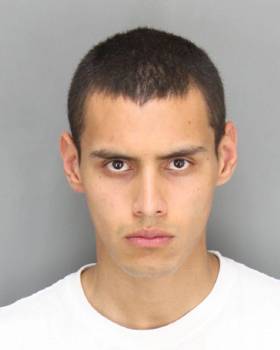 The attack was witnessed by several people in the area. When they approached the scene, the suspects fled. The victim suffered multiple stab wounds to his limbs and body, said McCaffrey, and was transported to Cottage Hospital in serious condition.
The next day, March 31, a patrolling officer stopped a car at 1300 San Pascual for a minor traffic violation, said McCaffrey. It was being driven by Aldaz and carried two passengers. The officer noticed that Aldaz had a fresh cut on his hand and, upon searching, found a knife in the car as well as blood stains on the upholstery. All three were detained and taken to the police station for questioning. Detectives confirmed Aldaz's participation in the stabbing; the passengers were released. Over the course of the next few days, detectives arrested Soto, Pineda, and Maldonado.
Authorities, said McCaffrey, "believe that the five suspects all plotted and agreed to attack a rival gang member. They armed themselves with knives," he went on, "and traveled together into a rival gang's territory with the intent to attack a rival gang member. In particular, Soto provided knives used in the attack and enthusiastically encouraged the attack."
Detectives are still on the lookout for Villa. Anyone with information about his whereabouts is encouraged to call (805) 897-2355.