British folk-rock band Mumford & Sons wasted no time ensnaring the audience at the Bowl last Monday night. Lined up in egalitarian fashion across the stage, the four multi-instrumentalists jumpstarted the evening with "Sigh No More," the title track from their lone full-length album.
Though together just four years, Mumford & Sons—consisting of Marcus Mumford (lead vocals, guitar, drums, mandolin), "Country" Winston Marshall (vocals, banjo, dobro), Ben Lovett (vocals, keyboards, organ), and Ted Dwane (vocals, double bass)—performed like seasoned veterans. Their playing was tight, electric, and infectious, the pit was busting at the seams, and the audience responded enthusiastically to the fiery music being delivered. Mumford's voice, a bit raspier than usual since he'd just come from performing at the Coachella Valley Music and Arts Festival two nights prior, was nonetheless tempered by the crisp triple harmonies of his band mates.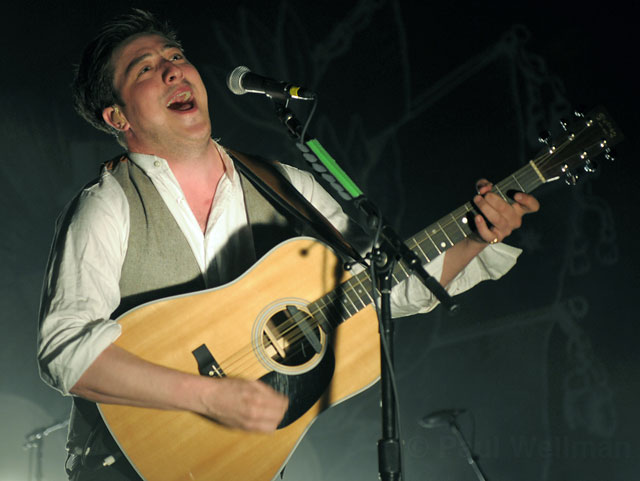 "This is the longest set we've ever played in front of the most people," Mumford remarked. "I hope you're not too bored yet." No worry there—fans stayed rapt throughout the nearly hour-and-45-minute-long set. Their second song, "Roll Away Your Stone," got the crowd jumping, while highlights like "Winter Winds" kept the pace. And Mumford's appealing vocals glided effectively from heartbreaking (with a deep resonance, not unlike Peter Gabriel) to ferocious throughout the night.
Familiar songs from Sigh No More—including "White Blank Page," "Timshel," "Thistle & Weeds," "After the Storm," "Awake My Soul," and Grammy Award-nominated "Little Lion Man"—were interspersed with new tunes ("Nothing Is Written," "Hopeless Wanderer," "Lover of Light," "Below My Feet," and "Lover's Eyes," off the band's yet-to-be-released sophomore CD, set for arrival later this year).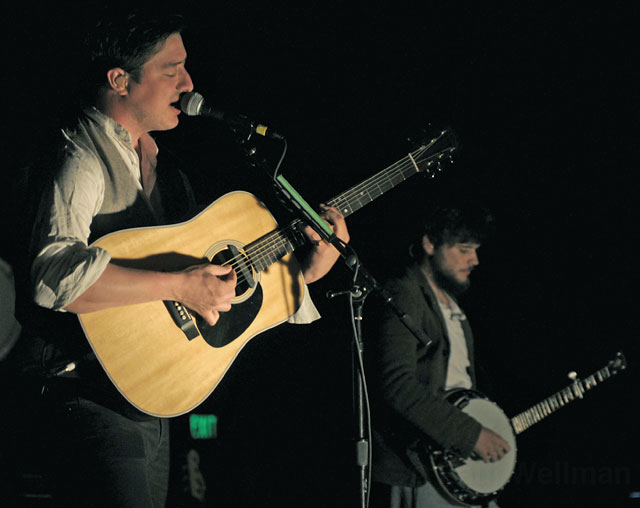 Mumford & Sons adeptly mixed aural beauty with a rugged, rough sound, making for an extremely compelling live show. On Monday, the band succeeded in creating the intimacy of a pub gig and an unrestrained big sound perfect for an outdoor arena—a difficult thing to achieve. With thoughtful, poetic lyrics and musical roots in British folk traditions, these four are minstrels for the 21st century.
"This has been, I think, my favorite gig ever," gushed Mumford toward the end of the night. I couldn't agree more.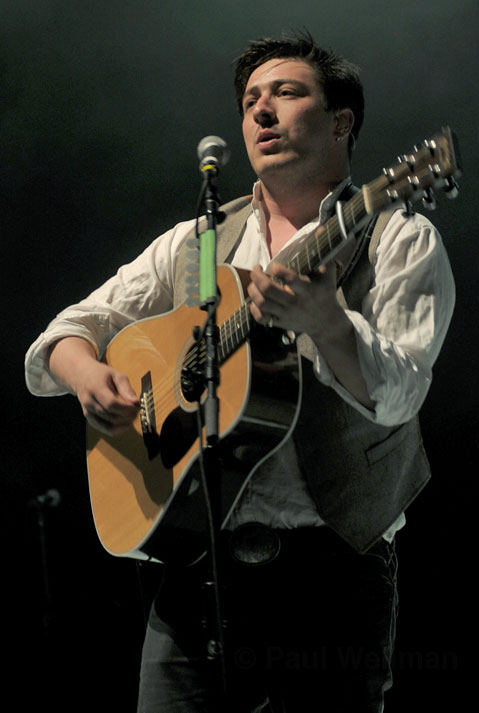 Set List
Sigh No More
Roll Away Your Stone
Winter Winds
White Blank Page
Nothing is Written (new song)
Hopeless Wanderer (new song)
Timshel
Little Lion Man
Lover of the Light (new song)
Thistle & Weeds
After the Storm
Below My Feet (new song)
Awake My Soul
Dust Bowl Dance
Encore
Wagon Wheel (OCMS cover)
Lovers Eyes (new song)
The Cave