News
Dems Hope Early Birds Get Worm
Party Endorses Three for November City Council Race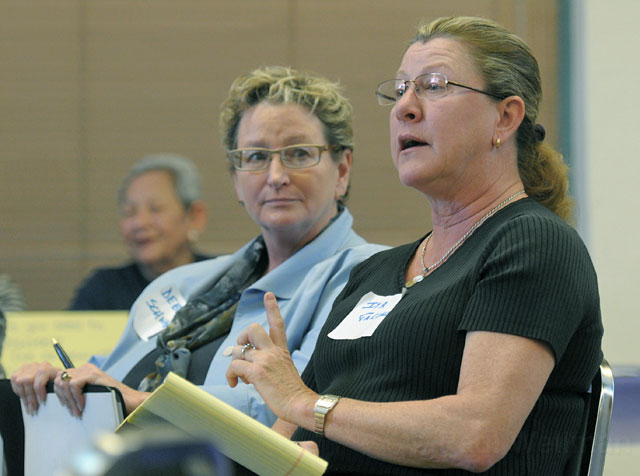 As part of a strategy to re-establish the liberal Democratic majority that's long held sway on the Santa Barbara City Council, the Democratic Central Committee came out far sooner than it ever has in endorsing three candidates in this November's council election. The committee voted to back social activist Cathy Murillo, news director for KCSB radio and a former reporter with the Independent, Iya Falcone, a two-term councilmember and party moderate who enjoyed strong ties with public safety unions, and Deborah Schwartz, a member of the city's planning commission and daughter of former county supervisor Naomi Schwartz. Of the three, only Falcone has run for office before.
Only one other candidate — homeless rights advocate Nancy Kapp — sought the party's endorsement. By screening and endorsing candidates early, party chief Daraka Larimore Hall is hoping to discourage other candidates from jumping in who might split the Democratic-affiliated voting base among relatively like-minded candidates. That's what happened in the last council election two years ago when there were more liberal candidates than there were seats, allowing conservative neighborhood advocate Michael Self to eke out a narrow victory. While the three candidates backed by the Democratic Central Committee represent a wide spectrum of Democratic and activist thought, they will run as a slate. Exactly who they will be running against remains unclear, but it's likely they will face incumbents Dale Francisco, Self, and Randy Rowse.
Traditionally, the City Council — nominally and technically a non-partisan post — has been dominated by middle of the road Democrats usually with one, and at most two, fiscally tight but socially liberal Republicans thrown in. In recent election cycles, the council has seen the emergence of younger ideological progressives like Mayor Helene Schneider and former councilmember Das Williams. This, in part, has precipitated a successful backlash by conservative voters and candidates, like concilmembers Francisco, Frank Hotchkiss, and Self. Giving the conservatives more momentum is a fundamental re-alignment of forces throughout the South Coast over the divisive issue of affordable housing. Traditionally, the Democratic Party has been the Big Tent under which slow-growthers, no-growthers, and a smattering of social justice activists could peacefully gather, but that's no longer the case. More progressive Democrats have pushed hard for increased housing densities and smaller unit sizes in hopes of making housing more affordable to middle class residents — as well as the traditional have-nots for whom affordable housing has been intended. This has alienated many of the older traditional slow-growthers, who increasingly are finding common ground with the likes of Francisco and Self, who have vigorously resisted efforts to increase housing densities. They contend that the increased densities will ruin what makes Santa Barbara special while expressing doubt that it would achieve a big enough reduction in housing costs to make housing significantly more affordable.
The conservatives gained a council majority for the first time in more than 20 years this past December after Williams won election to the state assembly. That's when the council — then polarized 3-3 — had to appoint Williams's successor. The question was which side would blink. Initially, it appeared the council would remain hopelessly deadlocked. But then councilmember Grant House — a strong affordable housing advocate — blinked. He voted for restaurant owner Randy Rowse, who was solidly then backed by the conservative faction, to replace Williams. Much was made over House's vote then and since. He said at the time he supported Rowse because it was his understanding that Rowse would not seek re-election if appointed. Rowse quickly stated he made no such assurances. He may have thought that one of more his liberal colleagues — Bendy White — was going to cave in first and vote for another conservative-backed candidate harder for House to stomach. Whatever the real reason, Larimore Hall and other activists on the left side of the political aisle expressed keen frustration at the lack of discipline and communication among their electeds on the council. Why was it, they wondered despairingly, that Republicans and conservatives were so much better at playing hardball politics?
To that end, Larimore Hall vowed to field a team of candidates capable of re-claiming a council majority as early as possible. No schisms would be tolerated. Perhaps the most striking aspect of this quest has been how few candidates have been willing to step forward. When it soon became apparent that Rowse would not merely serve as a place-holder, several might-have-been candidates backed away. Where they were willing to run for an open seat, they didn't want to challenge an incumbent. Other prospective candidates declined because they couldn't afford to lose their jobs.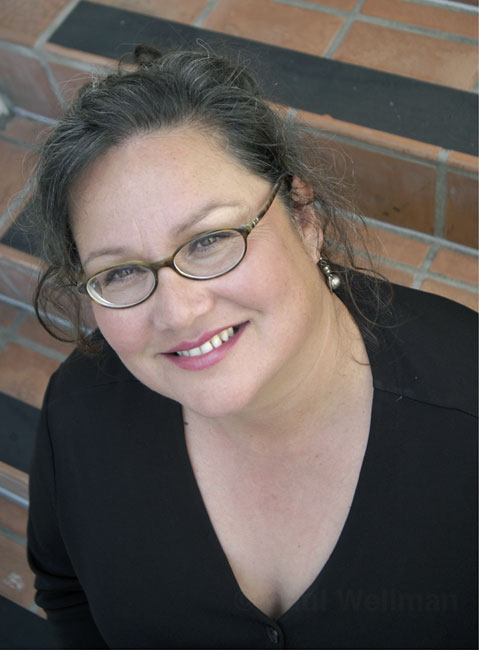 The first to step into the void was Cathy Murillo, a passionately outspokenly populist. While Murillo has never run for office before, she impressed many in Democratic political circles with how well she ran the campaign of her husband David Pritchett two years ago. It remains uncertain to what extent Murillo can attract support from the party's moderate base. She's a strong supporter of increasing housing densities downtown, and on homeless issues, she contends City Hall needs to better mitigate problems associated with the Casa Esperanza homeless shelter, while strongly endorsing the shelter's continued operation. Larimore Hall is hoping that Murillo—a Latina, a renter, and a bus rider—can help excite the party's activist base. The second to declare was city planning commissioner Deborah Schwartz. While Schwartz grew up in Santa Barbara, she's still a bit of a newcomer in town, having spent most of her professional life working as a consultant in the Bay area. Only in the last few years did she return to Santa Barbara, so she's not well known. Initially, Schwartz served on the county's Historical Board of Architectural Review. She was then appointed to the city's politically influential Planning Commission, often seen as a stepping stone to the council itself. Certainly, it hasn't hurt Schwartz any that her mother—former county supervisor Naomi Schwartz—is still a formidable mama bear in Democratic circles. Larimore Hall is banking that Schwartz's planning commission experience and moderate profile will appeal to more mainstream Democrats looking for someone knowledgeable in planning issues.
The last candidate to officially announce was Iya Falcone, a tough campaigner and political scrapper who served two terms on the council. Of the three, Falcone is probably the most politically conservative. Still, she insists, the differences between the slate and the incumbents is vast. For example, she said, "I definitely believe that plastic bags do constitute an environmental threat and I'm not going to eat a plate of them to see if they go through me," referring to council conservative Frank Hotchkiss's recent remarks made when voting against a proposal to regulate single use plastic bags.
Of the three, Falcone is clearly the most experienced — both in the minutia of city government and the mechanics of running a campaign — but also the most exposed. While on council, she famously feuded with fellow councilmembers Das Williams and Mayor Marty Blum — she insists they feuded with her — not to mention many in activist circles. While she enjoyed exceptional support from the police and firefighter unions, that could become a liability at a time when public employee unions are blamed for the fiscal crisis afflicting many state and local governments. And lastly, Falcone failed to qualify for the mayoral ballot when she ran two years ago because she didn't collect the requisite number of valid signatures on her qualification petition. Her husband had just died at the time and some were willing to write off the mistake as a function of an understandably distracted mind. But some had invested thousands into her mayoral campaign and had a hard time forgiving the mistake. Little wonder then that Falcone declined to formally apply for the Democratic endorsement without some assurances that she would get it. "I had no appetite for running without the backing of the party," she stated.
Larimore Hall acknowledged the campaign would be tough. Of the incumbents, Dale Francisco has clearly emerged as the most strategically gifted, and has proven effective on issues ranging from medical marijuana to bulb-outs to increased densities. Randy Rowse, as owner of the Paradise Cafe and longtime member of the Downtown Organization, enjoys ties with the downtown business community that are long and strong. And given his votes on the council, he will be harder to pigeon hole as a conservative ideologue out of touch with mainstream Santa Barbara. The incumbent most vulnerable to that tag might be Michael Self, whose improvisational soliloquies can be disjointed and hard to follow. Still, Self speaks from the heart and will appeal to those voters most distrustful of City Hall and most suspicious of what she terms "social experimentation."
Turnout, according to Larimore Hall, will prove definitive. If Democrats, moderates, and progressives can turn out in strong numbers, they should be able to win. At least according to the voter registration numbers, Santa Barbara tilts overwhelmingly Democratic. But in a lower turnout race, Republicans and more conservative voters enjoy a clear edge.
In the meantime, Larimore Hall has suffered a significant political upset in his professional life. He was just defeated as head of the statewide union representing University of California graduate students, a post that provided Larimore Hall with a salary of $37,000. The campaign to unseat Larimore Hall was almost as personal as it was political; the challengers accused Larimore Hall—a left-leaning social justice progressive—of being a top-down, autocratic union boss who sold out graduate students at the bargaining table. Larimore Hall countered that he'd secured meaningful contract concessions at the bargaining table, and that the challengers had taken to bombarding him and his supporters with nasty and sometimes obscene phone calls on their cell phones. It remains uncertain what Larimore Hall, a seven-year sociology graduate student at UCSB, will do now. Likewise, it's unclear what impact this se-back will have on the Democratic Central Committee's ability to wrest control of the City Hall away from council conservatives.