When you think food truck, you might not be thinking gourmet meal, and you wouldn't be thinking Isla Vista, but you might have to change your preconceived notions. There is a just such a food truck coming to I.V. this weekend, bringing meals that will attract even those who ordinarily turn their noses up at food trucks.
While it's not impossible to find good-tasting food in I.V., where we are lucky to have quite a number of eateries with appetizing entrees, there isn't any place that will cook and serve the food on your own doorstep. The O Street Truck is planning on doing just this. It is going to be parked on Del Playa at Camino Pescadero this Saturday from 8 p.m. to 2 a.m., offering up sandwiches, fries, and pizza.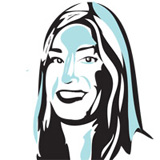 All the food is French-inspired with a twist, according to Liz Bradley, the CEO, founder, and chef of Olive Street Table. The menu includes French pastry pizzas, Bahn Mi sandwiches, and tomato-basil soup. The truck is a new addition to the Olive Street business model, which has until now focused on selling gourmet frozen pizzas online and in local stores. However, Bradley said, the "past couple of years have been less than glorious because of the recession."
Food trucks, such as O Street's, are a popular trend in many urban areas. "We are taking it out there," Bradley said. Such trucks are traditionally associated with Mexican food, but about three years ago a company in Los Angeles finally followed suit by selling Korean tacos from a truck, she said. Now a variety of ethnic and gourmet and gourmet-ethnic trucks roam the streets of major cities—New York, Seattle, Portland, etc.
In the Santa Barbara area, however, this is still a relatively new thing. She knows of four others in the area: the Burger Bus, Mobile Café, Culture Shock, and Lickety Split's.
This won't be the first time someone has brought a food truck to the Del Playa area. Last year, a UCSB group invited the Mobile Café, which is operated by the Santa Barbara School Districts, to set up on Del Playa. The idea was to find a new way to provide food to hungry party-goers.
The O Street Truck has been making stops in Santa Barbara and Goleta for the past six weeks. It has been parked outside the farmers markets, Allergan Inc., and Commission Junction. "It's a need," said Bradley: Employees at big businesses "want food, fast and easy."
"But," you may be asking yourself, "why I.V.?" She said, "It is a sophisticated group that understands food." She added, "It is my perfect demographic. They know what's hip, what's happening." In addition, I.V. also provides a great way to find a lot of consumers in a small area. It is one of the most densely populated areas in the country, she said, second only to New York City.
And Bradley said the prices are set to be reasonable. She called them "street prices": $2 for French-Vietnamese tacos, $5 for a Giant Banh Mi Sandwich, $4 for individual French pastry pizzas.
Even though the food-truck trend is occurring across the country, tapping into the I.V. community might be just the impetus to get more of these ventures started. The idea of stepping out of your apartment to find O Street's gourmet yet affordable "Mediterranean, French-Mex, and French-Vietnamese" food at your doorstep might not make everyone salivate, but it definitely stimulates my appetite. Here's to more of these food-to-you ventures in the future.