News
Vargas to Stand Trial for Isla Vista Murder
Victim's Friend and Eyewitness Remembers Stabbing in Emotional Testimony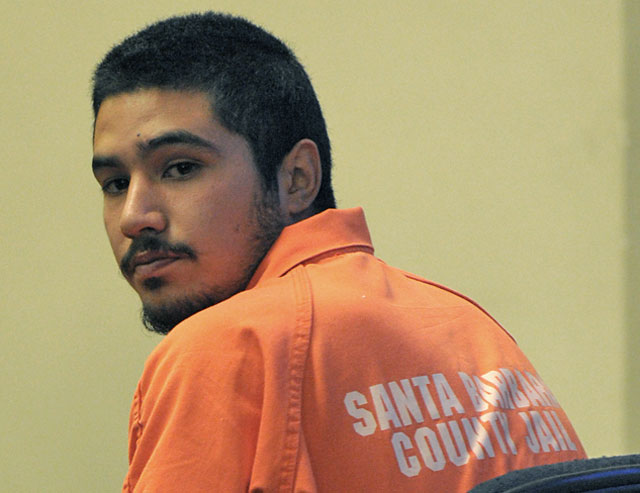 During a tense and dramatic hearing, Judge Rick Brown ruled yesterday in Santa Barbara Superior Court that enough evidence exists against murder suspect Benjamin Vargas for him to stand trial. Vargas is charged with murder in the stabbing death of 26-year-old Vincent Velasquez. The two got into a fight on Abrego Road in Isla Vista on May 15, and the District Attorney's Office alleges that Vargas stabbed the victim more than a dozen times during the drunken scuffle, piercing his jugular and nicking his heart.
Vargas, 20, was arrested on May 17 after authorities received a number of anonymous tips and eyewitnesses identified him in a photo lineup. He pleaded not guilty during his arraignment two days later, and is being represented by a private attorney, Ventura-based Ron Bamieh. If he's found guilty, Vargas faces 25 years to life in state prison. Bamieh argued during Thursday's preliminary hearing that Vargas acted in self defense. He said Velasquez threw the first punch, and his client — walking with an unidentified woman — was confronted by an intoxicated and hostile Velasquez and his two friends.
The day began with statements given by witnesses and law enforcement personnel involved with the murder investigation. One Isla Vista resident said the stabbing took place right in front of her apartment complex. From the little she saw, she thought it was a typical late night fight, only learning later that a knife was used. Sheriff's Department detectives relayed that they found Vargas's pickup truck parked in Rocky Nook Park in the days following the killing. A steak knife, they said, was discovered by a homeless man hidden in the rocks nearby. In the tail end of the morning session, a forensic pathologist stated Velasquez was stabbed a total of 16 times, with two of the wounds considered fatal.
Despite prosecutor Hans Almgren's fervent attempts to block his testimony, Bamieh then called Velasquez's longtime friend, Raymond Velez, to the stand in the afternoon. Velez was with Velasquez the night of the murder. He witnessed his friend's death firsthand, putting pressure the victim's stab wounds before rushing him to the hospital.
Velez's heartbreaking account of the rainy night in Isla Vista began on awkward footing when Bamieh asked him the name of the third friend who accompanied Velez and Velasquez. Despite knowing him since 7th grade, 25-year-old Velez said he couldn't recall his friend's last name, describing him only as "Aaron." As the court reporter yelled in exasperation that she couldn't keep up with the dialogue's fast pace, Bamieh peppered Velez with incredulous questions, asking how he couldn't know such a close friend's last name. At one point in between deafening silences during which Velez hung and shook his head, he admitted he did know the name, but was unwilling to share it.
The back and forth between him and Bamieh went on for some time before Almgren jumped in and began repeatedly objecting in the middle of Bamieh's remarks. Bamieh eventually threw his hands up in frustration, saying where he came from attorneys were allowed to finish their questions without being interrupted. He asked Judge Rick Brown to demand a better sense of order, to which Brown replied, "I don't need a lecture on decorum."
Once things settled back down, Bamieh had Velez walk the court through the events of May 15 leading up to the fight. Velez — often choking back tears on the stand — said Velasquez and Aaron began drinking heavily after they got off work, knocking back Grey Goose and Hennessy. They made plans to drive to Isla Vista after hearing of a few parties in the area. They walked around for about one to two hours, eventually making their way back to Velez's car on Abrego Road at around 12:30 a.m. Velasquez and Aaron were drunk, Velez said. He was sober because he was the designated driver.
When they arrived at the car, Velasquez refused to get in for some reason. He could be very stubborn when he'd been drinking, Velez said. As Velasquez stood outside the open front passenger's door, talking with Aaron in the front seat and Velez behind the wheel, Velez said he noticed two people walking down the sidewalk toward them. He identified one of them as Vargas, pointing him out in court. Throughout his descriptions, though, he said he didn't know Vargas's name, referring to him only as "the guy."
As Vargas and the woman he was with passed behind Velasquez, Velez said the victim gave what he interpreted as a friendly hello, saying, "What's up?" That seemed to upset Vargas, however, who immediately got defensive and said repeatedly, "Don't 'what's up' me. You don't know me, homie." Velez said Velasquez then told Vargas to take it easy and walk on. Velez also reportedly leaned out of the car, telling Vargas to not worry about his friend and to "keep it moving." Words kept flying between Velasquez and Vargas, however, and they wound up in the middle of the street, Velez said. At no point did he see a knife in Vargas's hand and said no one in his group was carrying a weapon. He couldn't recall what Aaron was doing during the whole incident.
Through his rear view mirror, Velez said he then saw Velasquez "sock" Vargas, knocking him to the ground. He didn't know who swung first. Vargas's female companion then started trying to hit Velasquez, Velez said. He got out of the car and grabbed her by the arm, telling her to let Velasquez and Vargas fight "one-on-one." At this point Vargas stood back up and squared off with Velasquez for a second time. Velasquez quickly got the upper hand, said Velez, and he rooted for him as the two traded blows to the ribs and head. "Get him, Vince!" Velez remembered saying.
While Velasquez "manhandled" Vargas for a bit, it wasn't long before Velez noticed the victim start to stumble and lose his balance. He and Vargas tackled each other into a parked car, rolling off and falling between it and another vehicle. Velez then saw his friend "go limp," taking a knee before he virtually stopped defending himself. Sensing Velasquez was in serious trouble, Velez rushed in and pushed Vargas off of him. Vargas then immediately ran down the dark street. Velez said he didn't see what happened to the female.
As he knelt next to him, Velez saw that Velasquez was struggling to breathe. It was only when he picked him up did Velez realize Velasquez was "all wet," meaning covered in blood which dripped down his side and seeped through his shirt. He carried him to his car and rushed to Goleta Valley Cottage Hospital, but Velasquez was pronounced dead on arrival.
After prosecutor Hans Almgren asked a few questions of Velez for clarification purposes, Judge Brown handed down his decision. Vargas will be back in court for a post-preliminary arraignment on June 24.