News
City College Gets a Budget…Sort Of
Trustees Adopt a Tentative Budget as Serban's Job Review Drama Continues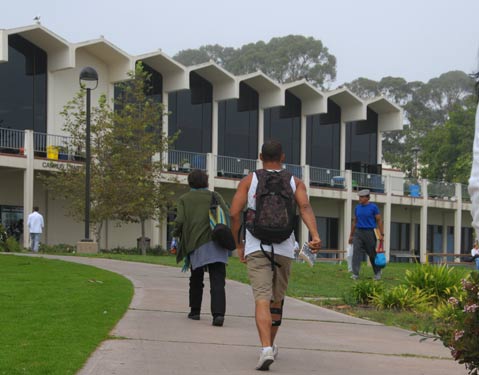 The curious and contentious times continued in earnest at Santa Barbara City College this week. On Wednesday, following yet another lengthy, emotional, and obviously rehearsed outpouring of support for school president Andreea Serban during public comment, the SBCC Board of Trustees held its third closed-session meeting (totaling some 12 hours) reviewing her job performance.
Then, only 24 hours later, the trustees embarked on a budget hearing — a topic which they have, in various forms, been furrowing their collective brows about and discussing in meetings since late February — that concluded Thursday evening with the adoption of a tentative budget. It calls for, over the course of the next three years, a variety of cuts and free-to-fee class conversions. Moments before the vote of approval went down, Trustee President Peter Haslund observed about the attitudes of his fellow board members and Serban on the topic of the budget: "I think there is an emerging comfort level in that everyone is saying the same thing — which is unusual for this group."
As for the president's job review, a subject which also dominated the public comment period before Thursday's budget hearing, it appears that the face-to-face meetings between trustees and Serban are done, at least for now. However, what exactly the result of the several hours' worth of back and forth actually means remains very much in question. With confidentiality rules on such proceedings preventing anyone involved from commenting, speculation ran wild at Thursday's meeting with some public speakers, including current faculty members, shaming the board's new majority and insinuating that Serban has been or will be let go.
Responding to calls for some sort of explanation, Haslund explained to the crowd in what appeared to be a prepared statement. "As a consequence of legal counsel…It is a confidential matter. Nothing was required to be nor should be reported out of our closed sessions." Elaborating on the situation in the wake of Thursday's meeting, Trustee Marty Blum — also explaining that legally she could not say anything about what exactly has been discussed — stated, "Basically, where we are now, is that [the trustees] have 10 days to write up her evaluation and get it to her." According to Blum, after Serban receives that document, the president then has 10 days to respond after which time anything could happen, from the signing of a new contract, to additional closed-session meetings.
In the meantime, with Serban leading the discussion and, for what it's worth, sounding very much like an administrator who has every intention of being around for awhile, the trustees tackled their tentative budget on Thursday. Faced with a state financial situation that has the school looking at a reduction anywhere between $ 6.8 million and $10.5 million in the coming fiscal year, the trustees were tasked with adopting a tentative budget — well before they will know how much actual money they will be receiving from state — in order to meet a looming state deadline on such decisions.
Following up on what had been kicked around at a two-day budget pow-wow last month, the seven-member Board of Trustees approved by way of a 4-0 vote (members Luis Villegas and Marsha Croninger abstained with member Morrie Jurkowitz absent) a budget approach. It aims to use the school's currently-healthy amounts of cash reserves — more than $40 million — to slowly phase in some 440 sections' worth of class cuts on the credit side of the campus over the next three years, while converting roughly 250 free Continuing Education offerings to fee-based in that same time period.
However, what exactly those cuts will be will not be known until the board has to adopt a final budget later this fall. In the meantime, the school plans to use its extensive shared-governance approach — one that relies on things like the Academic Senate, the school's Planning Council, and assorted other sub-groups — to flesh out in the months ahead what exactly the impacted classes and courses will be. "A tentative budget is just that, and the word is used on purpose," explained Serban. "Every year, between the tentative budget and the adopted budget, there are always changes."
Her point was aimed directly at the concern of certain trustees that the now-official tentative budget does not do enough to safeguard the school in these financially difficult times. Troubled by how little actual cutting is included in the tentative plan when they are staring down at least a $6.8 million shortfall next year, Trustee Marsha Croninger opined on Thursday, "I am uncomfortable in that this budget proposes, amongst other things, only $450,000 in actual savings for next year…The math is just not comfortable here."
The other aspect of the situation that gives Croninger and her fellow Trustees Blum and Lisa Macker pause is the fact that the current plan, with its usage off reserve money to "buy down" the amount of needed cuts, will, based on numbers that are still in flux, whittle away the school's reserves to only $14.4 million by next year and, potentially, only $1 million by the three-year mark. "I really think we've got some problems ahead of us at the state and, consequently, here at the school. I'd really like to see us use less of the reserves in the next few years," said Blum. The trepidation was so great that a motion — which was ultimately withdrawn before being put to a vote — was actually made by Macker to include in the tentative budget an immediate "hiring chill" for SBCC that would require any vacant positions to be extensively examined by the College Planning Council and requiring trustee sign-off before being filled.
Though the "chill" was abandoned — in part because Serban explained that such fiscal scrutiny is already unofficial school policy to such a degree that it has been responsible, at least in part, for the school saving some $13.6 million in the past three years — the motion that finally approved the tentative budget featured specific language that added the condition "that there will be substantial revisions [in the coming months] to reduce the impacts on the reserves."
The Board of Trustees next meet on June 23 while the College Planning Council has a specially-scheduled meeting on June 17.