Recently, Valle Verde, a Senior Living Housing company, has applied for increases in density in the Hidden Valley neighborhood of Santa Barbara. There are several significant problems with this:
1. They are asking to open a bank and other commercial businesses in the residential neighborhood. To my knowledge this has not been done anywhere else in the city.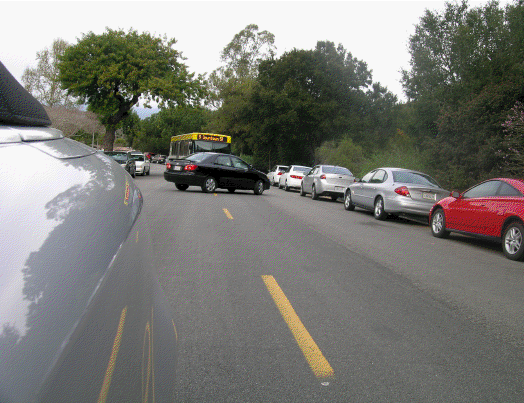 2. Valle Verde is in violation of a so-called Conditional Use Permit, which allowed Valle Verde to expand, in the past, with the conditions. A condition was to have parking for the residents, employees, and visitors. Valle Verde has ignored this. See the attached photo of life in the high density Valle Verde.
3. Valle Verde has openly violated the Conditional Use Permit according to the CUP website.
They must not be granted a new Condition Use Permit that is more lenient. Valle Verde is not meeting the conditions which are required to maintain the zoning and the safety required by the State of California. The residents all are surprised by how far this has gone, and respectfully ask the city leaders to allow only developments which are compatible with the safety and the character of the residential neighborhood. Let's hope the leaders of Santa Barbara do not allow another large facility that creates a density, public safety, and parking nightmare.