News
Body-Sniffing Dogs Find 'Area of Interest' in Search for Missing Girl
Efforts to Locate Ramona Price's Remains Halted Until Chief and Caltrans Coordinate Further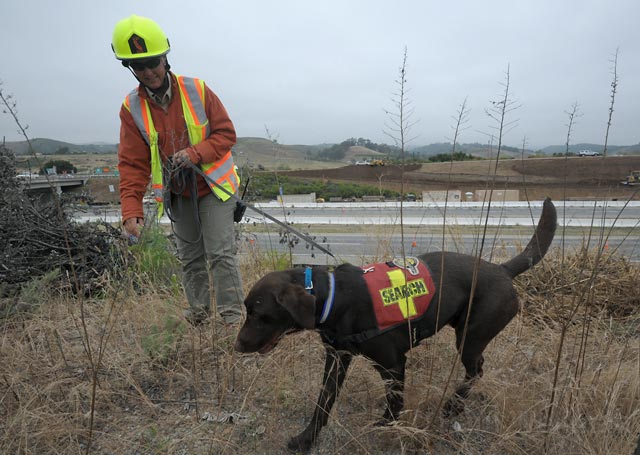 Fifty years after the disappearance of 7-year-old Ramona Price, Santa Barbara police brought out cadaver dogs to search for Price's remains at the Winchester Canyon overpass on Wednesday.
The volunteer team of handlers and four detection dogs — which had been trained by the Santa Clara Search and Rescue Team to exclusively search for deceased human remains — worked "an area of interest" near the overpass, police spokesperson Lt. Paul McCaffrey said in a written statement. Although no digging was done on Wednesday, the "area of interest" will be excavated pending a decision by Santa Barbara Police Chief Cam Sanchez and Caltrans authorities, McCaffrey added.
Police are "pretty certain" that convicted child-killer Mack Ray Edwards — who confessed to murdering at least six children over a 17-year span — kidnapped and killed Price after she walked away from her home near Modoc Road on September 2, 1961, Sanchez said. Edwards, a former heavy equipment operator who worked on freeways, told police that he buried the bodies of several of his victims in freeway construction sites.
He worked on one of the construction teams that built the overpass — which was completed several weeks after Price went missing — and also spent time visiting a friend who lived in a residential development adjacent to the overpass. And before committing suicide in his San Quentin prison cell in 1971, Edwards told a fellow prisoner that he had killed up to 18 children.
Pasadena author Weston DeWalt — who has extensively researched Edwards's killings — approached the Santa Barbara Police Department with these and other clues linking Edwards to Price's death. With this new information, police began to suspect that Edwards had buried Price's remains near the overpass. The conclusion marked a significant change of course in the department's ongoing attempt to solve the cold case.
Also in 2007, Lt. Mark Vierra told the Pasadena Star-News that Edwards "would not be a person of primary interest to us" in the investigation. But DeWalt's tips made the police "a lot more confident" that Edwards was Price's killer, according to Santa Barbara police investigator Jaycee Hunter.
The search for Price's remains was put on hold Wednesday to allow police to further investigate the tips and coordinate the timing of the search with Caltrans.
Sanchez said he hoped the search for Price's remains would ease the pain of Price's elder sister, who told the police she is "still very devastated" about the disappearance of her sister half-a-century ago. Sanchez emphasized that the police department is fully committed to solving cold cases in order to bring closure to the families of the victims. "We will continue this investigation even if we find nothing today, tomorrow, or even a year from now," he said. "We're going to turn every stone — literally and figuratively — to solve this case."
Goleta resident Charlie Meraviglia — who was 11 years old at the time of Price's disappearance — was collecting bottle caps with his friends on Modoc Road when police approached the boys to ask if they had seen Price. When the boys said they had not seen her, the police instructed them to go home so they would be safe, Meraviglia said. "We were all scared," Meraviglia recalled on Wednesday. "Things that like don't happen in Santa Barbara."