MEA CULPA BLUES: It's all well and good to admit your mistakes, but the fact of doing so doesn't make them any less dumb. Just ask Santa Barbara City Councilmember Francisco, the pied piper of the council's new conservative majority, about his exertions to get the genie back in the tube and the toothpaste back into the bottle. Two weeks ago, Santa Barbara City Councilmember Dale Francsico successfully led his followers into dubious battle, securing a hard-fought and much-palaverized vote in favor of eviscerating California's sacrosanct open-government law, otherwise known as "The Brown Act." For all his admissions, "It was a mistake," and, "I never should have done it," the fact is Dale did do it. Just as it defies the laws of physics to "un-ring" a bell, it's impossible to "un-pull" the trigger after you've shot yourself in the foot, especially after you've put it in your mouth. Realizing the error of his ways, Francisco brought the matter back for reconsideration this week and secured unanimous support to "un-vote" his previous victory.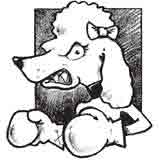 For high-minded public-policy wonks concerned about political corruption, the Brown Act embodies all Ten Commandments rolled into one. It was passed by the State Legislature in 1953 to chase the politicians out of the smoked-filled rooms and force them to conduct the people's business in the glaring light of day. The Brown Act requires all governing bodies — except, of course, the State Legislature — to provide members of the public adequate notice of any action they intend to take, and allow members of the public to give their two cents' worth. As such, the Brown Act qualifies as a royal pain in the ass. First, elected officials have to listen — sometimes ad nauseum — to whatever members of the public, whether they need meds or not, have to say. Of all Santa Barbara's city councilmembers, Francisco is most impatient with the political peanut gallery. Secondly, the Brown Act limits the ability of elected officials to talk to one another about agendized issues outside of public meetings. Dale, for example, can only talk privately to two other councilmembers about council business. If he were talk to three, for example, that would violate the Brown Act, because four councilmembers — a voting majority — would have discussed an issue behind closed doors. No doubt, as Dale argued, much such discussion would be innocent, enlightening, and genuinely helpful. Dale's proposal would allow a majority of councilmembers to so enlighten themselves. Dale's conservative council comrades — Michael Self, Frank Hotchkiss, and Randy Rowse — supported these changes despite strenuous objections voiced by members of the council's liberal minority. The public needs to witness the reasoning of their elected officials, they argued. It's called accountability. Even with the Brown Act, many people doubt their input matters and are convinced deals are hammered out well in advance of actual votes. Dale stressed no votes would take place, under his plan, out of the public eye. He only wanted decision makers to have the best information possible.
As a practical matter, the council's vote to dilute the Brown Act would have as much effect as previous council resolutions to prohibit nuclear war from occurring within city limits. Or even more far-fetched, the city's ordinance that purports to ban the use of gas-powered leaf blowers. It emerged out of a broader package expressing the council's support or opposition to a bundle of bills that may go before the State Legislature, but probably won't. At best, the 90 minutes the council spent debating the issue was an exercise of political voguing. At worst, it gave masturbation a bad rap. But as a political matter, Francisco might as well have dressed up like a piñata and passed out complimentary ax handles to his opponents. Given that Dale, the clear leader of the council's first conservative majority since the Paleolithic Period, is now up for reelection, that's not very strategic. That fellow conservatives Rowse and Self — now also up for reelection — were quick to follow Dale's lead was equally ill-advised. (In a head-spinning display of rhetorical back-pedaling, the conservatives contend that if they could have talked this out in advance, they would never have done something so stupid, but that the Brown Act prevented them from doing so. I would suggest there's a huge difference between talking and listening, and it's doubtful they could have heard anything behind closed doors that they did not hear about from the dais.)
As Dale and his posse learned the hard way, open government transcends the usual liberal­conservative thing. Right-wing Tea Party activists and crusty conservatives were outraged by his action. Even the News-Press — which endorsed Francisco, Rowse, and Self for reelection before they'd announced they were running — believes the Brown Act was delivered from on high by no less than Moses. It would be a mistake to dismiss Dale's "mistake" as a mere brain fart. When it comes to intellectual pulchritude, the man is muscle-bound. The real issue, at least in Dale's mind, is the influence of public-employee unions, who not only give candidates large campaign donations, but can and do meet — at least on occasion — with individual councilmembers during contract negotiations. I get it. What I don't get, however, is how turning the lights off and keeping the public even further in the dark solves anything. If Dale is genuinely interested in "un-hoisting himself by his own petard" — which literally means to be knocked off one's feet by the propulsive power of one's own flatulence — I have a friendly suggestion. Make it a hard-and-fast rule that before any vote, all councilmembers must disclose any and all communications they've had with anyone — and their paid lobbyists — and the nature of that communication. That would help expose the influence exerted by all special interests — and not just the ones Dale doesn't like. Better yet, it's something the council can do on its own. I don't know if this will heal Dale's self-inflicted wound. But it would help take masturbation out of the council chambers and put it back where it belongs.