Columns
Isla Vista Idylls
A Perfect Summer Vacation Destination
Not that many people know it, but summer is the perfect time to see Isla Vista in its pristine glory. Most of the students are gone, the streets are empty, and the beaches are spectacular. In addition, it is very, very quiet. Without hoards of students, the noise level goes down substantially.
No matter where you turn, there is something beautiful to look at. The flowers are in full bloom in the open spaces, and you can literally pull fruit off the trees and bushes. Next time you walk through the area, look for the apple, mulberry, and fig trees. Often, the houses near the trees are vacant, which makes it easy to try some of this free fruit. There are also blackberry bushes blanketing the wetlands that produce really tasty fruit, but try to get them when they are perfect, not too sour and not too mushy. If you do, you'll experience a true moment of pleasure.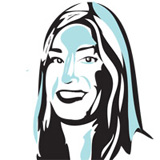 I.V. is also great for bird watching. You can hear the kites, hawks, geese, and more flying by. There's nothing quite as exciting as watching a crow try to defend its baby from another crow. I've stood and watched to see how things would turn out.
This summer has also been a perfect time for surfing. You can see surfers riding by on their bikes, carefully balancing their boards. The water is warm and the waves have often been, if not huge, at least fun. There's also an added benefit of surfing at Sands or Devereux during this time of year: There aren't many people out. Sometimes you might feel like it's just you and the waves.
Then there is the shore. This is the perfect time of year to spend your day boogie-boarding, body-surfing, or building sandcastles. You'll see college students, families, and others hanging out on the sand. Whenever it gets too hot, Isla Vistans can just take a short walk down to the beach and literally cool their heels. The only catch is that you may have to deal with tar, which is the gooey keepsake you sometimes take home. But no worries, a little baby oil takes it right off.
Another summer tradition in I.V. is to walk across the open space and head out to the lawns near Girsh Park to watch the July 4th fireworks. The journey itself can be as interesting as the displays: Walking through I.V. at dusk provides a great time to see some of the wildlife living in the area. You might see a family of raccoons heading off for their nightly prowl, or a skunk coming out from behind a trash can. If you keep your eyes open, you might even see a coyote.
In fact, I.V. makes the ideal vacation spot, but only for those who have an in. If you know someone who has a place, and you can rent it or sublet it, then you have an ideal way to experience the place.
It's surprising that more people haven't tried a summer sublet in I.V. While some families might be turned off by the idea that they are be staying among students, others would love to rent a house overlooking the beach. Downtown I.V. might not be as picture-perfect as State Street, but it has almost everything you could ask for in the way of restaurants, markets, and clothing stores. The only thing missing is a shop renting equipment that vacationers might be interested in, such as kayaks, surfboards, and the like.
In fact, UCSB offers visitors a vacation package through the Family Vacation Center. Visitors can stay on campus in the San Rafael dorm, and choose from a host of activities including kayaking and golf. This is a great way to visit this area.
Summer is the perfect time to visit I.V. and see what it really has to offer. Right now, it's just a sleepy town in a killer location. You won't find as much of the noise, trash, and bad behavior that makes people shun it. Maybe if more people could see it like this, they would stop thinking of it as the trashy sibling, and start regarding it as the natural beauty that it is. And the good news is, the summer is far from over.