Columns
The Improvisatory Explorer
Steve Snyder Reveals a Joyful Cosmos of Music Monday Nights
Tune in to Joyful Cosmos one Monday night, and you might hear something from John Coltrane's A Love Supreme. Even more likely, you'll catch a cut from Ornette Coleman's Science Fiction. But suddenly the voice of Moroccan singer Amina Alaoui enters the show, and then, in a sharp turn toward territory, come two minutes from Minutemen. While the music's geography, its genre, and even its most basic sensibilities may shift without hesitation, one element remains constant: the improvisation.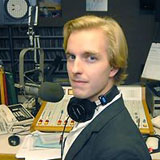 "I'm into as many musical expressions — as many human expressions — as possible, from as many cultures as possible, with as many forms of improvisation as possible," said Steve Snyder, who gets into the KCSB studio to host the show every Monday evening at 6. The weekly broadcast stretches out to three hours in the summer, which lets him break out some of the longer-form musical explorations in his far-reaching personal library. "I'm interested in how improvisation integrated with the human voice. I'm interested in call and response, like you experience at a gamelan performance. Life is improvisation, so I like to listen to improvisation."
Whatever its variety in stylistic traditions or cultural origins, Snyder's music might strike some listeners as falling under the heading "difficult," a term that has many different meanings for many different people. One school of thought says that the more practice you get listening to material this far out of the mainstream, the more you'll enjoy it. Another school of thought says that all music presents its sonic riches in a visceral way, right there on the surface for any listener to tap in to. This comes much closer to the Joyful Cosmos perspective, though you wouldn't want to put the show on as mere musical wallpaper.
"I don't think of this music as a passive listening experience," Snyder said. "My show gives people something to engage with in this powerful medium. It's a live improvisation; that's the beauty of free-form radio!" And despite his obviously intuitive enjoyment of supposedly obscure recordings composed and performed far outside the expectations of most other points on the radio dial, he does make an effort to jolt his listeners every now and again. "I like what's disjointed, what's not easy to listen to," he added. "I like what's not just something in the background."
Snyder's signature mix comes not just from KCSB's programming freedom, but from the station's ethos as well. "KCSB does community service broadcasting," he explained, "so I don't want to service just one listener, or just one group. I want to mix the sounds, to mix the cultural expressions. If you listen to, say, Ornette Coleman's Science Fiction, its intensity comes from all the experiences channeled into the music. Anybody can understand any form of it if they're willing to see it as an artistic expression by another human being; you have to interpret it through your own experiences. Anybody listening to the show can find their own meaning. Maybe, for some, the music's too busy; maybe that's where their life is. But I also have friends who listen to the harshest possible doom metal; that's where their lives are. It's a two-way street."
Like many freeform radio deejays, Snyder had his own musical awareness opened up by community radio and the distinctive personalities behind its microphones. "When I first listened to WRCT in Pittsburgh in 1981, I heard music I'd never heard before," he remembered. "Through the deejays talking, I came to understand the whole range: punk, hardcore, jazz, Zappa, Coltrane. I still think it's important for deejays to introduce themselves, to have human perspectives and to talk about what they're playing — to show their passion. If you create that personality, that's how you connect with the community. It's just humans communicating with other humans."
Just as he's used Joyful Cosmos as a means of communication with other humans since 2004, Snyder approaches music as the very same thing. "I want to hear what people have to say," he told me, and he most assuredly means people from all over the world. "It's U.S. jazz and blues and music from the African disapora in North America, of course, but in the last couple years, I've pursued music from the Islamic world. The media and world events make us all think we know Islam — well, I want to know a whole lot more, and the music is a way into that."
The show's global sensibility makes music seem like both a natural driver of and a natural supplement to a healthy interest in other cultures. But then, how much of a challenge can even the whole Earth represent to a show called Joyful Cosmos? "When I say 'cosmos,'" Snyder explained, "I mean it in the Carl Sagan sense. When I say 'joyful,' I mean the kind of passion in music that makes it easy to be passionate about the music. I like listening to things I don't understand."
4•1•1
Joyful Cosmos airs from 6-9 p.m. every Monday on KCSB-FM.