Cover Story
Primo Boxing: On the Ropes?
One of Santa Barbara's Best Escapes for At-Risk Youth May Get KO'd Due to Dwindling Funds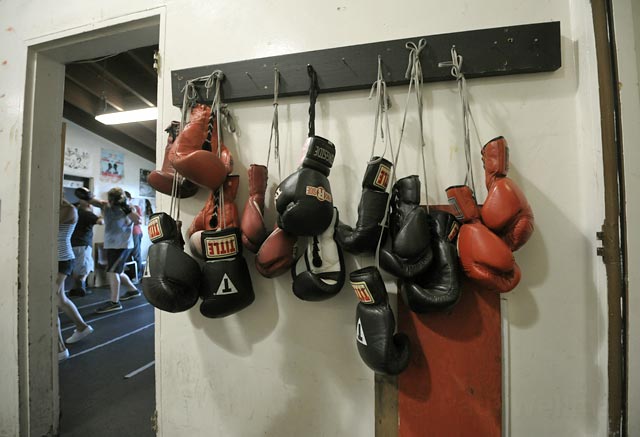 Walking into the old fire station at the corner of East Haley and North Quarantina streets on a recent Monday afternoon, the heat was rising, and the sweat was already dripping. The building hasn't been used as a fire station for almost two decades, but it's never really stopped bustling with energy. On this day, teenagers and young men and women were skipping rope, running treadmills, and punching bags beneath the faces of boxing greats like Muhammad Ali and Oscar De La Hoya, who stared down from yellowed posters that hung off the cracked walls and peeling paint above.
Behind a "Beware of Joe" sign on a door with a hole where the handle should be sat Joe Pommier, who has run the Primo Boxing Club with his wife, Jean, for 16 years, one year less than the club has been occupying the old firehouse. By the time the Pommiers took over, Primo was already approaching legendary status, having been founded in 1981 by Art Carbajal and, over the years, training kids at La Casa de la Raza, the Veterans Memorial Hall, and various beaches and parks around town. Under the Pommiers, Primo is open six days a week in the after-school hours, and the place thrives as a free escape for anyone who wants to pop in — and they do, with current estimates showing nearly 200 young people hang out at the club regularly, the vast majority being younger than 18 years old, most coming from extremely impoverished homes.
This particular Monday, one of those youngsters was Joe's latest protégé, a scrawny 8-year-old named Julio, who sported beat-up Vans, oversized Primo shorts, and a mohawk. He's already been coming to the club for two years and now trains five days a week. He likes football and basketball, but prefers working out and sparring with Joe. "It's kids like Julio, with lots of promise," said Joe as he taped the boy's hands. "I don't just want to give that up."
But this summer, despite being a bare-bones operation that costs less than $100,000 per year, Primo Boxing is finding itself on the ropes. Funding for the highly lauded program has dried up — a popular fundraiser was shut down a few years back, while civic and federal grants have evaporated amid the recession — and Joe and Jean are facing the very real threat that they may just have to throw in the towel.
Sparring as Salvation
One of the more trying sports out there, boxing is a total-body workout and teaches a mix of respect, discipline, focus, patience, strength, toughness, and agility. Primo Boxing has had success on the competitive side of things, mainly because Joe Pommier was himself a very successful boxer in his prime. A number of Joe's students have turned professional, like Francisco "Chia" Santana, a 25-year-old surfer from Santa Barbara who now trains with world-champion boxer Victor Ortiz in Oxnard and has fought at Chumash Casino, in Las Vegas, and all around California.
Another kid coming through the ranks is Jesus Perez, a big, strapping 17-year-old who followed a friend into Primo one day after hearing he could box for free. He picked it up quickly, decided to keep going, and is getting ready for his first fight in the coming weeks. For Jesus, boxing has brought the focus and discipline that baseball never did. Having to train for three rounds of physical intensity made him work out like never before. "It's a lot of work," said Jesus. "Here, I've learned to eat right and keep my weight at a good place."
But for the Pommiers, Primo goes beyond teaching kids about hooks and jabs and fast footwork. It's about being consistently present in the community and having an impact on people's day-to-day lives. On this particular Monday, Joe was without his constant sidekick, Jean, who is normally in the front of the club, chatting with the women and children who hang out there, offering kids help on their homework, and giving advice to anyone who asks. But this afternoon, Jean was at Cottage Hospital, sitting by the side of a young woman giving birth. "If the kids need us," she said, "we're there, 24 hours a day."
A few weeks earlier, Joe had received a call at 2 a.m. from a couple of girls who were supposed to get a ride home with a friend after a dance. But the friend had been drinking and left the girls stranded. Without thinking twice, Joe popped out of bed, hopped in his car, and picked them up. "It's something you just got to do," he explained.
Although they also organize camping trips, take the kids to go see professional boxing matches, and host a food booth at Fiesta, the Pommiers are most dedicated to providing a safe environment for people to find refuge from the trouble of the streets. They collaborate with other agencies in town that work with at-risk youth, and they often take referrals from those programs when certain kids seem like a good fit for Primo. To date, literally thousands of kids have come through Primo Boxing to learn about left hooks and life, and it's not just boys, either.
One of the many females to get in on the boxing fun is 13-year-old Leydi Cortes, who's been coming to the gym for two years, having first followed her brothers through the doors. "I got into it after seeing how they work out," said Leydi, who is headed to Santa Barbara High this fall. Sporting a pink wrap around her hands as she makes her way from station to station doing various exercises, Leydi comes to the gym four days a week and is hoping to fight for the first time next summer.
And they tend to stick around, too. Ricky Guerrero, who started boxing when he was 12 years old, is now 22. "I came in with a couple buddies and never left," he said. "The gym gave me something to do after school and stay out of trouble." Using a word that almost everyone does to describe Primo, Ricky explained, "It's more like a family than a gym."
Because of that spirit and the success that Primo has shown over the years in keeping kids out of trouble, other community workers are quick to compliment the Pommier's work. Said Matt Sanchez, who works with at-risk youth as director of the All for One program, "I can't say enough about the dedication of Joe and Jean."
Down for the Count?
Despite the unanimous accolades, Primo Boxing might be down for the count.
At a time where the public is fed up with gang violence, graffiti, the homeless, and crime, there's an increasing desire to put more police on the streets rather than fund the programs that actively keep the kids off of those same streets. Factor in the struggling economy, and the past couple years haven't been easy on any program that works with youth in Santa Barbara.
Take a peek inside, and you'll see that Primo is truly a no-frills operation — they're just trying to pay rent to keep the club open and invest enough in equipment to make it usable. The club doesn't have a big staff — Joe Pommier is the only person to take a salary — and they don't have case managers and grant writers with specific jobs to do. Even after covering wages, benefits, insurance, utilities, rent, maintenance, supplies, and gas for their van, 2011 will cost a mere $82,000. "It's a shoestring budget," said Joe, "but we can work on that." With a budget so tight, however, any loss in funding can prove crippling.
The first blow came a couple years ago, when Primo lost between $10,000 and $20,000 a year after the annual Fight Night at UCSB was shut down. The popular event, which featured amateur boxers fighting for the sold-out crowds of a packed Thunderdome, ended when the fraternity that ran the evening affair was suspended and later disbanded due to numerous violations (which were unrelated to Fight Night). The Pommiers remain hopeful that someone at UCSB will decide to sponsor its reincarnation — because it's a college campus, the usually hard-to-navigate rules of hosting a boxing match do not apply — but so far no one is stepping forward.
Then came the uppercut of the recession, which caused government grants that Primo had relied on for years to begin evaporating. Specifically, Primo was funded by the City of Santa Barbara's Human Services program and the federal government's Community Development Block Grants. Both are distributed by the City Council based on recommendations from the Community Development and Human Services Committee. In 2008-09, Primo received $32,000. The next year, Primo received $65,625, more than half of which was intended to go toward much-needed building improvements. In fiscal year 2010-11, the number dropped to $23,000. But this year, Primo will not be awarded one cent.
The Pommiers had asked the city for $28,000, and they were initially awarded $5,500 in March; of the 57 programs funded, only five were allocated less money than Primo — whose gym is still prominently displayed on the Human Services Web site — although another five were outright denied funding. "It just becomes more and more competitive every year," said Community Development Programs Supervisor Deirdre Randolph, who also explained that the committee rates organizations seeking grants based on criteria that includes site visits, the quality of the application, and how they've performed in previous years. "Other applicants were just better. You want to give everybody funds. It's very hard for the committee. They agonize over the decisions." And when it's volunteers like Jean from Primo stacking their applications up against professional grant writers working for such large nonprofits as Casa Esperanza Homeless Center, the YMCA, the Legal Aid Foundation, and the Community Action Commission, it's easy to appreciate the competition.
But then word came that the funding was being slashed more than 16 percent, double what the city had anticipated, and the difference had to be made up from programs on the bottom rungs of the grant ladder. Primo was left empty-handed. "We've run out of funding," said Jean. "It's the worst it's ever been."
So the Pommiers are left searching, wondering how they are going to fill the gap that is now threatening to shut them down. "There's money out there somewhere to be had," said Joe. "I just hope we can find it soon enough."
Donation cans, Web sites, videos, and fundraisers have all been started in the hope that Primo can continue on. The Pommiers estimate they have two or so good months left of funding, and three total before the money runs out. They're looking for enough support to get to the next grant cycle, where their program will hopefully be reenergized.
If not, Santa Barbara will lose one of the programs that teaches kids life skills, that keeps them physically active in an age of video games and texting, that gives them an after-school activity they actually like, and that's brought consistency and dedication to our city's kids for 30 straight years. Said one individual who works with youth in town, "I just don't think Santa Barbara can afford to lose programs like Primo."
For kids like Julio and Leydi, Primo's knock-out would mean that instead of being mentored and trained by Joe after school, they'll have to find something else to do. "Jean and Joe have always been supportive of me," said Leydi. "I hope I can stick with it for a while."