News
What Gag Order?
Peter Lance, News-Press Off the Hook For Defying Judge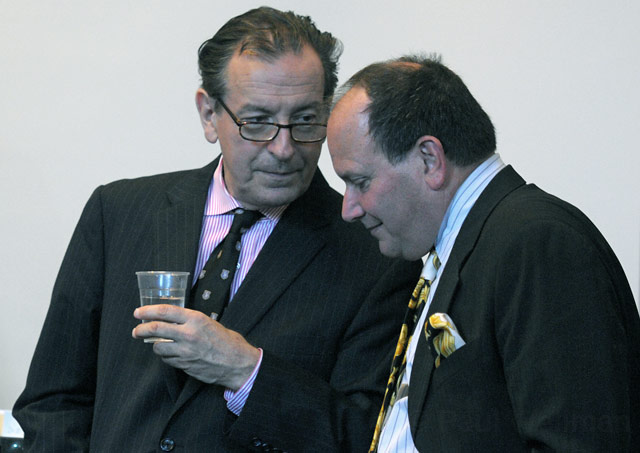 Judge Brian Hill eased tensions in a heated courtroom Tuesday by declining to impose sanctions on freelance journalist Peter Lance and the Santa Barbara News-Press for defying his previously issued gag order. Hill — who is presiding over Lance's DUI case — explained his decision in a pretrial session eleven days after ordering Lance not to publish the contents of a confidential hearing that Lance had legally obtained due to a court error.
Citing his First Amendment right to defy Hill's order in an editorial, Lance published the contents of the hearing in the News-Press Sunday as part of his ongoing series investigating alleged misconduct by police officer Kasi Beutel. The hearing played a prominent role in Lance's piece, as he accused Sgt. Tody Stoney — who was present at the hearing — of perjury in allegedly covering up complaints in Beutel's file. In the article, Lance interviewed two individuals who had purportedly filed complaints against Beutel in the weeks before the hearing. Now eight parts and 30,000 words — roughly a quarter of a typical novel — into his series, Lance said he plans to publish parts nine and 10 of his series next week.
But on Tuesday, Hill decided not to punish Lance or the News-Press in part because the "rather harmless" contents of the hearing did not compromise Beutel's privacy rights, which are protected by state law. The April 8 hearing was called after Lance and his lawyer Darryl Genis filed a Pitchess motion in an attempt to access the complaint file of Beutel, who had arrested Lance for allegedly driving under the influence of alcohol this past New Year's Day. In an in-chambers meeting, Judge George Eskin — who was presiding over Lance's case at the time — asked Stoney whether Beutel had any complaints in her file. Stoney — who is in charge of department complaints — testified that none had been filed.
Before dismissing the issue on Tuesday, Hill said he was "one hundred percent convinced" that his gag order was appropriate and would have been upheld in appellate court. Hill — who said he had no knowledge of the contents of the hearing before reading Lance's article in the News-Press — also scolded Lance and Genis for not submitting the transcript of the hearing to the court prior to publication so that he could have ensured that its contents did not violate Beutel's privacy rights. He conceded, however, that there was "an argument to be made" that the News-Press had a constitutional basis for publishing the contents of the hearing.
Hill's decision on the gag order was part of a lively day in court, which featured several heated exchanges between Hill and Lance. In making an argument about the legal precedent of the Vietnam War-era Pentagon Papers case, Lance became so impassioned that Hill exclaimed, "You have an attorney, Mr. Lance!" But Lance continued, even as Genis tapped his client's shoulder in a plea for silence.
Lance interjected so often that Hill half-seriously advised him to consider dismissing Genis in order to represent himself in the proceedings. Lance declined with a smile, affirming that he "would never do that" to Genis.
After nearly an hour of discussing the gag order, the court began proceedings on whether allegations of forgery against Beutel would be admissible in the trial. The defense called two witnesses to the stand who had both been stopped or arrested by Beutel for allegedly driving under the influence. Both men testified that they had never signed a Trombetta waiver when they submitted to a blood test, suggesting that the signed waivers in their DUI files must have been forged.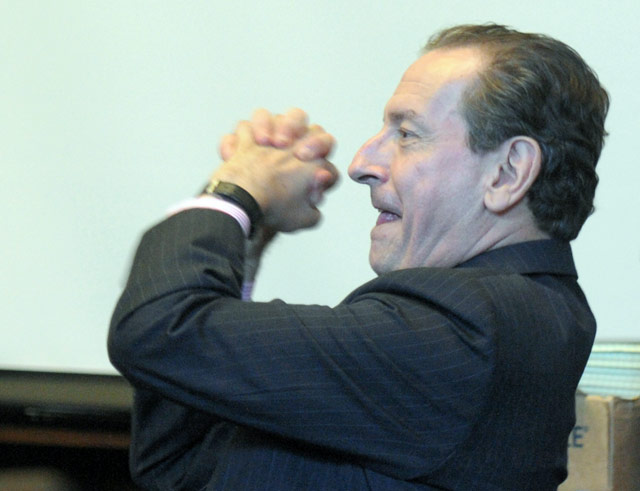 Hill also collected 20 signature samples from the two witnesses that two handwriting experts will examine and compare with the signature on the waiver form. The court plans to repeat the proceedings with three additional defense witnesses when the trial resumes on Monday.
Hill also denied the defense's motion for a protective order against the prosecution to prevent witness tampering. Genis filed the motion in court Tuesday after Beutel allegedly contacted Reverend Thomas James, who officiated the officer's controversial marriage ceremony and will testify as a witness in the trial.