Announcement
Intermezzo Celebrates 15 Years of Fabulous Food, Wine & Good Times!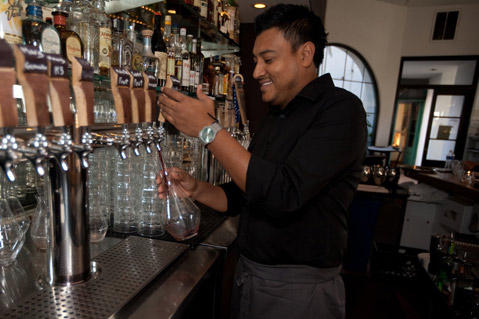 15 years ago this month Wine Cask opened up Intermezzo next door, and it's been a buzzing local hotspot ever since! In honor of Intermezzo's 15th Anniversary, they will offer 15% off ALL wines on tap at Intermezzo for the entire month of August! Whether you're partial to crisp, refreshing whites, or in the mood for a robust red, Intermezzo has a wine on tap to please every palate!
New on tap…Verdad Alberino, Cargasacchi Pinot Noir, and Melville Syrah. No corks, no bottle waste…just a reusable keg filled with some of the best wines Santa Barbara County has to offer. Pair your glass of choice with one of our new mouthwatering gourmet burgers. Get in the spirit with our Fiesta Burger loaded with queso fresco, grilled jalapenos, cream cheese guacamole and a cilantro lime aioli, or try the equally irresistible Blue Burger with Point Reyes blue cheese, black pepper, crispy pancetta and an onion marmalade. Our hearty flatbreads topped with seasonal produce are great to pass around the table or bar! Try the Artichoke with artichoke hearts, pesto, toasted pine nuts, and mozzarella, or the Orchard with fresh peach, salami, goat cheese, pepper preserves, and a balsamic reduction. Come sip, savor and celebrate the good life with us this month. Cheers to 15 spectacular years, and many more to come!
Wine Cask & Intermezzo are located in downtown Santa Barbara in the historic El Paseo complex, and offers the best of all worlds to enjoy a delicious lunch or dinner in a stylishly relaxed setting. Our passion is serving great food, providing the highest caliber of service and bringing the comfort and nostalgia of one of Santa Barbara's favorite restaurants to our patrons. Located at 813 Anacapa Street, Santa Barbara, CA 93101. Wine Cask is open nightly for dinner from 5:30pm, and Monday – Saturday for lunch from 11:30-2:30 pm. Intermezzo is open Monday – Saturday, from 4 pm. Margerum Wine Company Tasting Room is open daily from 12:00 pm – 6:00 pm. www.winecask.com.