Angry Poodle
Viva El Perro
Why Jack Rickard is the Most Effective Mayor You Never Heard of and Why the New Airport Terminal Should Be Named After Him.
DARK TIMES: Recent events have forced me to wonder, where the hell is the ruling class when you really need it? Back in the day, lefty sociologists used to burn up brain cells by the truckload trying to prove the existence of such a thing, suggesting that America was in fact ruled by an invisible elite — despite the illusion of elections — guided by some shared perception of long-term global self-interest. At the time, everyone belonged to something called "the middle class" and to suggest otherwise was heresy. The recent debacle over the debt ceiling has proved that to the extent there ever was a ruling class, Elvis has clearly fled the building and is presumably hiding out in a bunker somewhere in Idaho. If right-wing hysterics loosely affiliated with the Republican Party want to get together for a cozy game of Russian roulette as part of their group therapy, they're entitled as consenting adults. But I'd appreciate it if they kept the gun barrel on their own temples and away from mine, or that of the whole global economy. It's hard on the nerves.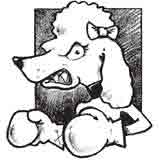 As I seek solace in the good old days, Jack Rickard — who served as Santa Barbara mayor from 1953 to 1957 — leaps very much to mind. In person, Rickard offered an irresistible combination of patriarchal dignity, cunning imagination, and rare vision. What Rickard got done in a day was — and remains — nothing short of amazing. In four years, he left his fingerprints on Santa Barbara's fundamental DNA in ways matched only by T.M. Storke and Pearl Chase. He is to the City of Santa Barbara what governors Earl Warren and Pat Brown are to the State of California. I mention Rickard because there's a not-so-subliminal campaign afoot to name the City of Santa Barbara's $63-million brand-spanking-new airport terminal after him. Meaning no disrespect to Earle Ovington, or any other of Santa Barbara's aviation pioneers, this is definitely a bandwagon to jump on.
You didn't get much more landed or gentrified than Rickard. On his mother's side, his family line went back to José de la Guerra, Santa Barbara's dour-faced George Washington. His father was a Hawaiian plantation owner. Rickard, who owned 8,000 acres in the Cuyama Valley, was elected mayor in 1953 after spending two years as city attorney, then an elected post. When California oil companies pushed legislation to open up offshore drilling in state waters up and down the coast, Rickard successfully lead the charge to impose a drilling ban from Summerland to UCSB. He did this, by the way, 15 years before Santa Barbara's now-historic 1969 oil spill, which originated in federal, not state waters. That drilling ban happened to give the City of Santa Barbara jurisdiction from its shoreline to the three-mile limit, where federal control began. In one of the most brilliantly sneaky legislative moves ever, Rickard would seize upon this obscure fact when seeking to annex 800 acres of land right in the heart of Goleta and home to what was then Santa Barbara's fledgling airport. A modern airport was seen as key to kick-starting efforts to attract smokeless industries — R&D firms — to the South Coast. County officials were at best indifferent to this effort, at worst hostile. But the city was precluded by state law from annexing noncontiguous land. Rickard devised a way to finesse the "contiguity" issue by drawing a jurisdictional line up the coast from Santa Barbara to Goleta, and then cutting eastward to the airport. As an act of gerrymandering, it doesn't get more creative or blatant. But it got the job done, and enabled Santa Barbara to annex all 800 acres of airport property. The state legislature, dazzled by Rickard's ingenuity, passed a law prohibiting anyone else from ever doing the same thing.
Those two accomplishments alone would justify naming rights. But there's a lot more. Under Rickard, Santa Barbarans approved the bond necessary to secure Shoreline Park and to build the Muni Golf Course, the creation of which entailed all kinds of intricate wheeling and dealing. Under Rickard's tenure, City Hall secured the real estate that would become Chase Palm Park, Parma Park, Ortega Park, and Orpet Park. Not bad. Rickard used the city's sewer pipes to vastly expand its sphere of influence and control. As the South Coast population swelled, people needed service. Rickard was happy to oblige, but in exchange, he wanted voluntary annexations. That's how Santa Barbara came to "own" Coast Village Road in Montecito. It's also how city limits expanded from Alamar Avenue — where it was in '53 —
to Five Points, where it was at the end of Rickard's regime. Rickard worked hand-in-iron-glove with civic matriarch Pearl Chase and passed the city's sign ordinance. He passed the laws prohibiting residents from burning trash in their backyards and requiring them to have it hauled away. And in the same breath, he put the city's trash contract out to bid, successfully giving the business to a less corrupt hauler than the one who then had it. And as an afterthought, he got boat slips built at the harbor for the first time, not to mention a new police station built, and a new downtown fire station, as well. Did I mention that Rickard was a registered Republican whom Ronald Reagan would later appoint as a Superior Court judge? Yes, but somehow that didn't stop him from pushing for higher taxes when he thought they were necessary.
During our current apex of human perversity, Jack Rickard serves as a helpful reminder that there can be more to politics than gratuitous self-destruction. The real question isn't whether we should name the new airport terminal after him. It's how could we not?