Living
Meet Santa Barbara's Mohel
Dr. David Raphael Cuts to the Chase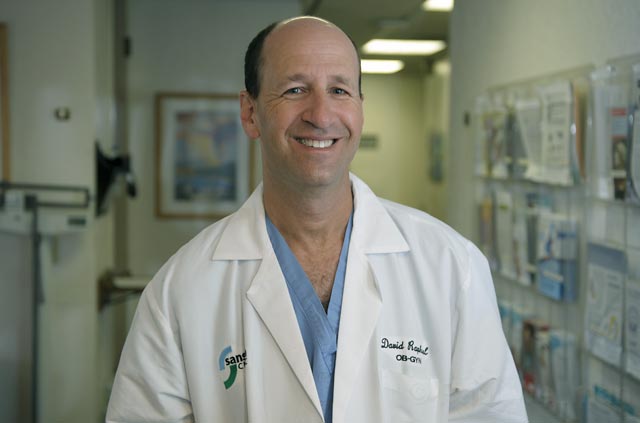 As I was anticipating the recent birth of my newborn son, news broke that anti-circumcision activists (or "intactivists" as they refer to themselves) had begun circulating a petition to introduce a 2012 ballot measure to ban circumcisions performed on children under the age of 18 in Santa Monica. Shortly thereafter a similar measure popped up in San Francisco. Suddenly, what would soon be a private decision to be made by my wife and me had burst forth into the sphere of public discourse.
We gave some thought to whether the health benefits of a circumcision really outweighed the risks (and pain) of a surgical procedure. In the end, though, we did not agonize over the decision. I am Jewish and, although I sometimes joke that I am a bit more "ish" than "Jew," I chose not to fly in the face of "three thousand years of beautiful tradition from Moses to Sandy Koufax" as the character Wally Sobchak says in The Big Lebowski. (Yes, I am anticipating the raft of reader comments below explaining the weaknesses of such logic.)
So on the eighth day of our son's life, we hosted a brit milah ceremony (more commonly referred to as a bris) in our home. It was conducted by Dr. David Raphael, Santa Barbara's only mohel, someone who is trained in administering the Jewish circumcision ceremony. An OB/Gyn who also delivered our baby, Raphael learned to perform circumcisions when he was a resident at Cedars-Sinai hospital in Los Angeles. When he moved to Santa Barbara 18 years ago to take a job with Sansum Clinic, he learned that there were no mohels in town and decided to set up shop, so to speak.
He estimates that he has performed between 150 to 200 bris ceremonies, including two in Hong Kong for brothers whose grandmother works at UCSB and two on his own sons. Jewish ritual circumcision originates in the Old Testament book of Genesis where God makes a covenant with Abraham whose descendants will make up the Jewish peoples. As a part of that covenant, Abraham must circumcise himself and his son, Isaac. All of their kin must also be circumcised on the eighth day after birth. The bris is therefore an entrance into tribal membership. It is where Jewish boys are officially conferred their names.
The actual ceremony is an emotional whirlwind. It is a joyful welcoming of a new life into the world and the Jewish community, but also one that hurts that new life. To ease the stress, Raphael recites well-worn laugh lines in the tradition of a warm-up comedian and while he is actually performing the surgical procedure (which takes a minute or two), asks audience members to sing. He feels like the singing dissipates the awkwardness of watching someone take a scalpel to a baby's genitals and also soothes the baby. For this practice he has been dubbed the "singing mohel."
How much pain an infant feels is hard to ascertain. Some babies, said Raphael, start crying before the procedure even begins and some go through the whole thing without making a peep. For the record mine engaged in some wailing. And it was pretty obvious that the wound was irritable for a week or so afterward.
It was about seven or eight years ago, said Raphael, that he learned there was such a thing as an anti-circumcision movement. In fact, he was once surprised to find out that the husband of one of the partners in his practice vocally advocated against circumcisions. (Unsurprisingly she is no longer there.) In addition to fulfilling the duties of a mohel, Raphael performs a number of the in-hospital circumcisions in Santa Barbara as well—about 20 to 30 every month. He uses the same exact technique (with a U-shaped Mogen clamp) in hospitals as he does in bris ceremonies.
Raphael looks little like "Monster Mohel," the villain in a comic book distributed by MGMbill.org, the group behind the California ballot initiatives. Monster Mohel is a rabbi with a mischievous grin and sharp, pointed nose and chin from which is suspended a long beard. He wears talit (a prayer shawl) and a large top hat that casts an ominous shadow over his face. (The hero of the comic book, Foreskin Man—a muscular be-spandexed blond—protects unsuspecting infants from the evil mohel.) Tall, lanky, avuncular, and bald, Raphael grew up in an orthodox home but he does not wear a hat or a yarmulke. In fact he does not perform circumcisions for Orthodox Jews. MGMbill has drawn the ire of Jews and Muslims who also typically perform circumcisions, but its seemingly anti-Semitic propaganda has only compounded the blowback. It also led the face of the anti-circumcision movement in Santa Monica, Jena Troutman, to withdraw her support.
The day my son was born, this paper published a column by Starshine Roshell who wrote that according to Peter Hasler, medical director of Santa Barbara County's Primary Care Family Health Division, "few local pediatricians even provide the service these days." The next day when Raphael stopped by our hospital room to check on my wife, he asked if I had read the column. I had not because, well, I just had a baby. Raphael said that it was true that most local pediatricians don't perform circumcisions before adding, "because I do them all for them!"
When I told Raphael that had my Jewish identity not tipped the scales, I would have thought twice about circumcising my son, he replied that that would be proper. As with any medical procedure, he counseled, one must weigh the risks against the benefits. What Raphael said he found "concerning" was that a medical decision could be turned into a legal one. State Superior Court Judge Loretta Giorgi agreed with him when she recently struck the circumcision ban measure from the San Francisco ballot, ruling that California law explicitly prohibits local regulation of "widely practiced medical procedure[s]." (The proposed Santa Monica ban never made it to the ballot.)
"People need to be informed" when making their decision about circumcision, said Raphael. He said that the there is little evidence to support intactivist claims that removal of the foreskin reduces sexual pleasure later in life. There are risks involved with circumcisions, though, including excessive blood loss, the formation of adhesions and well … whatever deformity might arise from an infelicitous slip of the hand. Raphael fortunately has never encountered major complications.
The official line from the American Academy of Pediatricians reads as follows: "Existing scientific evidence demonstrates potential medical benefits of newborn male circumcision; however, these data are not sufficient to recommend routine neonatal circumcision." The policy statement goes on to say that parents should make an informed decision about what is best for their child and that "analgesia should be used." According to three recent medical trials in Africa, the benefits include at least a 60 percent lower rate of HIV transmission among heterosexual males. Circumcision also reduces the risk of other STDs, penile cancer, infant urinary tract infections, and cervical cancer in female partners. The numbers, though, are probably not overwhelming enough to change your opinion if you think that foreskin removal is a violation of human rights.
Raphael said he has never witnessed as much public pressure against circumcision as he has these past few months. That pressure, however, has not touched him personally. On the contrary, he told as we sipped coffee on the patio of The Daily Grind. "People are very grateful that I'm available." Then he headed off to Cottage Hospital to perform a circumcision.