Columns
Fiesta Cruisers Run Roughshod over Bluffs
Hundreds of Yahoos Rendezvous at Devereux
Everyone knows that one action can have far-reaching consequences. But who would have thought that Fiesta celebrations in downtown Santa Barbara would have an impact on the bluffs in Isla Vista? Unfortunately, this is exactly the case.
There is a traditional Santa Barbara Fiesta Cruiser Ride that attracts hundreds of participants, about 800 to be specific. At noon on the Sunday of Fiesta weekend, the bicyclists start out from Stearns Wharf and continue out to I.V. There are innumerable YouTube videos showing row upon row of bicyclists heading up State Street, running lights and stopping traffic as they go.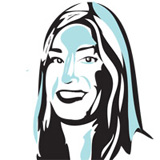 While the idea of a community bike ride sounds fabulous, the reality isn't so pleasant. If you walked along the bluffs near Devereux on Fiesta weekend, you will have noticed the line of metal fences protecting the new plantings. A sign explained that fences were erected to ensure that the sensitive habitat was protected when the hundreds of bicyclists came through the area. There was also a handmade sign estimating the cost of preventative measures such as the fence and extra police.
The Fiesta Cruiser Ride has been compared to Floatopia, a good idea that went awry. Floatopia was an environmental disaster that shouldn't happen again, but there is a simple solution to the Fiesta bike ride: If bicyclists have gone off the paths in previous years, thereby trampling plants in sensitive areas, why not have the route adhere to bike paths and streets and end before hitting the bluffs in I.V.? This suggestion doesn't address the other issues raised by the Fiesta Cruiser Ride, it just takes care of the environmental impact.
This simple suggestion might meet with a lot of opposition. There are people who believe that they have the freedom to do what they want, where they want. I agree that we should all be free to enjoy Santa Barbara's natural beauty, but that doesn't mean that those who heedlessly destroy the area shouldn't curb themselves, or be curbed.
In I.V., the idea that people should be able to respect the areas that they enjoy is an ongoing theme. If you mention I.V., people immediately think parties, trash, and irresponsible behavior. Well, this needs to change. I.V. is no longer a place that people should look at as an eyesore or a place to trash.
There are improvements being made throughout the community: The parks are being improved and redesigned, the Devereux bluffs are home to a variety of newly planted native species and a refurbished path, and the downtown area is being renovated, one block at a time. I.V.'s image can change as soon as the good things going on in the area become widely known. Instead of hearing only about lawlessness, people need to hear about the improvements, and the efforts being made to educate the residents.
The best time to reach UCSB and SBCC students is the beginning of the school year, before they have become used to the I.V. culture. If residents pick up litter when they see it, and appreciate the region's plants and wildlife, their awareness can help others understand that their liberty to do as they please doesn't give them license to trash the environment.