Angry Poodle
Yellow Dogs Dancing
BLUE AND RED: Why the conservative ascendancy at City Hall might be a blip on the screen
BLUE AND RED: The race for the Santa Barbara City Council is now officially afoot — the first candidates' forum was held last Friday night — and amazingly, the Democrats have managed to refrain from their habit of self-immolation. But with 11 weeks to go before November's election, there's still time to call out the circular firing squad. For the time being, however, it appears that the area's conservatives — perhaps a little drunk from their recent and historically unaccustomed successes — are in serious disarray. Based on my semiliterate reading of the tea leaves, the conservatives show every sign of losing the council majority they've held since January. Democrats can still snatch defeat from the jaws of victory, however. Without regurgitating all the gory details, it's only because the Dems seriously misplayed their hand that the conservatives managed to gain a council majority late last year. That's the first time since the 1970s. Scalded by the gratuitousness of their stupidity, local Dems — a term that implies far greater cohesion than actually exists — set out to select three (and only three) candidates they could unify behind early on. Spoilers and vote-splitters would be ruthlessly chased from the field. By February — and that's ridiculously early by Santa Barbara standards — "The Machine" had bequeathed the imprimatur of destiny upon the brows of Cathy Murillo, Iya Falcone, and Deborah Schwartz. They would run as a slate, meaning they would grit their teeth and say nice things about one another. Initially, I was underwhelmed in the extreme. Hardly anybody knew Schwartz, who'd left town for 20 years back in the 1980s. The most compelling thing about her was her mother, Naomi Schwartz, a political power broker involved in Democratic-environmental circles long enough to qualify as a geologic force. Falcone, it's true, had served two terms on the council, but in that time had seemed to amass more baggage than a Samsonite factory. And Murillo — with whom I worked for many years — seemed too much the in-your-face activist for Santa Barbara's more genteel brand of pastel politics.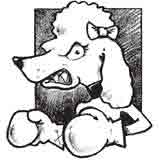 On the other side is the much more conservative machine assembled by talented political consigliere Jim Westby, a former executive with General Motors and a relatively recent transplant to the area. Westby's backing incumbent councilmembers Dale Francisco (a card-carrying Republican) and Michael Self (a card-carrying declined-to-state), who got politically involved out of their hatred for bulb-outs and other traffic-calming devices. Westby's also backing council appointee Randy Rowse, owner of the Paradise Café, and another declined-to-state. As usual, the conservatives are clearer about what they like, and more emphatically, what they don't like. Aside from not liking bulb-outs, they don't like medical pot shops and have tried to get them banned. They don't like the proliferation of street people and panhandlers and pushed hard to hire more cops  —  (what programs will get slashed to pay for these?) — to write them tickets that can't be enforced because there's no jail space anyway. And they really don't like the idea of increased residential densities or relaxed parking requirements — which the other side says are necessary to bring down the cost of housing to a level more affordable to the middle class — which they claim will destroy Santa Barbara's character. As Westby discovered, life doesn't always follow the script. For a host of reasons, Francisco and Rowse proved extremely slow or noncommittal about declaring. As a back-up candidate, Westby had been nurturing Sharon Byrne, a rising star with the Milpas Community Association (MCA). In the past two years, Byrne has banged the gong loudly against pot parlors and campaigned hard against homeless-related street crime. Westby had helped fund the MCA. By the time Rowse and Francisco got around to declaring, the genie could not be shoved back into Byrne's bottle. Byrne looked at the incumbents' game plan and found it seriously wanting. And she would not be told what to do. Despite the best efforts by Westby and the Republican machine, Byrne jumped in. Although Byrne is nondenominational — and can claim the endorsement of Democrat Pedro Nava — she'll clearly be drawing more from the same pool of voters targeted by the Westby Machine for Francisco, Rowse, and Self. And given that registered Democrats outnumber Republicans by a margin of nearly two to one in Santa Barbara, that's a very limited resource. Republicans and conservatives can't afford to act like Democrats and escape unscathed.
At last Friday night's candidates forum — attended by 200 — the incumbents were not looking crisp. Francisco, normally smart, polished, and articulate, was uncharacteristically lackluster. Self may have won votes from the agoraphobe crowd when she exclaimed how the homeless "are terrorizing our community," but to most people — even those ill disposed toward the homeless — such remarks seem a little unhinged. Quote-of-the-night honors clearly went to Byrne, who stated, "I'd like to walk down Milpas Street without being asked if I'm a prostitute." That's a first. Falcone and Rowse both did okay, but did not dispel lingering concerns among respective backers about whether their hearts — and heads — are really in it. No such questions for Murillo and Deborah Schwartz. If Murillo is merely impersonating a mainstream candidate, as some have suggested, she's been doing a good job, having raised the most money to date and coming off with measured passion at the forum. When Francisco presented himself as someone trying to broker a compromise between the two sides when it's come to updating the General Plan, a fiasco that's consumed five years and $3 million, Murillo called him out. Francisco, she said, has bottled up the General Plan in a subcommittee, where's he's been holding it hostage. Having watched more than my fair share of such proceedings, I'd say that's pretty accurate. And Schwartz — who has a tendency to over-explain things — spoke with surprising clarity, fusing her adopted big-brain Über-Wonk, data-driven persona with a bleeding-heart agenda.
Like I say, it's not over. It's hardly even started. But the fat lady has definitely arrived, and she's getting warmed up.