News
County's Largest Employee Union Ratifies Concessions
Director Says Members 'Not Fond' of $24 Million-Saving Agreement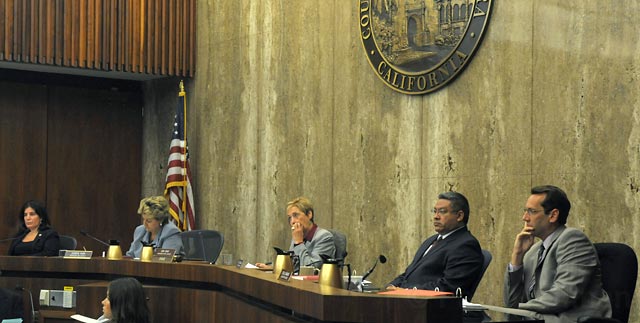 Members of the largest union representing Santa Barbara County employees — Service Employees International Union (SEIU) Local 620, which represents roughly 1,900 employees — ratified an agreement Friday afternoon that will save the county more than $24 million through June 2013.
But the executive director of SEIU Local 620, Bruce Corsaw, said the agreement was "something we're not fond of." While public employee salaries and pensions are in the headlines and being attacked as excessive and overbearing on local governments, Corsaw said the county's biggest union is being taken advantage of. "We are the largest group, so our group takes the biggest hit," Corsaw said.
Santa Barbara's pension contributions have jumped from $37.6 million in 2004 to $104.2 million this fiscal year, including an increase of more than $15 million in 2011. The average employee in 2007 cost the county $91,400; this year, the average employee will cost $128,000. But while some of the top moneymakers in the county collect annual pensions in excess of $100,000, members of SEIU are significantly lower — more in the neighborhood of $24,000, Corsaw said.
"The purpose of government is to provide services to the public," Corsaw said. "We're the frontline workers. We're the ones that actually do the work. We're not sitting behind a desk." SEIU members receive a 2 percent at 61¼ deal, which means a person can retire at age 61-and-one-quarter with 2 percent of their final salary for every year they were employed.
According to county staff, the new Memorandum of Understanding set to be okayed by the Board of Supervisors Tuesday will save the county nearly $5.2 million in onetime annual savings each year of the contract, and nearly $7 million in permanent ongoing annual savings — that is, permanent reductions in compensation.
Santa Barbara's SEIU chapter — which, through concessions since 2008, has saved more than $6.5 million, according to documents from the county — agreed to several concessions and drops in pay to try and save jobs, including a 40-hour furlough each year. The employees will give up a scheduled 2.5 percent wage increase and a $20 per pay period increase. They will also not receive any general wage increases or any merit increases in pay for the duration of the agreement.
The ability to use paid sick leave to compute overtime and the ability to cash up to 40 hours of accrued vacation leave have been eliminated. An employer-paid retirement offset has been eliminated for current and future employees, and pension reform — including the elimination of the retiree medical program — will be enacted for future employees starting June 2012. "We did it to save our coworkers, and we did it to support each other," Corsaw said.
The union was the last big fish still negotiating with the county. Already the unions representing the county's deputy sheriffs and firefighters had made concessions totaling nearly $12 million over the next few years.
The county closed a $72 million budget gap in June, and is already projecting another multimillion-dollar budget deficit for next year.