Outdoors
Pome Fruits
Fall is Apple and Pear Season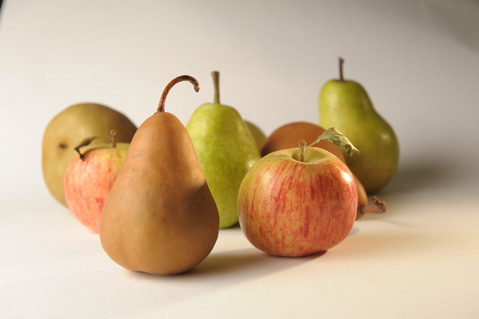 Fall is apple and pear season. These tasty fruits are among the most cultivated in the country, second only to oranges. Luckily for gardeners, there are a multitude of varieties to choose from. Juicy and sweet or tart, they have been perfected by growers for every climate zone, including the mild winter areas of Southern California.
Many plants make juicy, sweet fruits around their seeds to attract some animal to eat them and unwittingly deposit their seeds far from the mother plant. There is some evidence to suggest that the large, and tasty, pome (an innovation that a few species such as apples and pears hit upon where the fleshy fruit is not part of the ovary) evolved somewhat early to attract bears as the primary dispersal agent. Make a nice, tasty package with some small tough seeds included and a hungry omnivore with a sweet tooth will not hesitate to reap the caloric benefit by eating the apple and unwittingly provide alimentary assistance in spreading those indigestible seeds.
Apples seem to have originated somewhere in the mountains of southern China, and humans found them equally enticing. Perhaps as long ago as 8000 BCE, people were transplanting them from the wild and tending them in their gardens. Ancient Greeks and Romans touted the tasty and healthful charms of apples for many centuries. Sir Isaac Newton (circa 1665) had his seminal reflection on gravity at the base of an apple tree, and Carl Linnaeus (circa 1751), the father of modern botanical classification, dismissed apples outright because they had been so manipulated by human cultivation that he felt the original species could not be ascertained. In 1790, an Englishman, Thomas Andrew Knight, began the first controlled pollination, the start of an intense and ongoing hybridization effort to produce thousands of new varieties of apples.
Pears also hail from Asia and Northern Europe and have an equally long history of cultivation. A distinguishing characteristic of pear fruits is, of course, the gritty texture. Specialized cells with hard, thick walls are scattered throughout the otherwise juicy fruit. There are two categories of pear fruits, separated by their ultimate texture when ripe. Common pears are picked when still firm, but will continue to ripen and soften after picking. Asian pears (sometimes also called apple pears) are eaten when crisp and never get softer.
Both apples and pears require some amount of cold during dormancy to induce their buds to grow and produce vigorous shoots and flowers. Many of the most successful varieties belong to a class of plants termed "low-chill." "Chilling" is achieved at temperatures of 45º or below and is cumulative throughout the period. Typical low-chill varieties require only 400 hours or less at these temperatures, while regular types may need 600 to 1,000 hours or more. Look for the chilling requirements in the description of the stock when buying trees. A few of the low-chill fruits available are 'Fuji', 'Gordon', 'Pettinghill', 'Pink Lady', 'Beverly Hills', and 'Red Fuji' apples; 'Hood', 'Kieffer' and 'Monterrey' common pears; and 'Shinko', 'Shinseiki', 'Ya Li' and 'Tsu Li' Asian pears.
Enjoy a taste of fall with a crisp apple or buttery smooth pear. Look for freshly pressed cider or perry at farmers' markets, too.