News
My Bike Was Stolen
And I Got It Back
This is a story of a stolen bike — one of few such stories starring good people, a lot of luck, and a happy ending. The bike is soon to be back in my possession and the police are working to track down the bike thieves.
Of course, most of our stories of missing bikes don't end with a returned bike. I learned a number of important lessons that will help me prevent future bike thefts and know what to do should my trusty steed ever get stolen again.
Let me tell you the story of my family's Somec racing bike …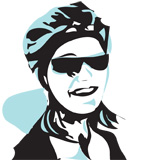 My family has had many bikes over the years, most of them lovingly bought, maintained, and passed down to us by my father. I inherited one such bike about eight years ago, a red 12-speed Somec racer. The bike was described by a friend as "humble in its beauty and unassuming to the casual observer, revealing its true, hand-built Italian refinements only to those with a subtle aesthetic sensibility."
My father bought this Somec in 1980, while he was in Germany on a research trip. At that time, Somec bikes were the hottest thing in Europe. The area around Boppard-am-Rhein, where he was staying, has marvelously paved and maintained backroads, mostly for agricultural use, but also open to bicyclists and almost entirely without traffic. My father made friends with a German importer of bikes, and although the Somec was not cheap, he could not resist. He rode that bike thousands of miles in Europe and the United States in following decades. The bike was then passed down to me, and I rode it many a mile during my commute to work between Santa Barbara and Goleta. Eventually, I opted for a modern road bike and the Somec began to collect dust in the garage.
Fast forward a few years and the Somec was ready for a new buddy. We decided a bike with this kind of history was best suited for a close friend, and just such a friend asked me for advice about where to find a good, used racing bike. We considered it a semi-permanent loan. I was thrilled to see it out on the road again, whizzing along with us at Bike Moves and blazing the bike paths out to Goleta on glorious commutes.
The story took an unhappy twist when my friend rode to Elsie's Tavern in downtown Santa Barbara one Friday night this summer. He shared a friend's lock for most of the evening, but then stashed it in the bushes, unlocked, and — surprise, surprise — it was stolen. My friend did not know to register it as stolen and was hopeful it might come back to him, since several people had said they'd seen it around town. He's not proud of these choices.
Now enter our knights in shining armor! About two weeks ago, I received a call from Karl Swanson, who makes a living building, repairing, buying, and selling bikes. He had been hoping to purchase my Somec from a seller who had legally bought it from Play it Again Sports in Goleta. The Somec had been on hold at Play It Again for 30 days, but since it had not been reported as stolen, it cleared their hold and was sold. The bike had the name Lindemann etched on the stem. Karl called to see if it belonged to us. Had it been stolen? Indeed it had.
I filed a report with the Santa Barbara Police, and they along with all interested parties are working to track down who sold the bike to Play It Again Sports. I'm grateful for our small town and for good people like my friend Karl and his contact, who put tracking down the thief ahead of making money. I hope before long my friend will be back on the Somec — a U-lock with him at all times!
What follows are some important lessons learned.
Locking Your Bike: I spoke with Sergeant Lorenzo Duarte of the Santa Barbara Police Department. He was supportive, and passed on some good advice. It's not only important to lock your bike but also to lock it in a place that is in plain sight. Thieves are looking for the easiest bikes to steal. Many bike thefts are as simple as walking off with an unlocked bike, be it in a yard, an open garage — or a bush near Elise's. Don't let your bike be an easy target. Find a nice visible spot and make sure you are locking your bike to a secure pole, or, preferably, a bike rack.
Types of Locks:Tip: Ditch the cable; go for the U-lock! Sergeant Duarte tells me cable cutters are the most commonly used tool for stealing locked bikes, which means bike thieves are looking for bikes that are locked with a cable.
John Brandt, bicycle coordinator for University of Maryland Department of Transportation Services, recently offered some great advice. "Cables can be a good device for preventing opportunistic, walk-off thefts," he said, "but if your bike is out of your sight, cables are practically worthless. The best you can do is to lock your U-lock through both wheels, your frame, and a substantial bike rack. If your U-lock is through your bike frame and at least one wheel, your bike is less likely to be stolen than almost any other bike around."
What information to have about your bike: Sergeant Duarte also recommends that you keep basic information about your bicycle in your files. Document the serial number (usually on the frame near the bottom bracket — that's between the two pedals), color, make, type of brakes, handlebars, etc. Take photos and note any modifications you've made.
File a Police Report: If my friend had filed a police report, the Somec would have come back to him within a few months, since Play It Again Sports did the right thing and put the bike on hold for 30 days before selling it. So, dear reader, file a report with the police as soon as a bike is stolen. The easiest way to file a report within the City of Santa Barbara, especially if you have no information about possible suspects, is on the Santa Barbara Police Department's Web site. You can also go to the police station or call and request an officer to come to the crime scene and file a report. Other cities' police departments have similar procedures for filing reports, and of course in unincorporated areas of the county you contact the Sheriff.
Erika Lindemann was born and raised in Santa Barbara and returned home after college to work in bicycle planning and promoting sustainable transportation. She now works for Wilderness Youth Project, but remains active in the bicycling community as an advocate and aficionado.