Cover Story
Funk and Function
A Rough-Around-the-Edges, Free-Form Neighborhood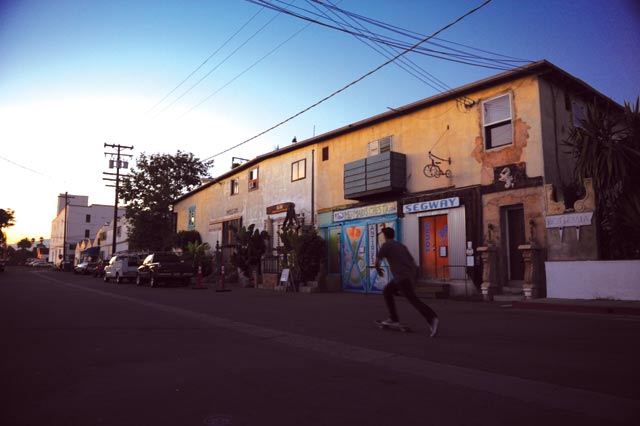 Photos by Paul Wellman
There have been drinks consumed, perhaps too many, and I am riding shotgun in a four-passenger surrey somewhere on Gray Avenue, hanging a heavy curve with a very real potential for disaster. The scenery blurs by in a patchwork of weed lots, work yards, wineries, and boho artist hideouts as I cling to a fake steering wheel. We pedal faster toward an approaching intersection, and I lean and laugh into the late-afternoon light. Someone, maybe the wild-eyed, guitar-toting surf addict seated behind me, yells out "Incoming!" pointing at a zooming car maybe 20 yards out on our starboard side. Ahead lies a dreamy-looking delicatessen surrounded by kitschy metal animals, a hipped-out modern furniture store is to our right, and on our left, a well-manicured modest home makes the year 1954 pop into my head. My ears tell me there is live jazz playing somewhere nearby, and my nostrils tingle with the salt of a sea breeze as yet another voice booms from the rear of our four-wheeled, hell-bound contraption, "Strip club!"
No, this isn't some non sequitur excerpt from a fitful fever dream; this is real life, right here in Santa Babylon, just two Saturdays ago in a part of town known popularly as the Funk Zone. Roughly defined by State Street to the west, Highway 101 to the north, Garden Street to the east, and the Pacific Ocean to the south, this small, blob-shaped, hyper-eclectic neighborhood has been seemingly overlooked by the tourism board and the city planners for the past several decades. It is the rough-around-the-edges, free-form antidote to our red-tiled-roof obsession: a place where creativity and individuality still win the day, electric guitars and power tools can be heard roaring simultaneously, and you have an equally good chance of doing something you hope your mother never hears about or discovering a brilliant artist.
For years, there have been belly moans about the impending death of the Funk Zone, these gruff observations often accompanied by bitterly hissed accusations of gentrification. And certainly there have been tourist-friendly face-lifts, along with brutal blows delivered by developers and property owners, to the neighborhood, where Santa Barbara's working-class craftspeople and starving artists rely on the cheap rent and elbow room of the area to be home base for their businesses.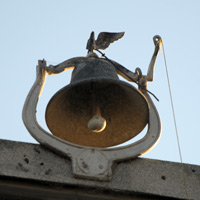 Despite the doomsday declarations, the Funk Zone very much endures. In fact, thanks in no small part to these horrifically depressed economic times and the flat-out failure, at least for now, of some highfalutin' nearby development dreams, the 'hood appears to be doing better than ever. It's true that certain things have changed over the years. For example, beloved businesses have closed (Divers Den, Bay Café, Car Color Craft, and Ray's Welding most immediately come to mind), and wine-tasting spots have increased tenfold in the past three years alone, but fluidity and change have always been a hallmark of this part of town, one of Santa Barbara's last places that still stinks with the sweet, sweaty smell of people hustling to survive by coloring outside the lines.
What follows is a celebration of the Funk Zone's history, newest residents, and most familiar faces. Even if we dedicated every page of this issue to this wild and weird working underbelly of Santa Barbara, we wouldn't be able to tell its story completely — it is too varied to be properly inventoried, and, well, we like it that way. That being said, whether you agree with it or not, the renaissance in recent years of this historic and beloved region is too important and fun of a tale not to be told. Enjoy.
• The History of the Funk: How Did This Happen and When Is It Going to End?
• Funk Zone Wines: Drinking Vino in the Coolest Neighborhood
• Surf Ghetto Glory: Funk Zone Is Home to Everything Ocean