News
California Dreamin'
Financial Aid Hope for Children of Immigrants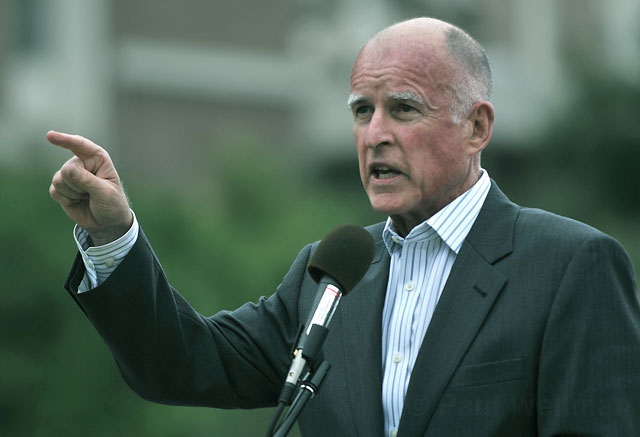 For years, providing financial aid to children of undocumented immigrants in California had been a dream. Saturday, the dream became a reality.
In a political victory for Latinos, Governor Jerry Brown signed the second part of the so-called Dream Act into law over the weekend. Assembly Bill 131 allows qualified undocumented immigrant students to apply for Cal Grants and in-house aid from California State Universities, the University of California (UC), and the state's 112 community colleges. Essentially, the bill — similar to legislation passed in several other states — helps level the playing field, allowing undocumented students access to some of the same resources as other students, according to UC officials.
To be eligible for the financial aid, students (who still aren't eligible for federal student loans) must have attended a California high school for three years and have graduated from a California high school, in addition to meeting certain GPA and other criteria. They must also be in the process of legalizing their immigration status.
This second part of the Dream Act was the more controversial. The first, AB 130, which Brown signed into law this summer and goes into effect at the turn of the year, allows the same group of students to apply for grants and scholarships funded by private sources — like gifts to the UC or UC endowments.
The votes in the Legislature followed party lines. Locally, Assemblymember Das Williams voted for it, while State Senator Tony Strickland voted against it. And the signing of the bill thrusts California into the spotlight in the contentious nationwide discussion on immigration. The controversy at home continues, as Republican Assemblymember Tim Donnelly of Twin Peaks has already filed a referendum to try to repeal the new law, which wouldn't go into effect until 2013.
The board chair of Santa Barbara-based Californians for Population Stabilization (CAPS) applauded Donnelly's efforts. "We're not too happy with Governor Brown signing the Dream Act," said CAPS's Marilyn DeYoung. "It's going to be hurtful for the state of California."
The state Department of Finance has put the estimated cost of the Dream Act at $14.5 million, part of a $1.4-billion Cal Grants program, so about one percent of all Cal Grant funds. The state, DeYoung said, already spends $21.8 billion for free services for legal and illegal immigrants, and doesn't need to take financial aid opportunities away from "American students [who] are struggling to pay tuition costs right now," she said.
But UC spokesperson Dianne Klein said that won't be the case. The UC estimates undocumented students make up less than one-half of one percent of the system. "The impact on other students will be negligible," she said. Undocumented students going after Cal Grants would not reduce the number or amount of Cal Grant awards available for other students, according to the UC.
This is also the case at UCSB specifically, according to director of financial aid Mike Miller, who said that since the 2001-2002 school year, the cost to attend UCSB — where 97 percent of graduate students receive some sort of financial aid, along with roughly 68 percent of undergrads — has more than doubled to $32,200 a year. "It's not going to make a major impact on the student body," he said.
The UC's financial aid programs are funded by undergraduate tuition. Roughly 30 percent of revenue from all undergrads is set aside for financial aid, a pool of money that, up until now, was available to everyone but undocumented immigrants, even though they were putting into the pool.
Mark Alvarado, executive director for activist organization PUEBLO (People United for Economic Justice Building Leadership through Organizing), said Brown's signature was "an indication that he recognized the value of education in terms of how the demographics play out," pointing to growing numbers of Hispanics in the U.S. "If we continue to ignore educational opportunities for everyone, where are we going to be in 30 years?" he asked.
He said the passage was a positive sign "for those families who now see there's a gateway to higher education."
Dr. Jack Friedlander, acting superintendent for Santa Barbara City College, said the new law will also make qualified undocumented students eligible for fee waivers from the Board of Governors of the California Community Colleges. Already, roughly one-quarter of SBCC students receive some amount of funding in Board of Governors grants.
Last year, SBCC had 435 students under AB 540, a 2001 bill that allowed students who would otherwise be considered non-California residents to qualify for in-state tuition. A portion of this group is undocumented; thus, the fee waiver would be expanded to possibly include them, costing more money to the state down the road.
To offset this cost expansion, Friedlander said, a proposal at the statewide level would impose performance criteria for students as they go through their schooling. Other potentials down the road would be to make the requirement to even apply for the fee waiver more stringent, or for the state to augment the amount of money dished out — not a likely scenario given the state's fiscal realities. While these proposals would help with the potential Dream Act impact, Friedlander said, they were being discussed long before the Dream Act.