Sports
Fleet Feet
Runners Take to the Streets for the S.B. International Marathon
The third Select Staffing Santa Barbara International Marathon (SBIM) and Half-Marathon on Saturday, November 12, will celebrate America's war veterans, motherhood, and the next best thing to apple pie. "Everybody gets a chocolate-chip cookie at the finish line," race director Rusty Snow said. "Runners are simple people. We love running, and we love food."
Snow has ordered 5,000 cookies from the Savoy Café to treat the 3,500 entries in the half-marathon and as many as 1,500 who will try the full marathon (26 miles and 385 yards). The longer race will start at 7:15 a.m. at Dos Pueblos High School; the half-marathon at 7:45 a.m. at the Page Youth Center on Hollister Avenue. Both races will finish on the track at SBCC's La Playa Stadium.
In honor of Veterans Day, Snow said that 650 course monitors will be waving flags, and Vietnam War veteran John Blankenship will be riding a World War II vehicle ahead of the leading marathon runner.
One of the most prominent half-marathoners will be Andrea McLarty, an irrepressible Santa Barbara mother of two young children. McLarty, 34, established the women's marathon record in 2010, winning the inaugural race in 2 hours, 52 minutes, and 24 seconds. Last year, she won the half in 1:21:06, a time she hopes to better Saturday. "I'm in shape to crush my record," she said. But also capable of burning the half is Liana Bernard of Medford, Oregon, who ran a 2:42:47 marathon in January. "If Liana's in 2:42 shape, she could run away with it," McLarty said.
The marathon had runaway champions the first two years — Carlos Handler (2:24:49) winning by almost 12 minutes in 2009, and Moninda Marube (2:25:49) by a staggering 22 minutes in 2010 — but this time, several runners may be pushing each other toward the finish. Marube, a Kenyan now based in Texas, is returning to defend his title, and he may be challenged by one of the world's toughest and most versatile distance runners, Michael Wardian of Arlington, Virginia; and by Jeffrey McClellan of Henderson, Nevada, who's seeking to break 2:20. "This is exciting," Snow said. "I've wanted to create a great race here. These guys can do it."
To encourage speed, the SBIM is offering cash bonuses to those who run qualifying times for the 2012 U.S. Olympic Team Trials. Men must break 2:19 in the marathon or 1:05 in the half; women, 2:46 in the marathon or 1:15 in the half. Wardian posted a 2:17:49 earlier this year in the Grandma's Marathon in Duluth, Minnesota, to qualify for his third U.S. Olympic Trial, to be held January 14, 2012, in Houston.
That was just one of the impressive performances turned in by Wardian, a remarkably resilient runner at the age of 37. "I've been having a pretty incredible year," he said. "My whole thing is to push hard and see what I can do."
Among Wardian's accomplishments in 2011 are the following:
• Winning the Lower Potomac River Marathon, his time of 2:34:56 reputed to be the fastest run by a man dressed as a superhero; he wore a Spider-Man costume
• Becoming a five-time winner of the National Marathon in Washington, D.C.
• Becoming the highest American finisher in two grueling South African races, the 35-mile Two Oceans Marathon and the 52-mile Comrades Marathon
• Taking third place in the Badwater Ultramarathon, 135 miles of torture starting in Death Valley and finishing 8,000 feet higher at Whitney Portal, with the temperature hitting 115 degrees during his 26 hours of running
• Winning the Grant-Pierce Indoor Marathon (211 laps on a 200-meter track) in Arlington four days after the Badwater ("I drink copious amounts of water to flush my system and get back to running as soon as I can," said Wardian, who consumes a vegetarian diet.)
• Winning the San Francisco Marathon and finishing second in the Kauai Marathon
• Taking the silver medal at 100K World Championship in the Netherlands
• Winning the U.S.A. 50 Mile Road Championships, smashing the course record in Pennsylvania with a time of 5:33:47 (6:40 per mile)
• Most recently, on October 30, placing second (2:23:46) in the 36th Marine Corps Marathon in Arlington, a race that had 20,895 finishers
"The guy's a madman," Snow said. One of Wardian's competitors decided, "He's not human."
But running on a trail near his home eight days ago, Wardian did a decidedly human thing. He tripped and fell flat on his face. "It was like taking a big hit from a defenseman," said the former Michigan State lacrosse player. "I got 12 stitches in my head and smashed my teeth. I look like Halloween. It's crazy. My first running injury is not really a runner's injury."
Wardian still intended to run the ING New York City Marathon last Sunday, but one of his two sons had a medical crisis, and he spent the weekend at home with the boys and his wife, Jennifer. Running does not consume Wardian's life quite as much as it might appear. He works for an international shipping brokerage. He rides a bicycle to his job and often works out on a treadmill. But he is eager to get back to racing Saturday. "I've heard fantastic things about Santa Barbara," he said.
The course for the marathon is not a postcard tour of the city. It winds through Goleta neighborhoods and follows bike paths and roads for 24 miles before the Pacific Ocean comes into view — finally — on the spectacular descent along Shoreline Drive to the finish line.
For most of the participants, just getting to the finish line of a 26.2-mile run — or even the 13.1-mile half — will be a major task. Their victory will be a deep sense of achievement.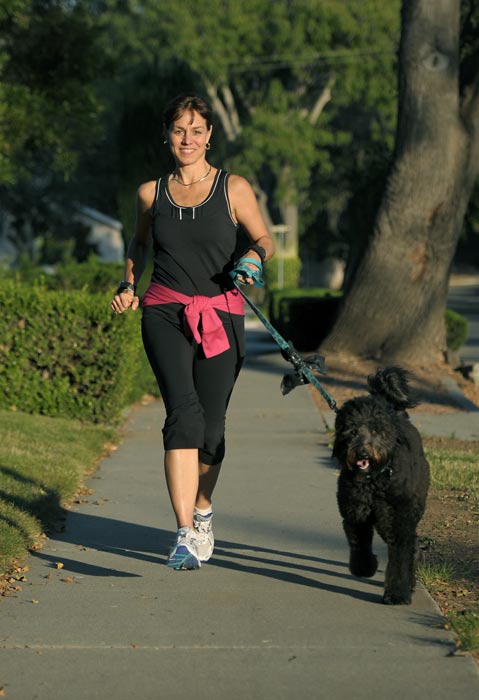 "I think the marathon will be my most amazing accomplishment," said Cindy Holoien, a 49-year-old breast cancer survivor. "I was diagnosed when I was 39. By God's grace, I was able to overcome that, and it has given me courage to try many things I never attempted before."
Holoien took her first step toward the marathon six years ago when she joined Momentum4Life, a Santa Barbara training program headed by Dawn Schroeder. "The first time I went to work out with them, I ran my mile warm up and was done," Holoien said. "That was the most I could run." But within months, Holoien was able to do short triathlons, and the last two years she ran half-marathons.
The Goleta resident has been training herself for the full marathon. She copied a 16-week plan off a Web site. "It helped me take each day at a time and focus on my goals for the week," she said. "It's been hard not having the group support that I'm used to. But I've been taking my Labradoodle Chloe with me on all my runs, and she loves it."
The marathon is organized and conducted by Santa Barbara residents, headed by Snow and his wife, June. He said $1 from each registration will be donated to the Community Environmental Council, and a bigger chunk of the proceeds will support high school track and cross-country programs through the Santa Barbara Athletic Association.
GAMES OF THE WEEK: The Dos Pueblos Chargers will try to win their third consecutive football game and secure a CIF playoff berth Thursday., Nov. 10 when they host the San Marcos Royals. The game's outstanding player will receive the first Jeff Hesselmeyer Trophy. Hesselmeyer, who died last July, coached at both schools. … At the same time as the football game, the league champion DP girls will be hosting a CIF playoff volleyball match. … Carpinteria and Bishop Diego, both bound for the football playoffs, clash Friday night at La Playa Stadium. … UCSB basketball coach Bob Williams is reluctant to rush senior standout Orlando Johnson (strained Achilles) into action. Look for freshmen John Green and Alan Williams to take advantage of their playing time against Chapman in the Gauchos' regular-season opener Friday night.